A full glass of nutritious fruit juice can make all the difference for your health. But juicing different fruits and vegetables can require a lot of effort and commitment. Turns out not everyone can 'afford' that commitment. In this modern age where everybody wants convenience, you need just the right product to fit your needs. That's what brings me to this in-depth review and buying guide of some of the most outstanding juicers out there. No matter what type of person you are, I'll make sure you find the best juice extractor suitable for you. Along with the brutal but honest reviews, I'll give you a complete guide on how each type of juicer works.
So, without any further delay, let's see what all the fuss is about-
10 Best Juice Extractors: A Complete Guide for Juicing Passionates
1. Omega NC900HDC Juicer Extractor
The Omega NC900HDC Juicer Extractor is everything you need to take your juicing experience to the next level. The dual-stage extraction delivers a pleasant taste along with loads of healthy nutrients.
On top of that, the juicer allows you to use it for various cooking needs. From food processing to grinding up coffee, it's capable of doing a lot of important tasks.
This masticating juicer with its powerful 150W motor was built to increase your juicing efficiency. With a combination of stainless steel and BPA-free plastic, from juicing to cleaning, it makes the whole process a lot easier.
Speaking of efficiency, operating the juicer couldn't get any easier. Thanks to the easy controls, you'd figure out everything even if you're a juicing newbie. And if you make any mistake, there's the reverse button to fix it for you.
Overall, the Omega NC900HDC is a perfect juicer for anyone from a newbie juicer to a veteran. While the price might be higher, this investment will be worth it.
Pros
Powerful yet quiet operation
Equipped with Ultem auger for maximum juice yield
Comes with dual-stage extraction
Works as a food processor too
Cons
Bulkier than other masticating juicers
2. Breville JE98XL Juice Fountain Plus Centrifugal Juicer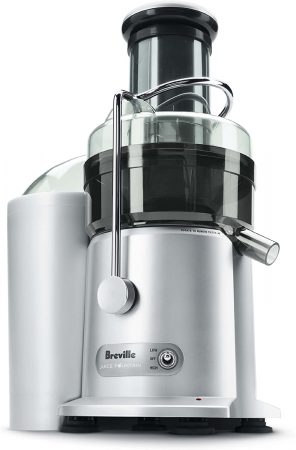 Are you new to juicing and can't figure out which model to start with? Then, the Breville JE98XL Juice Fountain Plus Centrifugal Juicer is the perfect model for you.
The large chute feed and robust 850W motor will produce juice faster than any other juicer. From hard vegetables to soft fruits, this centrifugal juicer is capable of handling almost everything.
Almost because centrifugal juicers are never ideal for juicing soft greens. Even though it can get the job done, there are better alternatives. For juicing greens you need special juicers with specific criteria.
Nonetheless, the Breville Juice Fountain Plus is equipped with a 2-speed control system for both soft and hard ingredients. And did I say how easy it was to use?
Speaking of easy, this centrifugal juicer and its 3-inch chute feed save you from stressful prep work. As the chute feed is large enough, there's no need to cut the ingredients into smaller pieces.
Moreover, it helps with the cleaning process as well. There's no denying this juice extractor is with its micro-mesh filter is suitable for juicing all kinds of fruits and vegetables without taking much of your precious time.
Pros
Extra-wide chute feed reduces prep time
Easy to clean dishwasher-safe parts
Comes with overload protection
Micro-mesh filter separates pulp effectively
Cons
3. Omega MM900HDS Slow Masticating Juicer
Back-to-back products from the same manufacturer? Well, when it's about reviewing top-notch juice extractors the Omega MM900HDS deserves a spot.
The cold press juicer spins at 80 RPM focusing on minimal heat and oxidation. Thanks to the slow but efficient juicing process, you get pure juice that you can store for up to 72 hours.
And not to mention the dual-stage extraction process that squeezes out every ounce of juice. Whether it's fibrous greens such as celery or hard fruits like apples, the powerful auger will take care of everything.
However, you can't use it for processing food, unlike the Omega NC900HDC. If you want a versatile solution, this isn't the right choice.
That said, if you're looking for a celery juicer, this juicer is the absolute champ. The additional celery end cap on this cold press machine was engineered especially for juicing such greens. And the high-end performance proves that it's the best juice extractor for celery.
Pros
Specially engineered to juice celery
Dual-stage extraction delivers a higher juice yield
Detachable parts are easy to clean
Suitable for both soft and hard ingredients
Cons
Priced higher than most masticating juicers
4. Jocuu Slow Juicer Masticating Juicer Extractor
In my experience, I've seen a lot of people who want to start juicing but they back off when they see the hefty price tag of masticating juicers. It's true that you can always get a centrifugal juicer but the difference in juice quality is unforgettable.
For those people, there's the Jocuu Slow Juicer Masticating Juicer Extractor. An affordable price tag with a reliable juicing experience makes the ideal for anyone who's new to juicing.
The juicing process is fairly easy even though you need to slice up the ingredients into smaller pieces. The manufacturer tells you that a smaller chute feed is for safety reasons. But the truth is the motor isn't capable of handling big fruit chunks.
As a result, cleaning it becomes a little bit complicated. Although it's nothing to worry about as there's the one-touch assembly. After you're done juicing, disassemble the juicer and throw it in the sink. If you're not feeling like manually cleaning, you'll always have the dishwasher.
Pros
Affordable and perfect for beginners
2-speed control system for soft and hard ingredients
Available in 4 different colors
Compact enough to fit into most cabinets
Cons
Small chute feed results in more prep work
5. Homgeek Dual Speed Small Juicer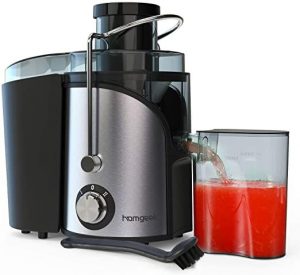 The Jocuu Slow Juicer is unbeatable when it's a matter of affordable masticating juicer. But the Homgeek Dual Speed Small Juicer makes it even better by cutting the price in half.
The powerful juice extractors come with an easy-to-clean stainless steel strainer. Thanks to the 400W motor you don't have to stress over the strength. And the best part? It'll be quieter than most centrifugal juicers even when it's running at full speed.
The main reason behind this is the sturdy and solid build quality. Along with a solid base, the spout and juice cup are designed thoughtfully, ensuring no spill or whatsoever.
While it's great for juicing hard fruits and vegetables, I'd advise you to look elsewhere if you want to get it for leafy greens. If I were to rate it, it'd get a 5 out of 10; not so impressive.
Overall, the solid construction with quiet operation makes it a versatile juicer extractor. Most importantly, you get to have a delicious cup of juice every day without bleeding your wallet.
Pros
Quiet operation
Sturdy build quality
Affordable
Comes with a safety lock
Cons
Not great at juicing leafy greens
6. Aicook Slow Masticating Juicer Extractor
It's the little things that make a product valuable to customers. In this case, the Aicook Slow Masticating Juicer Extractor provides that extra value with its durable ceramic auger and robust juicing mechanism.
From the very first glance, you'll know there's something unique about this juice extractor. The sleek design along with the ceramic auger increases the juicing capability of this mighty powerful machine.
Speaking of power, it comes with a 200W motor that's capable of crushing everything in its way. That's why they've equipped with a 3-inch extra-wide chute feed. Put down anything you want and it'll squeeze the juice out in a few minutes.
And even if it can't, you've always got the reverse function as a backup. Did I say there aren't any physical buttons on the device? Instead of an old button design, you get intelligent touch-responsive buttons.
The Aicook Slow Juicer is undoubtedly the best masticating juicer for the money. This second-generation masticating juicer is fitted with all the modern features to deliver you a more convenient and quick juicing process.
Pros
Sturdy ceramic auger
Quiet operation at less than 60 dB
Comes with an attachment for making ice cream
Convenient touch controls
Cons
The controls could've used a better placement
7. Zulay Professional Citrus Juicer
Let's welcome the first manual juice extractor on this list, the Zulay Professional Citrus Juicer. This citrus juicer is all you need when you want a heavy-duty device capable of squeezing out citrus fruits nonstop.
Thanks to gravity and leverage, the ergonomic handle extracts every drop of juice without any wastage or bitter rind taste. Just cut the fruit in half, place it in the juicer and you're done.
The juicer is made out of a combination of sturdy cast iron and rust-proof stainless steel. As it turns out, the stainless parts are detachable, making the cleaning process a walk in the park.
While it's true that the juicer is somewhat heavy due to the cast iron construction. But there's no denying the weight is at all the right places. Even if you use it with full force, it won't tip over.
Pros
Ergonomic handle prevents sore hands
An effective juicing mechanism requires less effort
The weight is balanced out in all the right places
Comes with a wide 5" cup
Cons
A bit expensive for a manual juicer
8. Hamilton Beach Pro Juicer Machine
If you've stuck around till now, you know that I'm not the biggest fan of centrifugal juicers. But I can't deny centrifugal juicers are much faster and a lot more affordable compared to masticating juicers.
The Hamilton Beach Pro Juicer Machine is a pretty basic centrifugal juice extractor when you look at the specs. Although in this price range, if the juicer does what it says, then you know it's worth it.
The truth is this juicer machine doesn't come with a lot of bells and whistles. The 800W motor is capable of handling all kinds of juicing ingredients. But like every other centrifugal juicer out there, it won't give you dry pulps.
All in all, the Hamilton Beach 67608A is an average quality juicer. The juice extractor is powerful alright but don't use it for heavy-duty purposes.
Pros
Extra-wide chute feed increases efficiency
800W powerful motor
Affordable price tag
Cons
Not the quietest juice extractor out there
9. Tribest SW-2000 Slowstar, Vertical Slow Juicer and Mincer
To tell you the truth, vertical slow juicers aren't the most popular product in the market. Mainly because the cleaning process is complicated. Even though that's still an issue for the Tribest SW-2000, other impressive features manage to hold their glory.
In terms of juice quality, it'll win your heart with its clean and pulp-free juice. The vertical design helps in delivering bone-dry pulps. Although it spins slower than most masticating juicers. Thanks to the 47 RPM spinning, there's little to no oxidation, meaning the juice stays fresh for much longer.
But what makes this juicer stand out is the additional mincer attachment. The juicer already works as a food processor and the mincer speeds up the process by slicing up into finer pieces.
Pros
Includes additional mincer for a more efficient operation
Higher juice yield because of the 47 RPM spinning
Works as a food processor
Slower rotation results in better juice shelf life
Cons
The parts aren't dishwasher-safe
10. Breville 800CPXL Citrus Press Pro
Squeezing out lemons is no fun when you're feeling lazy. Sure, your masticating juicer can handle it, but why would you go that far when you can use something like the Breville 800CPXL Citrus Press Pro.
Anyone who uses reamers knows how stressful it is after you go through a few lemons. From arthritis to pain in finger joints, the outcome is never good. For situations like these, the Breville 800CPXL is all you need.
Even though the citrus juicer spins relatively faster, there's no oxidation or heat build-up like centrifugal juicers. What you get is pure citrus juice with no bitter rind taste to ruin the experience.
If you mostly stick to citrus fruits, there's no better alternative to the Breville 800CPXL. The ease of use and top-notch performance makes it worth every penny.
Pros
Easy and efficient juicing process
Silent operation
Detachable parts are dishwasher-safe
Modern and sleek design
Cons
The material in the juicing parts don't seem to have enough durability
How to Choose the Best Juice Extractor?
Unless you're a juice enthusiast, I don't expect you to know the ins and outs of juice extractors. The fact that there are so many types, choosing the right one that suits your needs can be a bit confusing.
So, here's a quick guide for you-
Types of Juice Extractors(juice yield, storage, ease of use)
There's one more type available; hydraulic or pneumatic press juicer. But those are used only for commercial purposes so I'll skip it. In case, you want to know more, here's a detailed guide of the types of juicers.
Centrifugal
Centrifugal juicers are the Formula-1 racers of the juicing world. Where other juicers take as long as 20 minutes, centrifugal juicers work within minutes.
But centrifugal juicers weren't made to deliver high-yield juices. Because of the massive amount of centrifugal force, it's not possible to separate the juice from the pulp properly.
These juicers are for people who want to introduce a healthy habit in their life without much commitment. They're easy to use and storing them is no problem thanks to the lightweight construction.
Masticating
Masticating juicers are becoming more and more popular every day because of their superior juice quality. Thanks to the 60-70% juice yield, the pulp is hardly noticeable in the juice.
However, you should know that masticating juicers take their time to juice. And most affordable masticating juicers can't withstand heavy-duty usage.
Unless you go for a high-end model, there's a high risk it might burn-off with continuous usage. Nevertheless, the small size makes it easier to store, and not to mention, they're one of the most silent juicers out there.
Citrus
When it comes to citrus juicers, the manual ones triumph over the electric models. Because of the simple mechanism, squeezing out fresh juice from citrus fruits takes seconds.
However, as they're made out of cast iron, the weight becomes a problem in storing. Moreover, they eat up a lot of space because of their height.
Although you could switch over to electric models if you don't want the manual approach. Electric citrus juicers are lightweight and small enough to fit into any kind of cabinet.
Triturating
Finally, there's the undisputed king of the juicing world, triturating juicers. Triturating or twin-gear juicers twist two sets of gears against each other, ensuring the finest quality juice available.
Even though they cost a lot higher than other types of juicers, the juice quality they offer makes everything worth it. But they're not the easiest to clean.
And similar to masticating juicers, they'll require a sense of commitment. While both of them take almost the same time to juice, triturating juicers offer higher juice yield with even less pulp.
[table id=1 /]
Cleaning- Time and Effort
Juice quality isn't the concerning factor for juicers. Without an easy cleaning process, you might get discouraged to continue juicing at all.
The good news is you can make sure the juicer is easy by cross-checking a couple of factors. The first factor is detachable dishwasher-safe parts.
Removable parts let you dump them in the dishwasher without having to worry about the cleaning. But even then, it's better if you clean the juice strainer manually as the pulps can get sneaky.
The next factor is parts with a simple design. When parts like the juicer strainer have too many edges, cleaning can become a stressful task.
Best Juice Extractor FAQs
What is the difference between a juicer and a juice extractor?
The main difference is juicers aren't capable of separating the seeds and pulps from the juice. Whereas juice extractors complete the process with a few steps where the seed and skin are separated.
Is Juicing worth it?
Juicing a great way to incorporate a new healthy habit into your day-to-day life. Even though high-end pure juicers will cost some bucks, you could get affordable juicer extractors that will get the job done.
Why masticating juicers are better?
Masticating or slow press juicers use a more thorough juicing process. Instead of relying on high speed, they use pressure to squeeze out the juice from fruits. This results in a fine quality pure juice where there's little to no pulp.
Are juicers better than blenders?
In terms of nutrition level and digesting time, juicers are way better than blenders. Blenders pulverize everything from the flesh to the pulp. Even if you strain it, you get a thicker juice that takes longer to digest. Even though juicers protect more nutrients, they take longer to squeeze out the juice.
Conclusion
So, that's been it. Did you figure out which one's the best juice extractor for you? I know it might seem there's a lot of products to choose from. But remember that I chose each product for a different customer.
If you aren't sure what to get, the buyer's guide can help you. And always, I'm only a knock away if you want to get in touch in touch with me.