Most people get by fine with their centrifugal blender. But the problem starts when they want to juice leafy greens. No matter how much effort you give, the fibers don't seem to go away.
That's when you think of switching to juicers and get introduced to a mammoth list of brands all making juicers. While some of them are worth the hype, others are a complete waste of money.
Because of this irritating problem, I've decided to write a complete post on this topic. At least, you'll get to find the best juicer for greens that deserves your hard-worked money.
That being said, let's stop beating around the bush and see what's in the store- Best Juicer for Greens.
10 Best Juicer for Greens Reviews
1. Breville JE98XL Juice Fountain Plus Centrifugal Juicer
I don't know about you, but I'm terrible with my morning routine. Most days, I don't even get the time to eat my breakfast properly. For someone like me, centrifugal juicers are a blessing.
And it's safe to say the Breville JE98XL, with its 850W powerful motor, can adjust to your activity-filled life without even trying too hard.
That's because there are 2-speed electric controls for different fruits and vegetables. If you've been around centrifugal juicers, you know how important lower speed control is for leafy greens.
To make things even better, it comes with a 3" extra-wide chute feed. 3" might not seem like much, but for juicers, it's the holy grail of chute feed size. After all, you'll be saving a tremendous amount of time as you don't have to slice up the greens into smaller portions to make them fit.
Overall, I'd like to clarify that the Breville Juice Fountain Plus Centrifugal Juicer isn't the cheap centrifugal juicer you see every day. The simple control and easy clean-up process make it worth your while.
Pros
The powerful motor, along with the patented blades, makes juicing faster and more efficient. Setting up and cleaning the juicer couldn't get easier.
Cons
Like every other centrifugal juicer out there, the noise issue is there.
2. Omega NC900HDC Juicer Extractor
When it comes to dual-stage extraction systems, Omega makes one of the best slow-masticating juicers. The unique auger design and top-notch juicing performance make you want to use it more and more. But that's only the beginning of how well-made this juicer machine is.
Because of the dual-stage extraction system, the juice yield is significantly higher than affordable juicer extractors. In simpler terms, you'd find those dry pulps you've always wanted to see.
And it goes without saying that the efficient juicing system ensures minimal heat build-up and oxidation. This results in a better juice shelf life. If stored properly, you could enjoy it for up to 3 days.
Despite having a mighty powerful motor, the juicer machine is as quiet as a feather. This is especially helpful in case you have a toddler sleeping in the next room.
Having said that, the Omega NC900HDC Juicer Extractor has managed to hold up the brand's reputation. The impressive and reliable juicing system easily makes it the best juicer for vegetables.
Pros
The heavy-duty dual-stage extraction system offers top-notch juice even after years of usage. What's more, is the juicer stays stable at all times;
Cons
It might be a little too bulky for some people. Also, it'd be better if the juicer container was attached to the juicer.
3. Aicok Slow Masticating Juicer Extractor
The Aicok Slow Masticating Juicer Extractor makes it obvious that their juicers are made for leafy green juices. I mean, the juice strainer itself is green-colored. But all in all, how well does this perform?
If I had to sum it up, I'd say it's above average. The primary reason behind that is the price point. The high-end masticating juicers are never affordable. But the top-notch performance wasn't the ultimate goal of this slow-masticating juicer.
Because of the budget-friendly approach, you're now getting a cold press juicer with decent performance. The green leaf juice won't be as good as the Omega juicers, but it's enough to get the job done.
Although the lower price tag didn't cut off extra features like the reverse function and one button assembly, I would've liked it better if the juicer strainer had fewer edges.
Overall, the Aicok Masticating Juicer is a lot better than your everyday cheap juicer. Even at this price point, the juice quality it offers makes it the best juicer for leafy vegetables.
Pros
The sturdy 7-segment spiral auger provides maximum juice yield while keeping the price affordable. The juicer is perfect for softer ingredients like greens because of the grinding mechanism.

Cons
It could've used a bigger chute feed without having much effect on the price.
4. KOIOS Masticating Juicer Machine
The KOIOS Masticating Juicer Machine is what you get when you mix a modern, convenient design with a reliable juicing mechanism.
The clean and sophisticated design of this slow-masticating juicer makes it a perfect addition to your home kitchen.
Be that as it may, the design isn't the only focal point of this green leaf juicer. In terms of juice yield, you can expect to get 82-88% from leafy greens. Although it slims down to 50-60% when juicing hard fruits and vegetables.
But that's not anything unusual so don't worry. The efficient juicing system ensures that you get the most out of the ingredients with minimal heat and oxygen exposure. With a shelf life of 72 hours, you could make the juice in 20 minutes and enjoy it for 3 days.
Other than that, the juicer comes with a simple assembling process. It's a chamber assembly that minimizes the noise and makes the assembly much easier. This way, you get to reap the power of juicing without much hassle.
Pros
A Sleek design with an impressive juicing mechanism delivers maximum juice yield for greens. Moreover, the straightforward assembly makes it much easier to use and clean the juicer.
Cons
The white outlook might result in stains if not cleaned regularly and properly.
5. Tribest GSE-5050 Greenstar Elite
The Tribest GSE-5050 Greenstar Elite is the holy grail of masticating juicers. There's no doubt about this mighty machine being the best triturating juicer for leafy greens out there.
This slow-masticating juicer is the very first one that came up with the twin gear technology. While the Omega Omega NC900HDC uses a dual-extraction system, this one steps it up with a triple extraction system.
The two conical gears effectively rotate at 110 RPM. I agree that it's a bit higher than most masticating juicers. But there's no need to worry about heat buildup and oxidation for this slight rise.
You need to know that the gears come with magnets and bio-ceramic technologies to squeeze out more juice from the ingredients. In layman's terms, this means you'll get an even higher juice yield from softer ingredients like greens.
Apart from making the best juicer machine out there, they've focused on the little details too. One fine example would be the glass juice container instead of a plastic one.
The final story is that you don't have to worry about the quality and build construction when paying this much for a juicing machine.
Pros
A powerful triturating juicer that utilizes every drop of juice from the ingredients. It comes with well-designed parts that are easy to clean. Overall, it's an outstanding vegetable juicer with bleeding-edge features.
Cons
Weighing at almost 26 lbs, the juicer is not easy to move. Also, the price might leave a hole in your pocket.
6. Aobosi Slow Masticating juicer Extractor
Let's face it most people don't want to spend a boatload of money for a juicer machine. This is more applicable when you're just starting on the healthy routine of juicing. While it's always better to invest in a quality juicing machine in the first place, at least you're starting.
The Aobosi Slow Masticating juicer Extractor is the best cheap slow masticating juicer out there. Even with such a low price tag, most people don't complain about juice quality and other factors such as cleaning.
Other than the 150W motor, it comes with an easy assembly process and simple controls. However, there's one thing I have to complain about. It's the build quality.
Well, it's not really a complaint. But you should know about that. The moment you see it, you'll know that it's not the most well-built machine out there. What's more, is the control switch seems quite backdated.
Pros
It's an affordable yet powerful juicer with a decent juicing mechanism. The easy controls, cleanup, and budget-friendly price make it perfect for people who want to start.
Cons
The manufacturer could've opted for some better parts.
7. The Original Healthy Juicer (Lexen GP27)
Even though juicers are relatively new in the market, juicing itself started a long time ago. Back then, people only relied on manual juicing methods. And there are still a lot of people out there who prefer to juice their greens manually.
However, on the insides, it looks almost identical to a masticating juicer. Everything is the same except you don't get a motor; hence it's a manual juicer.
The surprising fact is that it creates over 100 lbs of force in the center, squeezing all the juice from the ingredients. At the same time, you indeed have to do most of the work yourself, but it comes with its own benefits.
For example, assembling the juicer couldn't get any easier. Moreover, it's a piece of cake to clean the juicer as there are fewer parts. On top of that, you could clean it whichever way you like as there aren't any electrical components.
That said, there's no doubt that the Lexen GP27 is the best manual juicer for greens. While it might be better to switch to electric juicers for hard fruits, it's great for juicing greens.
Pros
Cleaning and assembling the juicer is a breeze because of the simple mechanism. Also, it's perfect for juicing leafy greens, and you get a little hand exercise.
Cons
The juicing screen might get plugged up when you're juicing a lot of ingredients.
8. Jocuu Slow Juicer Masticating Juicer
Convenience indeed comes with a price for most cases. But that's not true for the Jocuu Slow Juicer Masticating Juicer. This juicer machine solves one of the most common problems I've noticed with affordable masticating juicers.
While every slow juicer comes with a juice container, most of the affordable ones don't have a juice container holder. This can become an irritating problem, especially when you're juicing hard ingredients or leafy greens for a while.
Even though they could've solved it by adding rubber grips on the container, they took it up a notch and gave it its own secure place.
Other than that, the performance is quite similar to the Aicok Slow Masticating Juicer. You already know how good that juicer is. I'm not saying it's as good as that one, but it's close.
Pros
The affordable juicer comes with a convenient juice container holder to ensure the juicer stays steady when in operation. Even at this price point, it offers 2-setting speed control.
Cons
The juice container handle needs some improvement. It's a little too wide for people with small hands.
9. Omega NC800HDS Juicer Extractor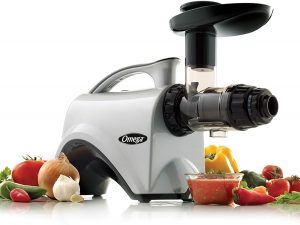 The Omega NC800HDS has been in the market for quite a few years, but its popularity hasn't dropped one bit because of its powerful performance and reliability. But that's not the only reason why it's the best juicer for kale and spinach.
Thanks to the 2 HP motor, you reduce oxidation and heat build-up chances, ensuring you get the maximum nutrients with better shelf life. And heaven knows this juicer is perfect for juicing thick greens thoroughly.
While some manufacturers say they included a smaller chute feed for safety reasons, but in most cases, a wide chute feed is always better. First of all, it manages to reduce the preparation time by half as wide wider chute feeds don't require you to cut down the ingredients into smaller portions.
To put a cherry on top, you could also use this machine as a food processor. From preparing the soft dough of your pizza to making peanut butter, you could put it up to many tasks.
Pros
It's a top-of-the-line slow masticating juicer resulting in high-yield juice every single time, even after years of usage. Moreover, the dishwasher-safe parts are easy to clean.
Cons
The acrylic juice container might break if it falls on the ground.
10. AMZCHEF Slow Masticating Juicer Extractor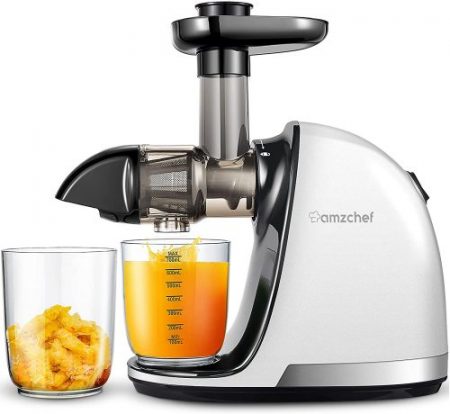 Sometimes in life, you want something that can fix your problems without you having to recheck them. Well, the AMZCHEF Slow Masticating Juicer Extractor will do that for you.
If you've been around juicers, you know that some of them aren't that good with juicing softer ingredients like leafy greens. In most cases, you get to see an awful amount of wet pulp in the container.
However, top-graded slow juicers like this one won't cause problems like this. With a higher juice yield, you get your healthy dose of nutrients without any extra trouble.
Apart from delivering high-yield juices constantly, the design of the machine is perfect for home kitchens. The compact size makes it easy to place it on the countertop without eating up too much space.
Pros
It's a compact and affordable slow juicer that delivers high-yield juices regularly. The compact design also makes the parts easy to clean.
Cons
The juice strainer is hard to clean with only rinsing. You'd need the cleaning brush for a good cleaning.
How to Choose the Best Juicer for Greens?
When it's about juicers for greens, it all boils down to a few basic factors. The most important is the type of juicer. That said, I'll shed some light explaining which one is better suited for you-
Masticating Juicers
Better Juice Yield
Leafy greens naturally have a lot of fiber in them. While high RPM juicers struggle with this, masticating juicers can squeeze out almost 40-60% juice. It gets even better when you opt for twin-gear models.
No Noise Complaints
Most juicers don't have an RPM of over 80 and don't cross the 60 dB noise level. When you think about it's basically nothing. You could have a baby sleeping in the other room even when they're running at full capacity.
More Prep Time
Masticating juicers come with a relatively smaller chute feed(1.5-3 inches) because of their design. You'd have to cut the ingredients into smaller pieces so that they can fit through the chute. While that makes the juice quality a lot better, there's no doubt it increases the prep time.
Higher Price Range
Quality juice comes with a higher price tag. Juicers were crazy expensive when they first came out. But fortunately, the market grew as newer brands emerged. Even though they're still more expensive than centrifugal juicers, there are many affordable yet powerful models available now.
Some Parts Can Be Difficult to Clean
Most masticating juicer parts are easy to clean. The problem starts with the juicer strainer. As this part captures all the pulp and everything, you need to clean it manually. And some manufacturers make this part more complicated than it needs to be.
Centrifugal Juicers
Less Juice Yield
Centrifugal juicers aren't that efficient at delivering a higher juice yield. When compared to masticating juicers, the juice quality is somewhat of a downgrade. On top of that, you get a much lower shelf life because of the oxidation.
Can be Loud as Heck
Most centrifugal juicers have powerful high-wattage motors. Like fast cars, fast juicers can make a ton of noise. I know you might think centrifugal juicers aren't worth it but wait till you read the next factor.
Faster Juicing
The number one selling point of centrifugal juicers is that they're very quick at what they do. Thanks to the higher RPM motor, you could get your juice ready in a minute or so. If you want a quick and convenient solution, there's no alternative to centrifugal juicers.
Affordable
Having less complicated components allows centrifugal juicers to have a lower price tag. Even though the juice yield is lower, the affordable rate makes them worth it.
Easy to Clean
A straightforward assembly and disassembly process with simple parts makes centrifugal juicers much easier to clean. Moreover, most manufacturers make dishwasher-safe parts that put a cherry on the cake.
Best Juicer for Greens FAQs
Can you put leafy greens in a juicer?
Most juicers can handle leafy greens without much hassle. However, it's better to opt for masticating juicers, as centrifugal juicers are bad at separating the pulp from the juice.
Is juicing greens good for you?
Juicing greens will always be a great way of getting a shot of nutrients. It contains various vitamins and healthy minerals essential for the body. But remember, juices can never replace a healthy and balanced diet.
What vegetables should not be juiced?
The truth is you could juice pretty much every vegetable out there. The question is can you handle it? Unless you have thyroid problems, stomach bloating, kidney stones, or high blood sugar, juice all the vegetables you want.
Can I put spinach in my juicer?
Some juicers, especially centrifugal juicers, fall behind in juicing soft vegetables such as spinach. As they can't properly separate the juice from the pulp, it stays wet, leaving behind healthy nutrients. However, it shouldn't be a big deal for slow-masticating juicers or triturating juicers.
Conclusion
Well, that's a wrap on today's post. After going through such a compact and information-filled guide, I'm sure you've figured out the best juicer for greens by now.
If not, leave a comment below about your issue, and our editorial team will reach you to give you the solution you need. Until then, goodbye!