Nothing beats a full glass of juice for breakfast. The fresh taste and the nutrients give you instant energy that prepares you for the whole day. But the problem is juicers are not cheap, especially when it's a masticating juicer. So, when I stumbled upon the task of finding the best masticating juicer on a budget, I knew the task wasn't going to be easy. After a lot of careful consideration, I handpicked 8 cold-press juicers that fit the box.
As these are budget juicers, there are going to be some brutal but honest opinions. And of course, there's going to be an elaborative guide explaining the factors you need to look out for when buying one.
That said, let's dive in-
8 Best Masticating Juicer on a Budget in Details
1. Omega MM900HDS Medical Medium Slow Masticating Celery Juicer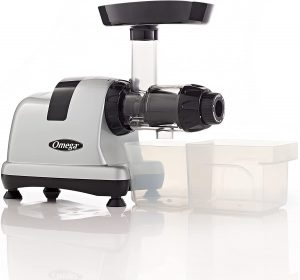 Omega juicers maintain the gold standard when it comes to masticating juicers. The Omega MM900HDS is another top-notch juicer that's built to last. This time they focused on making the ideal juicer for making celery juice. And it's safe to say, they nailed it.
The powerful 200W motor of the MM900HDS is capable of squeezing out every drop of juice from celery. But there's a catch here.
You see the end cap was specially designed to juice celery and celery only. The manufacturer clearly tells you to avoid juicing other fruits and vegetables. So, that's kind of a bummer.
But there's no better alternative available in the market to juice celeries. Rotating at 80 RPM, the industry-famous Omega juicing mechanism delivers the best juice there is.
Even though the price is a lot higher than the Aicok Slow Masticating Juicer, you'll notice the difference in the juice quality in a split second. If you've got your wallet by your side, there's no reason not to go for this absolute beast of a machine.
Pros
Specially designed end cap makes the best celery juice
Creates little noise even with a powerful motor and high RPM
Built out of durable stainless steel
Capable of heavy-duty juicing unlike cheap juicers
Cons
2. Omega CNC80 Compact Juicer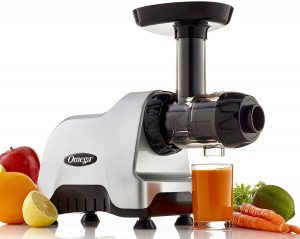 I'm back again with another juicer from Omega. The Omega CNC80 is the upgraded version of their 8006 model. A stylish design and state-of-the-art juicing mechanism make it one of the best masticating juicers out there.
Omega juicers are never cheap. If you look at the MM900HDS, you get an idea about their price. But surprisingly, with this model, the price got slashed down for a few reasons.
The first one is it's an older 5th generation Omega juicer. Second, it lacks a couple of new features like the handle that comes with newer models.
Be that as it may, it doesn't lack one bit in terms of performance. If I were to compare them, the CNC80 would probably yield more juice than other juicers on this list.
However, I couldn't keep it at the top for one reason. I get that it's rather affordable as an Omega juicer. But even then, it's priced much higher.
You already know about the juice quality, ease of cleanup, and noise levels of Omega juicers. So, I'm not going to go deep into that.
The Omega Medical Medium wasn't capable of juicing anything other than celery. Compared to that, this is a win-win situation for you. A well-built masticating juicer at an affordable rate with 15-years of warranty, what more could you ask?
Pros
Heavy-duty juicer made to last a lifetime
A stylish and compact body enhances the beauty of any kitchen decor
Affordable price as it's an older model
Dishwasher-safe detachable parts lead to an easy clean-up process
Cons
The assembly process might seem a bit complicated if you're new to masticating juicers
3. KOIOS Masticating Juicer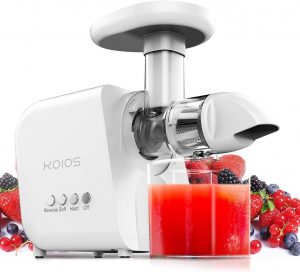 Price-wise, the KOIOS Masticating Juicer stays somewhat in the middle. But design-wise, it's unlike any other cold-press juicer you've ever seen. Powered by a 150-watt robust motor, this durable machine is capable of juicing anything from hard pineapples to soft leafy greens.
With a modern and sophisticated design, it can blend in with any kitchen setting. As the size is small enough to make it one of the best compact juicers on the market.
Whether you're a newbie or a veteran juicer, you'll know how to use it from the very first use. The one thing I love the most is how it has separate buttons for both soft and hard ingredients. And of course, there's the reverse function in case something ever gets stuck.
I can speak for most people that they don't like to be jolted awake with an ear-splittingly loud noise. The noise level doesn't cross 60 dB even when it's on the hard setting.
And similar to the Aicok Masticating Juicer, it sports a 7-segmented spiral auger. This means you get a much better juice yield and juice quality than other cheap juicers in the market.
Pros
Modern and sophisticated design with long-lasting material
Unique auger delivers better juice quality and high yield
Easy to use controls
Separate speed settings for soft and hard ingredients
Cons
There's no stand for the juice cup
4. CalmDo Masticating Juicer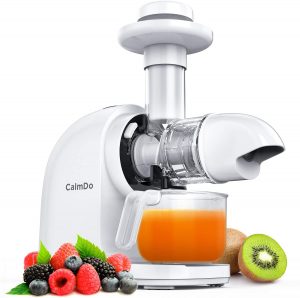 Lightweight and crazy-cheap, the two terms that describe the CalmDo Masticating Juicer to the point. Weighing at only 7.1 pounds(3.2 kg), this cold-press juicer is one of the lightest and most compact juicers out there.
No matter how small your kitchen or countertop is, I can guarantee you it's big enough to fit this juicer. Other than the compact size, it boasts a 140-watt motor that rotates at 70 RPM.
While the RPM is lower than most juicers, there's no significant difference in the juice quality. But it'll take you a bit longer to bring out the juice from the ingredients.
But the interesting fact is you can use it for ice cream. Simply put in the ice cream screen and voila, it's ready to go. The assembly process couldn't get any easier.
Other than that, the cleaning process is rather straightforward except for the juice strainer. But I won't complain as that's an issue with almost all juicers.
Overall, the CalmDo cold-press juicer is a great juicer that won't leave a hole in your pocket. With added features like an ice-cream strainer, the versatility deserves a mention.
Pros
Ceramic spiral auger ensures maximum juice yield
Includes a separate ice-cream strainer
Comes with a juice cup stand
Small and compact enough to fit all countertops and cabinets
Cons
The white color might get stained faster
5. Aobosi Slow Masticating Juicer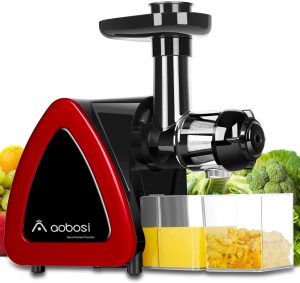 If you've stuck around till now, you know about most specifications of affordable masticating juicers. And I can say with confidence that it's the same case with the Aobosi Slow Masticating Juicer except one. It's the lowest-priced cold-press juicer on this list.
The surprising fact is it doesn't compromise even a little bit on the juice quality. With a ceramic spiral auger spinning at 80 RPM, it promises clear juice no matter how soft or hard the ingredients are.
Despite a powerful 150-watt motor, the noise levels don't exceed the levels of a normal conversation. You could very well have a baby sleeping with the juicer running at full capacity.
Speaking of full capacity, if the juicer ever gets stuck, the reverse function will always be there to save the day. Although I'm a bit skeptical about the design of this machine.
Sure, the price is slow and it delivers tasteful fresh juice. But there's no denying the design itself is somewhat terrible. If you can get past that, this juicer is up for grabs.
Pros
Protects nutrients while juicing thanks to slow rotations
One button disassembly makes cleaning a lot easier
Chute feed tray for fitting more ingredients
Cons
The design needs an update, stat!
6. Aobosi AMR8825 Vertical Masticating Juicer

I love masticating juicers. I love how they can squeeze out the juice without destroying any of the ingredients. But what I don't love is how most horizontal masticating juicers eat up a lot of space in the countertop.
If only they were tall in size, this problem would've been solved. That's where the Aobosi AMR8825 Vertical Masticating Juicer comes into play. With a tall aesthetic design, this cold press juicer saves your precious space while enhancing its beauty.
The most fascinating part is it's got two chute feeds, one small(38MM) and one big(83MM). The choice is up to you. On top of that, it features an LED display. Now, that's something new, don't you think?
The cleaning and assembly process is rather simple too. But the motor rotates a bit slower although it juices fast thanks to the 250-watt motor. You're getting all these features while costing less than an Omega or an Aicok Juicer. So, that's something to think, huh?
Pros
Comes with two different chute feeds meaning less prep work
Sports modern features such as an LED display
Powerful 250-watt motor work
Juicing components made out of durable and food-grade Tritan material
Cons
The juicers parts aren't widely available
7. Aicook Slow Masticating Juicer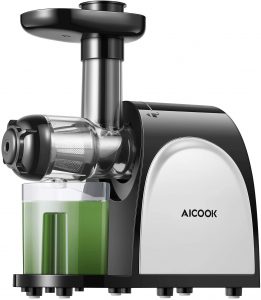 Wait a minute. Isn't this the same as the first juicer on this list? Well, I, too, had that confusion when I first saw the names. Turns out Aicook is a sub-brand of Aicok. They're essentially from the same manufacturer so the assurance of quality is there.
The Aicook Slow Masticating juicer is an ideal juicer for people who are looking for something without sacrificing much of the functionalities. The compact-designed cold press juicer comes with features like reverse function and one-touch operation to make your juicing experience a bit easier.
Similar to its cousin, it spins at 80 RPM, maintaining optimal juice quality. And it goes without saying, the pulps stay dry just the way you like it.
The one thing I like most about Aicook juicers is that they add a separate stand for the juice cup. I know most juicers come with suction cups to reduce moving. But this is what I call going above and beyond. When a manufacturer cares about little things like that, you know they listen to their customers.
Speaking of that, Aicook gives you a 2-year warranty. It's not as promising as the 15-year warranty of Omega juicers. But it's considerably good for the price you're paying.
Pros
An affordable juicer that has most of the necessary features
Includes a safety lock to prevent the juicer from running while disassembled
Compact size fits into any countertop
Comes with a separate stand for the juice cup
Cons
Doesn't have a pulp adjustability setting
8. Aicok Slow Masticating Juicer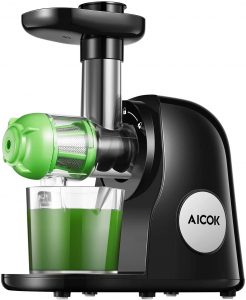 The new and upgraded Aicok Juicer didn't become the best-selling masticating juicer for anything. It comes with all the essential quirks you'd expect from a juicer like this. Even though the price isn't the lowest, it's full of value for money.
This durable masticating juicer sports a robust 7-segmented spiral auger. Thanks to the efficiency of this design, the juice yield is considerably higher than other affordable juicers in this range.
Operating at 80 RPM, the juicer keeps the noise under the radar. Although I should warn you this is not a heavy-duty machine. If you're planning on making a few batches of juices, make sure to take some breaks in between.
Apart from the basic features, it features food-grade PMMA material for the containers. As the juice is made through a slow juicing process in food-grade materials, it can stay good for up to 72 hours.
The best part is you won't feel overwhelmed even if you're a newbie to juicing. Assembling and using the juicer couldn't get any easier thanks to the one-click feature and auto pulp ejection system.
Pros
The build quality is much better than other affordable juicers
Auto pulp ejection feature makes it easier to clean
The noise won't disturb you from sleeping
Little to no pulp in the juice
Cons
The small size won't you juice in bulk
Comparison of the Top 8 Masticating Juicers on a Budget
Product
At a Glance
Aicok Slow Masticating Juicer

The best affordable masticating juicer
Excellent customer review

Omega MM900HDS Medical Medium Slow Masticating Celery Juicer

There's no better alternative for juicing celery
Can juice only celery
A bit expensive

Aicook Slow Masticating Juicer

Lower priced juicer
Comes with all necessary features

Omega CNC80 Compact Juicer

Older model so the price is significantly low
Maximum juice yield with a robust build quality

KOIOS Masticating Juicer

Modern and sleek design
Capable of making ice-cream

CalmDo Masticating Juicer

Nothing special but a quality juicer

Aobosi Slow Masticating juicer

Powerful juicer but the price is much lower

The Aobosi AMR8825 Vertical Masticating Juicer

Vertical masticating juicer takes less storage space
Prepares juice relatively faster
Buying Guide for the Best Masticating Juicer on a Budget
In comparison to centrifugal juicers, masticating juicers are far from being cheap. But when the budget's low, the considering factors are fewer too-
Motor Power(RPM)
If you've ever used masticating juicers, you know that speed isn't the most concerning factor. What matters is how hard it can masticate. Try to look out for a masticating juicer that has motor power between 45 to 80 RPM.
On the other hand, the wattage isn't a big deal but make sure it's got at least 100-watts of power. Most cold-press juicers range from 150 to 200-watt motors, so you'll be safe either way.
There's another thing I have to mention; adjustable speed settings. Not all juicers will come with it. But it's a handy feature when you're juicing soft greens.
Design and Storage
Design and storage are two different factors but I've combined them for one reason. Mostly because the design of the juicer is what determines how much space it'll take.
Horizontal
The common type of masticating juicer is the horizontal type. As the name suggests, it's a horizontally designed juicer where the pulp gets ejected from the bottom.
The problem is, horizontal juicers can eat up plenty of space especially if your countertop isn't that big.
Vertical
On the other hand, vertical juicers are tall-shaped juicers that take as little as possible. Compared to horizontal juicers, it's less than half. Oftentimes these juicers pack in extra motor power too.
Chute Feed
The chute feed is where you put in the ingredients. The thing is a lot of manufacturers opt for small chute feeds in the name of safety. But that just means you'll have to do more prep work.
With a wide chute feed, there's no need to slice up the ingredients into smaller pieces. Moreover, some juicers come with two chute feeds. So, that's something to look out for.
Noise Level
No matter what brand you get, chances are it's not going to be loud as heck. For the most part, masticating juicers don't exceed the noise level above 60 dB.
But even then, vertical masticating juicers tend to create a bit more noise. But compared to centrifugal juicers, it's nothing.
Ease of Cleanup
Masticating juicers are a lot easier to clean than most centrifugal juicers. Because of the less complicated parts, these juicers take less time to take apart and therefore get the cleaning done.
The one component that makes things complicated is the juicer strainer. But there's a little trick here. Search for a juicer strainer that has fewer edges. Nevertheless, the included cleaning brush will bring out most pulps without much hassle.
Conclusion
Finding the right juicer that fits your budget might take a lot of time if you're not sure what you want. But if you ask me, I'd say the Aicok Slow Masticating Juicer is the best masticating juicer on a budget. The price isn't that high and you get a durable machine.
However, if the brand value is more important to you, go for the Omega CNC80. Even though it's an older model with a higher price, it's worth every penny.