If you are into healthy fruits then pomegranate would be the best choice for you. Because the fruit is packed with powerful plant compounds and a lot of nutrients. Drinking pomegranate juice regularly may help you overcome many serious illnesses like cancer, heart disease, arthritis, and other inflammatory conditions.
But to process pomegranate, you have to deal with its clusters of fleshy gem-like seeds inside. So, it's difficult to make pomegranate juice without a juicer.
A pomegranate juicer is different from other fruit/vegetable juicers in the market. You need to look for specific attributes and specifications in your juicer for pomegranate. Though there are a lot of options regarding the type of machine you are looking for.
So, in this article, we have listed the ten best pomegranate juicers with in-depth reviews and buying guide so that you can find the best juicer that can do the work for you and goes with your preferences.
If you don't have time for reading reviews, we recommend Focus Foodservice 97306 Juice Press, a comprehensive pomegranate juicer. Also for the budget option, we suggest the Zulay Professional pomegranate Juicer. An impressive juicer regarding its price point.
Comparison Table for The 10 Best Pomegranate Juicers
Reviews of 10 Best Pomegranate Juicers Including Pros and Cons
1. Focus Foodservice 97306 Juicer Press Review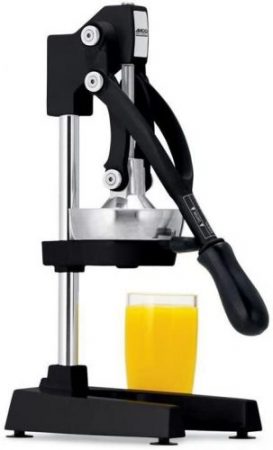 Product Attributes:
Extra-large juice press

Including ergonomic handle

Noise-free operation

18-8 stainless steel perforated strainer

Great stability
Focus Foodservice 97306 Juice Press is a highly efficient pomegranate juicer with a lot of advantages. The juicer is very much durable with its cast iron construction. So, the product can endure heavy use and lasts long.
Its enamel finish resists citrus acids, corrosion, and pitting. The rubber handles deliver the perfect grip for trouble-free juicing. The machine also features rubber suction cup feet that stabilize your juicer for safe operation. You can work with big-sized containers because the juicer has a large opening between its legs.
For better stability, it features a wide base. The juicer has a noise-free operation. Stainless steel perforated strainer avoids any kind of rust or other defects during your use time.
Also, the press is constructed for maximum pressure with minimal effort. So, you can make more juice with this juicer without much effort.
Pros
Easy functionality
Easy cleaning
Generate less noise
Highly efficient
Long-lasting product
Goog grips with rubber handles
Can produce large quantities of fresh juice
Cons
A bit pricy
According to some users, the product quality is not up to the mark [/i2cons][/i2pc]
2. Zulay Professional pomegranate Juicer Review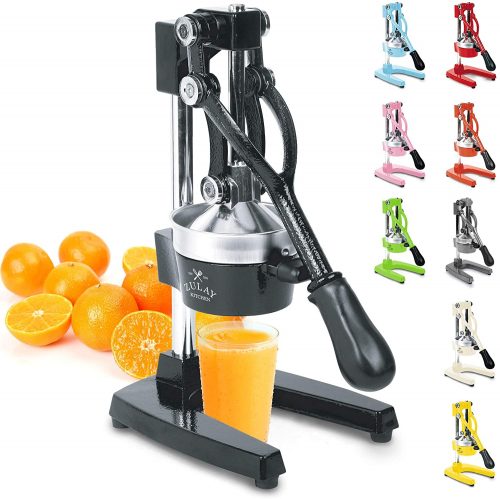 Product Attributes
Ergonomic design

This juicer uses leverage and gravity for the extraction

Features a stainless steel strainer cup with a 5-inch diameter

Dishwasher friendly with detachable parts

Rubber feet to avoid sliding during operation
Zulay Professional Citrus Juicer is a heavy-duty and most efficient pomegranate juicer. Extracts most juice possible with less effort. It has a comfortable firm grip handle that helps you to juice more efficiently than other juicers.
The juicer is a commercial-grade hand press extractor that is very much durable. Because it's made of cast iron with an ergonomic design. It uses leverage and gravity to squeeze your fruits so a little effort can do the job for you. Can process a variety of small or large fruits and veggies with its 5-inch diameter cup.
The cleaning procedure is easy and simple. The detachable parts are dishwasher safe and, assembly is also simple. For stability, it has rubber feet that styes firmly in place while juicing.
Pros
Long-lasting
Easy cleaning
Simple mechanism.
Stable and secure
Can process large grapefruits.
Little effort is needed to extract juice.
Cons
Doesn't extract as much juice as an electric juicer.
3. Excelvan Hand Press pomegranate Commercial Juicer Review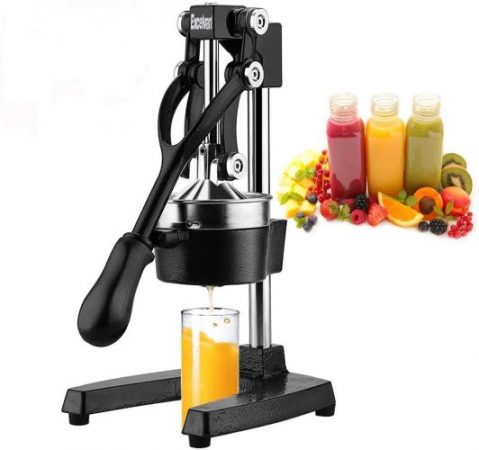 Product Attributes
Stainless steel funnel

Thick pedestal

Removable strainer cone and funnel for cleaning

Its health and security is admitted by the American FDA

Gravity aided squeezing operation
Excelvan Hand Press Citrus Commercial Juicer is great for easy operation and maximum efficiency. Can squeeze the most juice without causing any pulp impurity from pulpy fruits like pomegranates. It features a tough cast iron construction that lasts long and provides maximum durability.
Simple and easy operation. Just you have to place your fruit in the device (for large fruits cut it in half) then press down on the handle. Like that, you will get fresh juice to enjoy.
You don't have to worry about its health and security because the juicer is admitted by the "American FDA". Easy toppling with its thicken pedestal. The machine saves your labor with its gravity-aided squeezing technology.
For ease of cleaning the strainer and cone can be simply removed.
Pros
Hard and durable construction
Safe material
Easy cleaning
Easy to use
Great for juicing pomegranate, citrus, lemon, and oranges.
Cons
Hard fruit with less juice like "apple" is not recommended.
4. Zulay Extra Tall pomegranate Juicer Review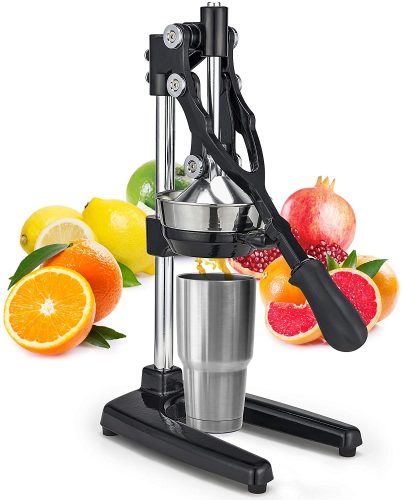 Product Attributes
The juicer squeezer can fit a 32 – 30 oz tumbler under it

It's a commercial-grade hand press extractor

Includes 5-inch diameter cup

Dishwasher friendly detachable parts

Features rubber feet for better stability and grip during operation
Zulay Extra Tall pomegranate Juicer is a professional quality extra tall efficient juicer. The machine can extract a maximum amount of juice from lemons, oranges, limes, pomegranate, and other grapefruits juicer. It can fit a 32-30 oz tumbler under it to receive the juice directly.
The handle is comfortable and provides you a firm grip so that you can have the easiest citrus juicing experience. This juicer also features a durable heavy-duty cast iron with an ergonomic design. So, it's good for frequent use and lasts long.
The mechanism of this juicer uses leverage and gravity to do the job. So, with a little effort, you can extract a great quantity of juice from your pomegranate. The juicer has a 5-inch diameter cup allowing it to juice various types and sizes of fruits.
The detachable parts are dishwasher friendly with easy cleaning. So, you can focus more time on juicing than cleaning. The rubber feet provide stability for your juicer during operation.
Pros
Can process all sizes of fruits.
Simple mechanism and easy to use.
Easy cleaning
Durable
Little effort needed
Stable and secure while juicing.
Cons
It produces less juice compared to a power juicer.
5. Commercial Pomegranate Juicer Review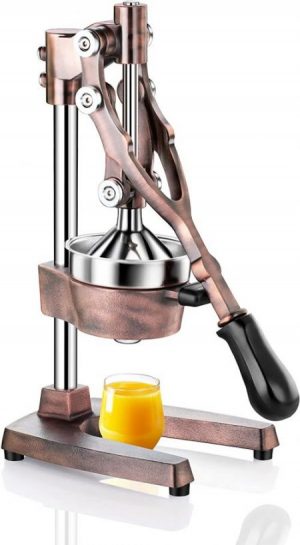 Product Attributes
Ergonomic rubberized handle

Suction feet are included

Detachable cone and funnel

Separable parts are dishwasher safe

Heavy base
Commercial Citrus, Pomegranate Juicer is a professionally built quality juicer that comes with black and antique bronze-made cast iron and 18/8 stainless steel. Very much durable and safe to use. The ergonomic rubberized handle is easy to grip and can withstand 2,300 PSI of load.
It can squeeze the most juice possible out of oranges, limes, pomegranate, and more. With its heavy base and suction feet, you can have maximum stability and security during operation.
Also, the longer handle can generate extra leverage so that maximum load can be generated with a little effort. The detachable parts are dishwasher safe so it's easy to clean.
Pros
Durable built
Easy to use
Easy cleaning
Stable during juicing
Dishwasher safe
Cons
According to some users, the quality of the suction feet is not up to the mark.
6. Gourmia GMJ9970 juicer Review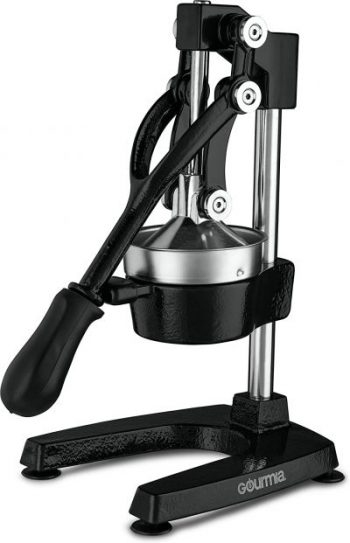 Product Attributes
Cast iron base and handle

Suction cups are included at the bottom

Commercial grade juicer

Narrow design
Gourmia GMJ9970 juicer is a heavy-duty commercial-grade citrus juicer. It can generate a strong squeeze with minimum effort and get the most juice out of your pomegranate, oranges, lemons, and other citrus fruits.
You can work with it easily because of its simple mechanism. Just place your fruit in the device and press down on the handle and like that you've got yourself fresh and perfectly squeezed juice.
It features a cast iron base, cast iron handle with stainless steel material which ensures a long-lasting highly durable product.
For extra grip, during operation, the juicer delivers suction cups at the bottom. Its narrow design helps you to store this machine easily in most cabinets.
Pros
The juicer can deliver a strong squeeze.
Simple mechanism and easy to use.
Better grip during operation.
Durable construction.
Compact design
Easy to clean
Cons
No spare washable baskets included.
Fruits of big size need to be cut in half.
7. Nemco 55850 Manual Heavy Juicer Review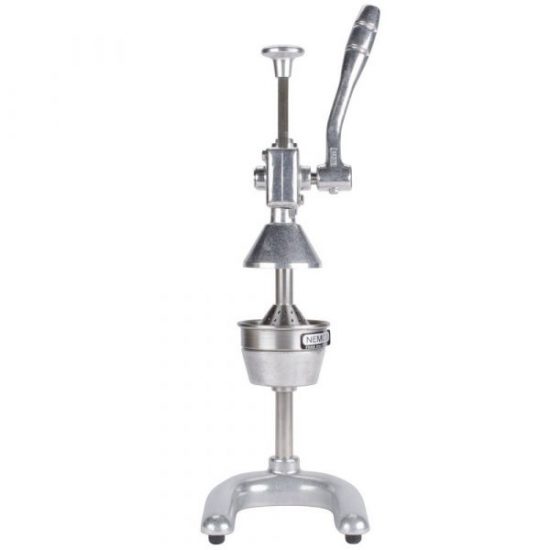 Product Attributes
Includes removable strainer

Features a high strength steel post for stability

It has a 20:1 mechanical leverage advantage

Can process fruits up to 3.⅞-inch diameter

The bronze bearings are self-lubricated
Nemco 55850 Manual Heavy Juicer is a solid build with a simple mechanism that can easily extract more juice from your pomegranate. The machine features a 20:1 mechanical advantage. So it reduces the effort but increases the load so you can get every last drop of freshness for more juice every time you make it.
The ergonomic handle is easy to grip and well designed. The rack and pinion are made from stainless steel and they are supported between two self-lubricating strong bronze bearings. To achieve more rigidity the juicer features a high-strength steel post.
The aluminum and stainless steel construction is meant for durability and rugged performance. With an easily removable strainer, cup, and cone cleaning becomes simple.
Pros
Very much stable
Simple and easy to use
Compact structure
Easy cleaning
High durability
Easy-grip handle
Cons
Doesn't offer any attachments to process large citrus
8. Omega Vertical Low-Speed Juicer, 150-Watt, Silver color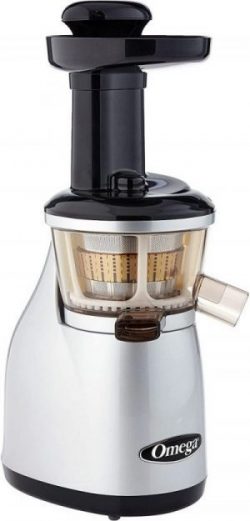 Product Attributes:
Low speed with 80 RPM

Masticating style juicing system

It is a dual-stage juicer

Includes reverse functionality
Omega Vertical Low-Speed Juicer is a masticating-style juicing system. With its low RPM, the juicer squeezes instead of grinding maintaining its pure color, natural taste, vitamins, and nutrients. This machine features dual-stage functionality. First, it crushes fruit or vegetable to extract the juice.
Then during the second pressed stage, the pulp is squeezed before it is ejected. So, this results in a higher yield of juice with very dry pulp. The machine is economical. It's efficient and productive. You will receive a great amount of nutrient-rich juice with fewer amount of fruits and vegetables.
Its low-speed system prevents oxidation, froth, and foam from your juice. So, you can store your juice for up to 72 hours without any juice separation or degradation. To avoid clogging/stuck it features a reverse functionality making things easier for you.
Pros
Reduce oxidation
Doesn't produce any foam and froth.
Economical
Easy to clean
Allows the juice to maintain its natural taste with its squeezing operation.
Cons
A bit pricy
Some users faced clogging issues drawing juicing.
9. Cilio C203349 Juicer Review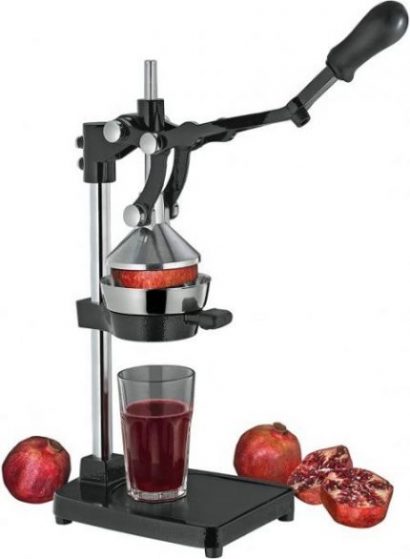 Product Attributes
Commercial grade citrus juicer

Rubber suction feet included

Stainless steel made funnel and extractor

Removable parts are dishwasher safe

Leverage produced by the long handle to maximize extraction
Cilio C203349 Juicer is a commercial-grade quality pomegranate juicer. It makes healthy juices fast and easy. The material is very much durable with its cast aluminum coupled structure. Now for the funnel and extractor which are made from stainless steel ensures a long-lasting juicer.
With easily removable parts which are dishwasher safe, you can enjoy a hassle-free cleanup process. The mechanism is also simple. You just need to place a citrus fruit (half) on the raised cone and press the handle down. With the help of leverage produced by its long handle, you can squeeze the fruit easily with minimum effort.
The juicer ensures maximum extraction while maintaining the quality of your juice.
Pros
Durable construction.
Easy cleaning
Easy and simple procedure.
Long handle for maximum extraction.
Juicing pomegranates is easy.
Cons
According to some users, the presser holding metal is weak.
10. Commercial Grade Can-Can Pomegranate and Citrus Juicer Review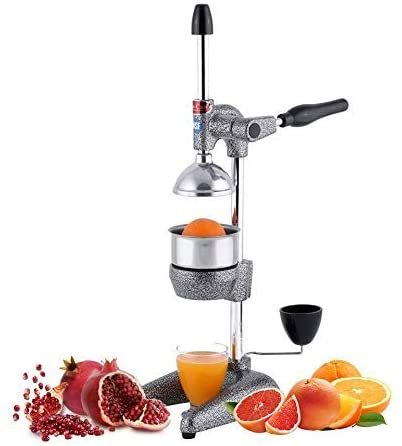 Product Attributes:
Long lifespan over 10 years

Features a clamping system

Stable during operation

The base of the unit is supplied with rubber feet

Includes swing-out drip cup
Commercial Grade Can-Can Pomegranate and Citrus Juicer is a great durable machine. It has a long lifespan with domestic use of over 10 years. The machine is designed to retain the fruit pulp. Also, its inclined bumps prevent the spongy fruit pulp to absorb its own juice and delivers more yield.
The large internal volume can accommodate many sizes of fruits. The distance between the upper press and strainer is well optimized for the efficient squeezing operation of many kinds of fruits.
It comes with a swing-out drip cup that collects drips after juicing. The base is equipped with rubber feet as a result it can maintain the unit intact on the countertop and also protect the countertop surface from scratching.
Pros
Well built product
Easy to clean
Great for juicing pomegranates.
Compact and simple design.
Durable juicer
Works with minimum effort.
Cons
Juicing large pomegranates is more difficult than small ones.
What To Consider Before Buying The Best Pomegranate Juicer From Market? (Buyer's Guide)
As we know juicing pomegranate is hard so, if you choose just any model for the job it's not going to do it. To make the right choice you need to understand what features a good pomegranate juicer has. Here we discussed some core points and aspects that you need to look for before buying your preferred pomegranate juicer from the market.
The durability of your machine:
Durability is very much important in a pomegranate juicer. Because this fruit is one of the toughest ones so, you need a machine that is strong enough to withstand the PSI and enough force to extract your fresh juice.
To check durability look for the moving parts/joints of your juicer they need to be strong. Also, consider looking at the material your juicer is made from. Generally, stainless steel and cast iron works great on durability
The stable bottom:
As more force is needed while juicing pomegranate you will need a stable base that will give you enough grip so, that your juicer doesn't kick out from the counter and make a whole mess out of it.
Juicers that deliver solid rubber feet or well-functioned suction cups are better at stability during operation.
Handles and cones:
Try to find juicers that need little effort to do the job. Now, how much force you need to deliver depends on the handle of your pomegranate juicer. So, in this case, longer handles hold the advantage here. With long handles, you don't need to use as much leverage to extract the juice. Also, look for comfort and non-slip grips on the handle of your juicer.
Large cones are beneficial as pomegranate has a large face. Also, you don't want your fruit slipping around inside the cone either. So, a big size cone is better than any other normal size cone.
Additionally, look for a stainless steel cone so, that it ensures maximum durability to get all of the individual seeds while juicing.
Filters and funnels:
The funnels and filters need to be well functioned and do the exact job it's supposed to do. Meaning it should not allow a lot of seed skin, foam, or pulp in your juice. Also, you need to ensure that your juicer should not get clogged which will eventually slow down your work.
The size of your juicer:
The juicer size is an important factor. Try to choose juicers that are tall and slim at the same time. Because with tall juicers you can juice more and with slim/compact structure it will be space-efficient with easy handling.
Cleaning:
After juicing you need to clean your machine to work properly for the next operation. So, the cleaning procedure needs to be simple and easy. Consider those juicers that have detachable parts and are dishwasher safe. If you choose to juice more frequently then try to find juicers with easy hand wash capabilities. Also, the assemble and disassemble process shouldn't be complicated it saves time.
Manual or electric:
The type of juicer you want to buy basically depends on your choice and preference. But to juice pomegranates, a citrus juicer is more suitable compared to any other electric/power juicer. Rather than any citrus fruits if you want to juice other normal fruits or vegetables an electric juicer is more suitable.
How to make pomegranate juice using a juicer?
Now juicing pomegranate could be done in both citrus juicer and electric juicer. But for this hard-shelled fruit which is packed with hundreds of small red tear-drop seeds hand juicing is generally the recommended method. But here we will discuss both juicing techniques regarding the type of juicer you are using.
Juicing a pomegranate with a manual press pomegranate juicer is extremely easy. For this, all you need is a fresh pomegranate, a knife, a cutting board, glass, and the juicer.
First, you need to pick a ripe pomegranate then wash it with clean water. When your fruit is ready then cut it in half. After that put the glass underneath the juicer.
Then place one of the half pomegranates onto the cone of the juicer. Next, lower the handle and apply pressure to extract the maximum amount of juice from your fruit. After extracting all of the juice then you can process the other half of the pomegranate.
Like that, you can make fresh and easy pomegranate juice in a matter of minutes with a citrus juicer.
In this case, if you use an electric juicer to make pomegranate juice then first, cut open your fruit by removing the cap. The fruit must be completely shucked before juicing.
After that, slice down each of the white membranes sections. Next, slice the fruit into contained sections. You can use the white membrane as a visual guide for doing that.
Then pull the sliced section apart carefully. After slicing gently pry the pieces until each section comes apart freely.
To remove the seeds take a bowl of cold water and place one of the sections into it. Then use your both hands and hold the section slice on each end. After that press to invert the section by putting your thumbs in the middle back of the slice. As a result, the pomegranate seeds will pop off into the water. Repeat this process with each section of the pomegranate.
Next, drain the seeds and try to remove all the membranes to avoid bitterness in your juice. Finally, pour the seeds into your electric juicer and proceed to juice according to the operational directions of your machine.
So, with this process, you can extract a fresh and nice pomegranate juice from your power/electric juicer.
Do You Need a Juicer to Juice Pomegranates?
Basically, you don't need a special pomegranate juicer to prepare your juice. But the process is difficult as you need to process your pomegranates into seeds first. Then you can use a blender to juice those drained seeds.
After that, you will need a mesh strainer to strain the pomegranate liquid into a container. Finally, you have to use the back of a spoon to push against the pomegranate pulp and extract as much juice as possible.
So, you can see you need to follow up a lot of steps to prepare your preferred pomegranate juice and it takes time also.
It's better to use a simple citrus/hand press juicer to do the job for you. It takes fewer steps with minimum time to process your juice.
In one sentence no you don't need a juicer to juice pomegranates but it's better to use one.
Final Verdict
Juicing pomegranates is time-consuming and laborious. So, a good and efficient juicer dedicated to pomegranates is always an advantage. But there are a lot of options in the market. Choosing the right one for your job sometimes becomes hard. So, in this article, we tried to give you some specific options from where you can pick your preferred pomegranate juicer.
Now, in this final verdict, we recommended Focus Foodservice 97306 Juice Press as our favorite pick from our list of best pomegranate juicers. This juicer is best for its durable built and good grips. We also like the Gourmia GMJ9970 juicer as a budget juicer. Best for its simple structure and ease of use.
In the end no matter what you choose always prefer your own choice and needs. Also try to take suggestions, study the market and read product reviews before buying. Because if you know what to look for then you can always bring the best product for that job.