Thanks to improved technology, the majority of homes are full of gadgets. It helped to ease the way one completes various tasks. The Breville BJE820XL Juice Fountain Duo Dual Disc Juicer has been designed to make juicing a simple and exciting task.
With the medical community coming up with a warning about increased obesity cases, juicing has never been a better option. It's wise not to deny the importance of an invention. That's why the Breville BJE820XL Juicer has been developed by a team of experienced engineers. Therefore, making you're juicing a simple task to conduct.
Read more about our other product reviews of steam juicer, slow juicer, small juicer, cheap juicer.
Breville BJE820XL Juice Fountain Duo Dual Disc Juicer Summary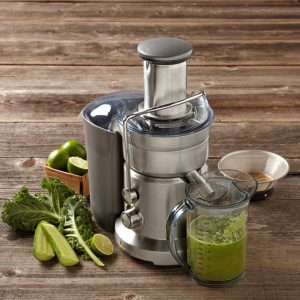 Breville BJE820XL Juicer has taken a modern approach to life by putting a healthy twist in the hands of users. It has a second disc that churns soft fruits. Therefore, providing the user with 100% all-natural juice and smoothies.
Imagine, arriving home from jogging or cycling or working out at the local gym and your body is crying out for vital nutrients that not only satisfy you but help in the growth and development of the body. What do you do next? Grab a piece of chocolate or drink commercially produced sugar-rich drink or opt to take a few minutes and produce all-natural juice thanks to the Breville BJE820XL Juicer.
Many users will opt for the third option as the juicer is known to be a time-saving appliance that provides power to two different food appliances combined into a single economic unit. This has made the juicer to be perfect for use in homes with limited countertop or storage space. It has a five-speed setting which is useful for juicing and making smoothies of different textures from various fruits and vegetables. A single knob controls the speed setting that allows you to change to various speeds with ease.
Breville BJE820XL Juice Fountain Duo Dual Disc Juicer Review – What makes it so attractive
Five-speed setting
The Breville BJE820XL Juice Fountain Duo Dual Disc Juicer comes with a five-speed setting which controlled with an easy-to-turn knob. The speed setting allows the user total control over the type of juice and puree produced. It has the following speeds: 6,500 rpm, 8100 rpm, 9700 rpm, 11300 rpm, and 13000 rpm. With a low-speed setting, you can maximize nutrients and minerals derived from water-based products.
The high-speed option extracts juice from dense veggies and fruits easily.
Central feed chute
The Breville BJE820XL Juicer is fitted with a central feed chute which allows the user to feed in small fruits and vegetables. One can also feed in pieces of pears, apples, beets, and carrots. It is conveniently fitted on top of the cutting discs making it easy to cut the fruits and vegetables being fed into the chute.
BPA free jug
The jug is made with BPA-free plastic therefore you are assured of no toxins or chemicals seeping into your juice or smoothie during production. It has a capacity of 1.2 liters, has a convenient froth separator, therefore, allowing you to have more juice in your glass than foam.
Pulp ejector
The Breville BJE820XL Juicer is fitted with an easy-to-use pulp ejector which automatically spits spent pulp into a large-capacity pulp collector. Once you finished, you can simply empty the pulp into the trash or you can save it for other uses.
Interchangeable titanium cutting disk and stainless steel puree disk
The titanium cutting disk is perfect for cutting fruits and vegetables which are dense. The stainless steel puree disk is suitable for soft fruits and vegetables like bananas and strawberries.
Pros
It is very heavy therefore difficult to move from one countertop to another or to the storage space.
Cons
Comes with a warranty of 1 year which is short.
It's a little expensive.
Final Thoughts
If you want to live a healthy lifestyle as well as become an avid juicer, you need the Breville BJE820XL Juicer in your kitchen. Not only will you love it for its ease of use but it is a great tool for starting your day with a healthy and all-natural juice or smoothie.