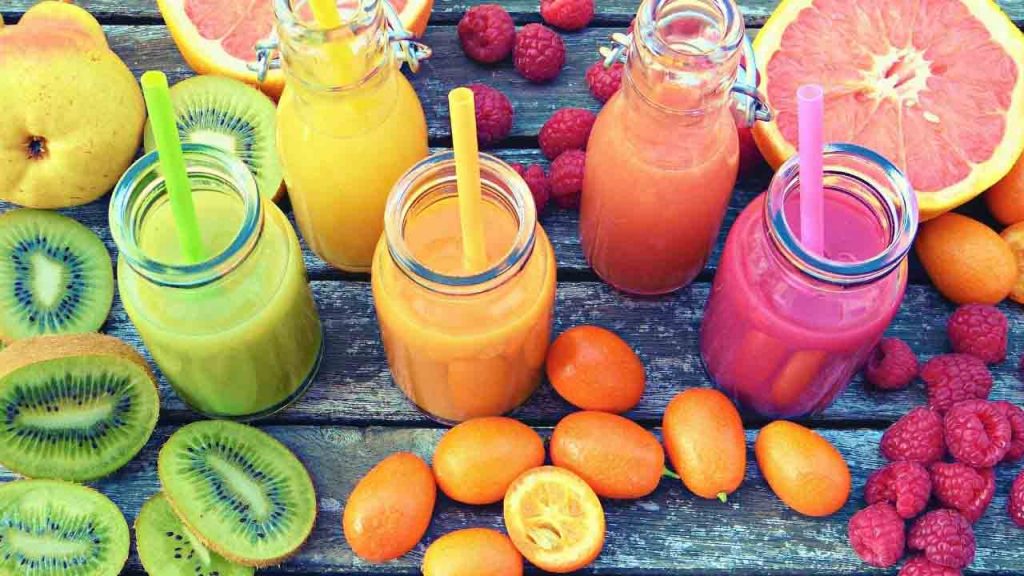 Smoothie or smoothy is a kind of drink that is produced from pureed raw vegetables and/or fruits. A basic smoothie generally contains a liquid base such as fruit juice and other dairy products like – milk, yogurt, ice cream, or cottage cheese. Also, they can be made using other ingredients, such as crushed ice, non-dairy milk, vinegar, chocolate, etc. The main difference between smoothies and fruit juice is that smoothies come with pulp, skin, and seeds (dietary fiber), and so they are thicker than fruit juice. They are like milkshakes. But smoothies, particularly green smoothies (includes vegetables), are much healthier than milkshakes or other thick juices. Smoothies with fruit and veggies are ultra-healthy for your body. Basically, it's the simplest way to get a ton of veggies and fruits into your diet quickly and effortlessly. This article discussed some of the Best Fruit and Vegetable Smoothie Recipes that you can try at your home. Also, we will recommend which fruits and veggies you should use to make a combo of delicious and healthy smoothies. Tips and FAQs included.
Top Tips For Making Fruit and Vegetable Smoothies
Here are some tips that you can follow to make your preferred smoothie –
Try to blend your veggies and liquid first. It helps your ingredients as smooth as possible

Look for steamed or fresh options for your ingredients. You can also defrost your frozen veggies. So, that you can blend these into your smoothie easily. But if you have a high-speed blender, then frozen ingredients will work too.

If you start with vegetables, then choose super sweet fruits to cover up any veggie taste and make it more creamy. Fruits like mango, strawberries, pineapples will go just fine because of the sweetness.

It's better to skip fruit and vegetable juices into your smoothie. Because they don't contain any fiber that whole foods have. In the case of fibers, they are vital for your body. So, use whole fruits for the fruit test in your smoothie.

For extra creaminess, you can add milk and yogurt. It will increase the thickness and taste of your smoothie.

Always start with sweeter veggies like peas, corn, carrots,

sweet potatoes

, etc. These vegetables offer a nice texture and sweetness to your smoothie

Frozen fruits help you to make chill smoothies. Try to freeze your fruits like pineapple and banana to create a cool smoothie without adding any ice.
Vegetables you should use for making your smoothie
Beets: You can buy a packet of pre-cooked beets from the market. They include sweetness and fun pink color in your smoothie. It looks great. You can include beets as a power ingredient for your fruit and vegetable smoothie recipe.
Avocado: Adding this will provide you with healthy fats that are good for your body.
Greens:

Leafy green vegetables are a great choice for your smoothie. Because they blend up very well and boost the taste with a beautiful green color. Green leaves are very beneficial for your health and body.

Peas:

It's a sweet vegetable with a lot of proteins. So, peas could be a good choice for your smoothie. Also, try to frost your peas if possible. It ensures they blend in smoothly.

Cauliflower:

For light flavor, you can add cauliflower.
You can also include kale, spinach, carrots, and squash to boost the texture and flavor of your smoothie.
Fruit and Vegetable Smoothie Recipes You Can Try at Home
Here are some delicious and healthy smoothie recipes that focus on different types of fruits and vegetables.
Recipe-1: Strawberry Spinach Smoothie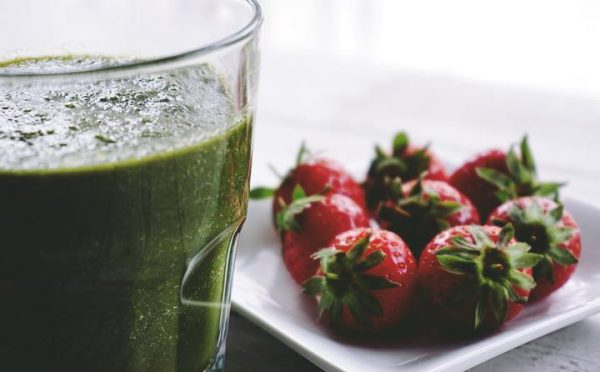 This recipe is very basic. It's not fancy. You can find the ingredients at any average grocery store. Also, it's super quick and easy to make.
Ingredients
Frozen strawberries (1 cup whole/ 10 medium berries)

Spinach (3 cups)

Frozen medium ripe banana (1)

Frozen pineapple chunks (¼ cup)

Unsweetened almond milk/ milk of choice (1 cup)

Chia seeds (1 tablespoon)
Instructions
Prepare your fruits and veggies by washing them.

Peel your banana and cut it into small chunks. The same goes for pineapple

Place all of the prepared ingredients into a high-powered blender.

When placing, maintain this order – spinach, banana, strawberry, pineapple, almond milk, and chia seeds.

Blend your ingredients until they become smooth. For thinner smoothies, you can add some more milk. And, if you like thick smoothies then, add a few handfuls of ice.

After finishing, you can enjoy it immediately. Also, you can place the smoothie in an airtight jar and refrigerate it for a few hours.
Notes:
If you don't have a blender with high power, then puree the spinach and milk first. Add remaining ingredients a little at a time. You may have to splash more milk/water to help the smoothie blend well.
Nutrition:
Calories: 286kcal, Protein: 8g, Fiber: 13g, Vitamin A: 8515IU, Vitamin C: 140mg, Iron: 4mg, Sugar: 26g, Fat: 8g, Carbohydrates: 53g
Recipe-2: Fruit and Vegetable Smoothie
This healthy smoothie includes carrots and spinach. It's excellent because spinach blends quite easily. Also, provides important vitamins and minerals with a less mild taste. This recipe also includes carrots, kale, apple, banana, etc. So, with this many fruits and veggies, you can achieve added nutrients with various tastes.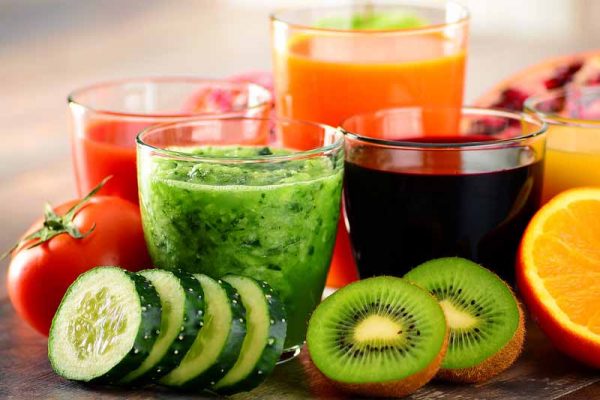 Ingredients:
Red grapes (1 cup)

Medium orange (1)

Fresh pineapple chunks (¼ cup)

Medium banana (1)

Carrot (1)

Fresh spinach (3-4 cups)

Fuji apple (1)

Ice (1 cup)
Instructions:
First, wash all your produce with clean water.

Then prepare your fruits and vegetables by peeling oranges and bananas, then cut them in half. The same goes for apples.

Assemble all your ingredients and put them into your blender in this order – orange, pineapple, banana, carrot, spinach, fuji apple, and ice. After that, secure the lid.

Turn your blender on with a lower speed setting, and slowly increase the speed to high.

Blend your vegetables and fruits until all of the ingredients have been perfectly pureed and you get your desired consistency. A perfect consistency includes no grainy texture, no clumps, and smoothness. Generally, it takes a 1-minute minimum to blend.

Finally, serve your green smoothie with a few chia seeds if you like.
Notes:
Try to use a high-speed blender. To deliver a creamy smoothie with no chunks, a high-speed blender does the job just fine.

It's good to use frozen fruits if you like chill smoothies.

You can increase the protein of your smoothie by simply adding ½ – 1 cup of Greek yogurt or protein powder into your recipe.
Nutrition:
Calories: 108kcal, Fat: 0.3g, Fiber: 4g, Sugar: 18.3g, CArbohydrates: 27g, Sodium: 48.6mg and Potassium: 324.4mg.
Recipe-3: Beginner's Luck Green Smoothie
This tropical drink delivers the perfect fruit-to-vegetable ratio. You can try this as a great beginner-friendly green smoothie. With simple ingredients, you can accrue over 20 different nutrients, vitamins, antioxidants, and high-quality amino acids. Kids also love this smoothie.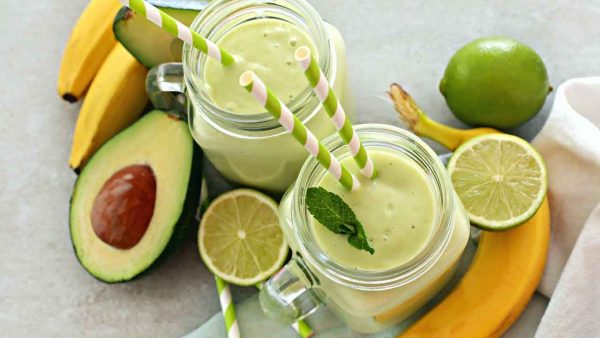 Ingredients:
Spinach (2 cups)

Water (2 cups)

Frozen mango (1 cup)

Pineapple (1 cup)

Frozen bananas (2)
Instructions:
First, tightly pack 2 cups of leafy greens in a measuring cup then toss them into your blender.

Add 2 cups of water slowly and blend until all the leafy chunks are gone.

Finally, add mango, pineapple, and bananas. Blend them until you get your preferred consistency.

Serve your green smoothie in a glass of your choice and you are good to go.
Notes:
If you have any allergy to pineapple or mangoes or you don't like them, then substitute any fruit with a one-to-one ratio. Apples or strawberries also work fine with this recipe.
Nutrition:
Calories: 203kcal, Fiber: 6g, Sugar: 34g, Protein: 3g, Potassium: 818g, Sodium: 39mg, Carbohydrates: 1g, Vitamin A: 3830IU, Vitamin C: 88.2mg, Iron: 1.mg and Calcium: 63mg.
Recipe-4: Spinach Banana Smoothie with Peanut Butter
This recipe is the perfect combo of sweetness and nuttiness. This smoothie provides a healthy dose of nutrients and keeps you full until lunch. With this recipe, you will be able to make a creamy, naturally sweet smoothie that features a nutty flavor. But most importantly it's low in fat, about 250 calories. So, this smoothie could be your satisfying breakfast on lazy weekend mornings.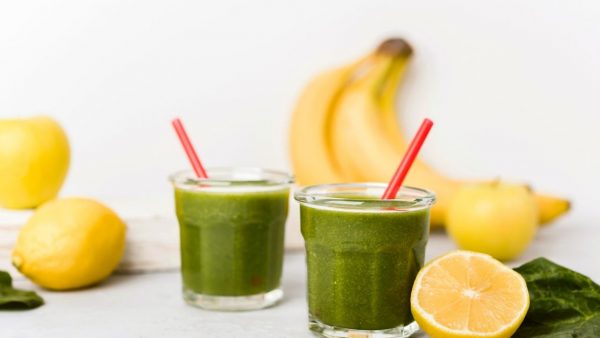 Ingredients:
1% organic milk (½ cup)

2% plain greek yogurt (½ cup)

Ground flaxseed (2 tablespoons)

Peanut butter (1 tablespoon)

Baby spinach leaves (1 cup)

Ground cinnamon (¼ teaspoon)

Vanilla extract (¼ teaspoon)

Ripe banana (1)
Instructions:
First, toss down all the ingredients in the blender. While doing so maintain the following order – milk, yogurt, banana, peanut butter, spices, and spinach.

Then, with your high-speed blender first, start on low and slowly increase the speed until all ingredients are blended nicely.

Finally, serve your smoothie in a glass and you are ready to taste this delicious drink with your family.
Notes:
Try to use organic milk and yogurt or, you can substitute them with plant-based milk and yogurt. It's your choice to make.

For extra sweetness include a ripe banana.

Instead of using frozen spinach, include fresh baby spinach leaves.

It's always your choice to modify this recipe with any of your favorite fruits and vegetables.
Nutrition:
Calories: 201kcal, Protein: 12g, Fat: 8.4g, Cholesterol: 6.7mg, Sodium: 102mg, Potassium: 438.4mg, Fiber: 4.3g and Sugar: 13.5g.
Recipe-5: Smoothie with Fruit and Veggies
It is ultra-healthy and a standard go-to smoothie recipe. With all these healthy fruits, and vegetables you can make this delicious smoothie which is packed with a lot of nutrients. Here we provided some fruit and vegetable options for your smoothie. But add what you like and try different ingredients to enhance the texture and taste of your smoothie.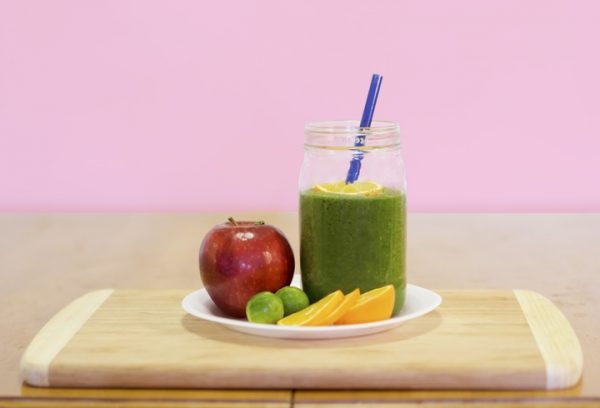 Ingredients:
Plain/unsweetened greek yogurt (½ cup)

Spinach leaves (1 cup)

Frozen/fresh blueberries (½ cup)

Frozen/fresh raspberries (½ cup)

Ripe banana (1)

Chopped carrot (1)

Chia seeds (½ teaspoon)

Water (¼ cup)
Instructions:
First, wash all your veggies with clean water.

Chop your carrot into large pieces.

Then, place all the items in a blender.

Blend them until you get a smooth texture. You can stop stirring or add more juice/water if needed.

Finally, serve right away. Can store it in the refrigerator if you want a chill smoothie.
Notes:
To make your smoothie slushy you can add 2-3 ice cubes.

Adjust the veggies and fruits according to your likes and what you have on hand.
Nutritions:
Calories: 89kcal, Protein: 6g, Cholesterol: 2mg, Sugar: 9g, Sodium: 32mg, Potassium: 259mg, Fiber: 3g, Vitamin A: 1490IU, Vitamin C: 15.7mg, Calcium: 84mg, and Iron: 0.7mg.
How to reduce the bitterness from your smoothie?
You can make your smoothie less bitter by adding sweet fruits like bananas, apples, oranges, etc. The sweetness seems to neutralize bitter flavors. For the green smoothies, strawberries are also a good choice.
You can also add vanilla extract, vanilla bean, or unsweetened cocoa powder in your fruit and vegetable smoothie recipe, then process with the highest speed. These ingredients will mask the taste of bitter greens.
Can you taste the spinach in your fruit and vegetable smoothie?
Basically, you don't taste spinach if it's done well. Make sure you use sweet fruits like mango or pineapple in your recipe to mask out the taste of spinach.
How can you make a creamier smoothie?
Try to add avocado because it's ideal for adding creaminess to your smoothie. Avocado's mild flavor counterfeits its nutritional wallop. As an alternative, you can add frozen yogurt, ice cream, or vanilla yogurt for more creaminess. Achieving the right texture smoothies needs a good blend of liquid and solid ingredients.
How to make your smoothie thicker and thinner?
For thinner smoothies add small amounts of milk, water, or juice. Try to maintain this order – liquids first, then soft fruits or vegetables, greens, and ice. Run your machine up to its highest speed and process for 10-20 seconds.
To make thicker smoothies use or add frozen fruit like bananas, add more ice, or frozen yogurt. Run your blender with its highest speed, and process for 20-30 seconds. That's how you can serve a thickened smoothie.