One of the best ways to get raw nutrition from farm produce is by using a quality juicer. Super Angel Juicer 5500 (All Stainless Steel Twin Gear Juicer) is the best juicer to get quality juice and saps from fruits and vegetables, making it the most preferred juicer by many households.
Manufactured by Super Angel Co. who over the years has been producing top-quality juicers. The juicer is made from top-quality technology and material making it a durable juicer in the long run.
Regular consumption of freshly made juice is one of the best ways to keep your health on top. The juicer is, therefore the pinnacle to achieving this goal as it incorporates top quality twin gear technology ensuring that you get the most from green produce. Super Angel juicer breaks tough fiber and cells in leafy foods and fruits, ensuring that nutrients like vitamins, minerals, and enzymes are extracted.
Read more about our other product reviews of steam juicer, small juicer, cheap juicer, slow juicer.
Super Angel Juicer 5500 Construction-What makes This Juicer Stand Out From The Rest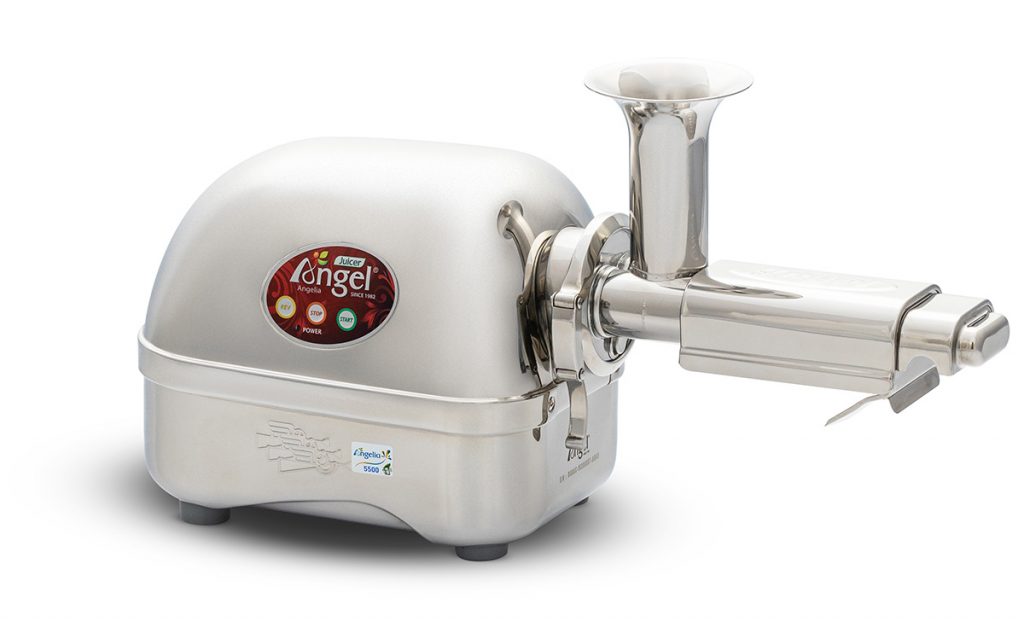 Being the most advanced juicer, each part of this juicer is purely made of stainless steel. Stainless steel does not rust or wear out easily unlike plastic or other metals. The juicer's major parts include
Solid Twin Gears
The large juicing cogs are over 8 inches, made from high-quality stainless steel, making the breakdown of vegetables, herbs, sprouts, and fruit fibers much easy. This helps in delivering top-quality nutrients in the end.
The rotation of the gears is slow, however, this is vital in preserving the shelf life of nutrients extracted. The juice extracted is, therefore, darker and sweeter as compared to juices from other low-quality juicers.
Super Angel Juicer 5500 Motor Gear
The Super Angel Juicer 5500 runs on a super quiet 3hp motor that comes to power when turned on. This provides some serious crushing power on fruits and vegetables. In addition, it has an overheat sensor and a fan located close to the motor that helps in cooling it when it overheats.
The motor is housed by a stainless steel cover preventing external objects from getting access to the motor.
Super Angel Juicer 5500 Safety Sensors
Super Angel juicer provides a number of safety features to users. Dual switch systems located on the juicer's back help in controlling the soft switch panel on the motor base unit. Also reinforced with dual protection around the soft switch panel lowering the risk of electrocution.
Super Angel Juicer 5500 has a system on its main switchboard to counter the risk of electromagnetic wave shocks.
Feeding Chute
The juicer has around 1.2 inches in diameter feed chute where users can feed the juicer with green leafs and fruits.
Pros
Simple to Use:

This is from the initial setup to use when extracting juices from the green diet. It also gives maximum juicing pleasure irrespective of the fruit or vegetable when used in juice extraction.

Easy to Clean:

Manufactures provide users with a scrapper to remove the pulp from its twin gear crusher. It is also dishwasher safe because of stainless steel material. Cleaning should be done immediately after using the juicer.

Warranty:

The juicer has a long warranty period, usually about 10 years period. However, some parts of the juicer for example the brush, sap collector, and wooden pusher are not available in this warranty.
Super Quiet: Using just a rotation of 80-82 rotations per minute, the juicer produces no noise. Its fan is also quiet when it kicks in to cool the motor.
Cons
Expensive: Amazon currently offers the juicer for about $1600 which is quite expensive compared to other juicers.

Effort needed:

There is much effort required when pushing products through the feeding chute in order to get the most out of the juicer.
​

Unstabl

e:

It becomes unstable when produce is pushed through the feeding chute.
Final Thoughts
Despite the few negative reviews in relation to Super Angel Juicer 5500 juicer price and slow sap extraction capability, most consumers purchased the juicer since it's able to give out more from green leafy produce. Other consumers like the juicer because of its high-quality construction.
Lest Watch a Video Review!