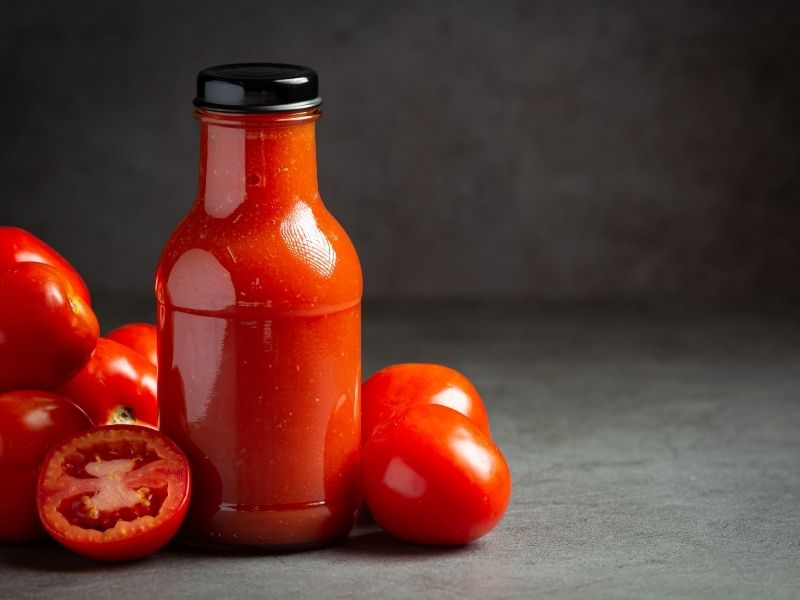 If you want to make changes in your daily juice routine, you may include tomatoes in your juicing list. It's full of antioxidants and provides healthy nutrients. Fresh tomato juice is a popular vegetable juice. This universal drink can be used with ice or an ingredient to make cocktails. They include high water content. Therefore, you can try the tomato juice recipe as your daily raw meal option.
Why should you juice tomatoes? Because tomatoes are rich in lycopene, Vitamin C, Vitamin A, Vitamin K beta-carotene, and potassium. So, they make good contributions to boosting your immune system. Also, they leave you satisfied while anticipating your next creation.
You may think tomato juice is not delicious or may taste like your average red vegetable drink found on the shelf. But, mixing different vegetables, fruits, and herbs may generate a pleasant taste that differs from the norm.
This article provided 5 of these delicious and healthy tomato juice recipes with simple ingredients and easy preparation. We also discussed some FAQs and information regarding tomato juices. So, let's dive in.
Make Tomato Juice with 4 Methods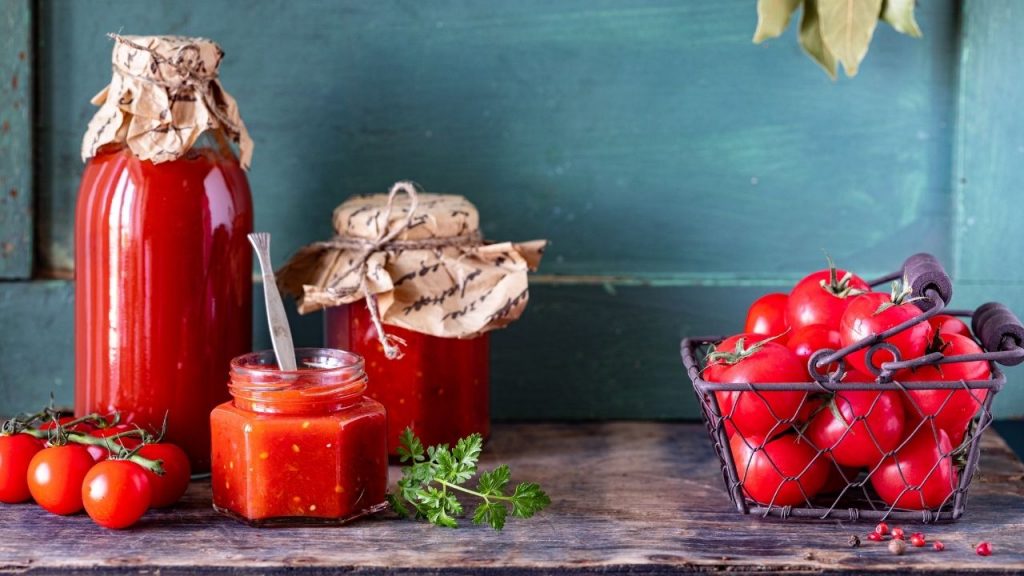 To make a fresh and easy tomato juice, you will need to follow three methods – blending, grating, juicing, and heating. With these simple methods, you can prepare flavor-packed, fresh tomato juice, which is perfect for cocktails or storing.
Tomato juice with a juicer
It's the simplest method among the other two. With this method, you don't need any squeezing. So, it saves your prep time. Simply chop your fresh and washed tomatoes. Cut it into small sections so that they fit through the chute of your juicer.
After preparing your tomatoes, slowly feed them into the juicer. That's all you have to do. The tomato juicer will do the job for you by automatically removing the seeds and skin from the juice.
Tomato juice with a blender
This is also a simple method. First, chop the tomatoes into small pieces. You may use whole tomatoes while juicing. But your blender may vibrate all over the place as the machine needs more power and work while processing a batch of whole tomatoes.
However, blend your tomatoes until it's smooth and provides a juice-like texture. It may take a couple of minutes to properly break down the tomatoes.
When you finish blending, place cheesecloth inside a bowl and pour the blended tomatoes into it. Allow it to drain for some time. Then, use your hands to remove the leftover pulp. Drain as much juice as possible.
Finally, serve your freshly juiced tomatoes in a glass and enjoy.
Tomato juice by grating
This method is totally machine-free. First, chop or grate your tomatoes as finely as possible into a large dish/pot. After that, transfer the mixture into a cheesecloth or a nut bag.
Then, squeeze for some time to get a fine and fresh juice from your tomatoes. Try to drain all the liquids from them so that you can get maximum output from a minimum amount of tomatoes.
Tomato juice using the heated method
It's also a simple method to make tomato juice. To get started, first cut your tomatoes and put them into a large pan on the stove. Use medium heat with splash water. Warm for 20-30 minutes. Also, stir continuously throughout the process to soften your tomatoes.
After heating, press those softened tomatoes through a sieve. Then extract fresh juice by removing the skin and seeds.
The next step is to return the extracted juice to the stove and heat it until boiling (medium heat around 85-90ºC). Though, you don't have to boil it.
Finally, you can allow your tomato juice to cool slightly then transfer it to the refrigerator for storage. However, this method may take some time, but it can extract a handful of juice from tomatoes.
5 Tomato Juice Recipes –
This section included some of the easiest and delicious tomato juice recipes that you can prepare in your home.
1. Homemade Tomato Juice Cocktail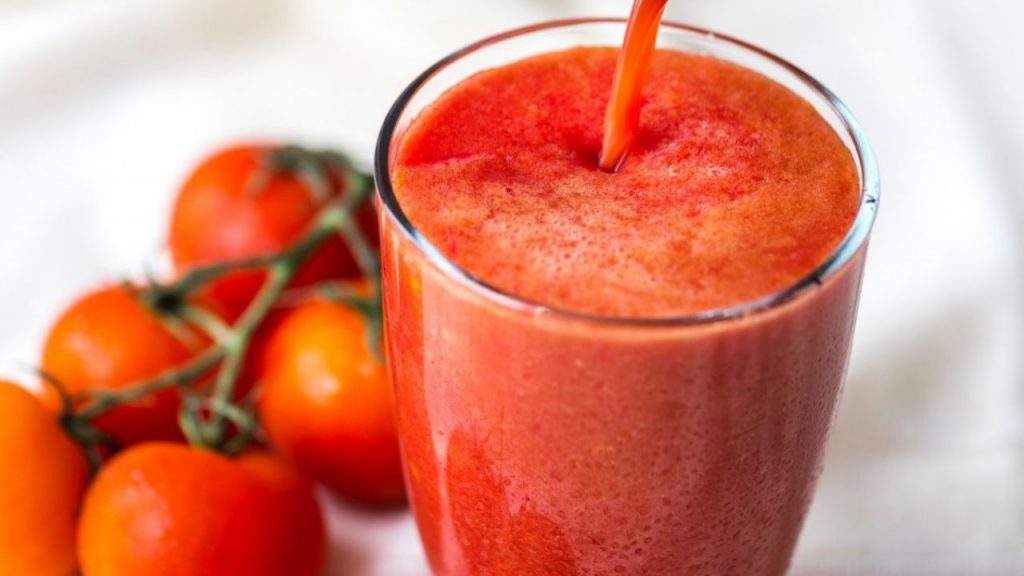 Homemade tomato juices can be so much better. With this recipe, you can make a refreshing juice with simple ingredients. Also, it takes less time. So, you can enjoy healthy and fresh tomato juice every day for breakfast.
Ingredients
Water (2 cups)

Tomato paste (6 ounce/1 can)

Lemon juice (2 tablespoons)

White sugar (2 tablespoons)

Salt (1 tablespoon), or to taste

Water (3 cups). If needed more
Instructions
Wash all your ingredients. Then insert 2 cups of water, tomato paste, lemon juice, sugar, and salt accordingly in your blender.

Finally, blend them until you get a smooth texture into your juice.

Then pour the tomato juice into a 1 / 2-gallon container. Add and stir 3 cups of water into the mixture.

Refrigerate for about 1hour until it gets thickened. Sometimes your juice may get too thick in that case, add one more cup of water.
Nutritions
41 calories, 10g carbohydrates, 1.2g protein, 0.1g fat, 0.8g iron, 8.5g Vitamin C, 33.1IU Vitamin A lu
2. Carrot Tomato Juice Recipe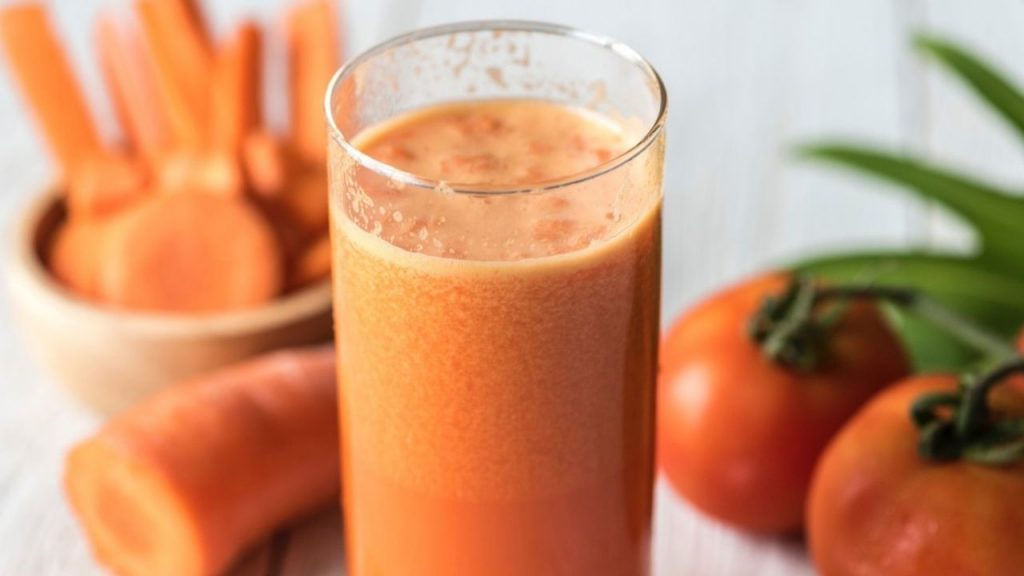 This is a type of recipe which provides a lot of nutrients for your body in just 10 minutes. It's a mixture of taste and health. This carrot tomato juice fits easily into your healthy eating diet.
With this juice, you will have a little sugar content, yet it tastes great. You can produce a large batch, divide it into bottles, and store it for a whole week. As a result, you can count on the daily nutrient boost for your body.
Ingredients
Carrot juice (8 fl oz)

Tomato juice (6 fl oz)

Mint leaves (1 tablespoon)

Sugar (2 ½ tablespoons)

Lime juice (1 tablespoon)

Water (½ cup)

Ice (1 ½ cups)
Instructions
First, wash your ingredients. Then, chop your fresh tomatoes, carrots, and mint leaves. After preparing your vegetables, insert them into your juicer. Process until you get a smooth and perfectly thickened juice.

When finished, collect the juice and add it to a large pitcher.

Add remaining ingredients and stir continuously until the sugar gets dissolved.

Include some ice to chill your juice.

Finally, serve your fresh carrot tomato juice and enjoy.
Nutrition
Calories 63, Sodium 50mg, Potassium 274mg, CArbohydrates 15g, Fiber 1g, Vitamin A 222IU, Vitamin C 37mg, Calcium 22mg.
3. Tomato Vegetable Juice Recipe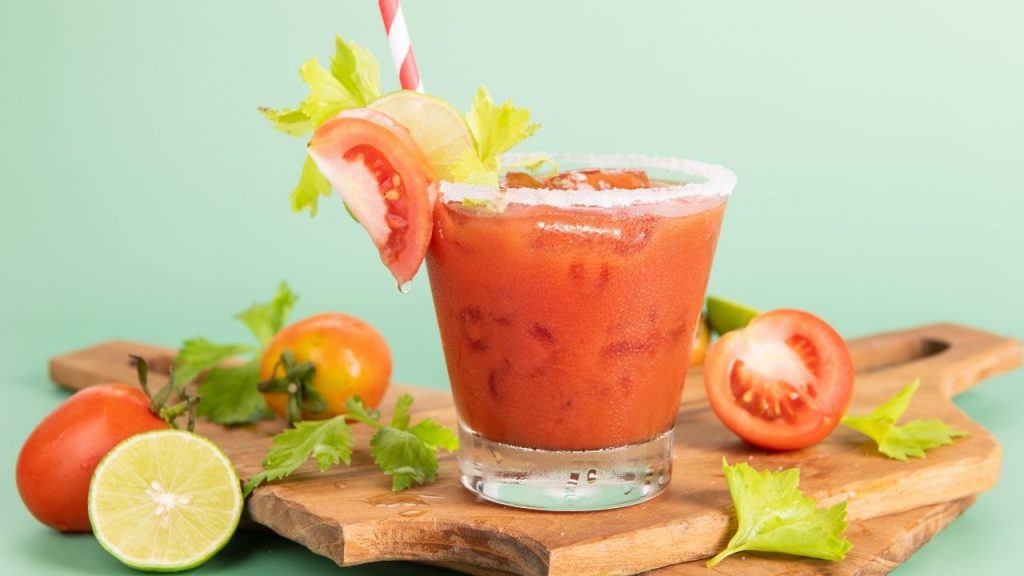 With this recipe, you can have all the components of a healthy salad. This juice includes tomato, lettuce, bell pepper, carrot, and celery. Here, the amount of salt is minimal compared to any bottled vegetable-blend juices.
This recipe is very healthy and nutritious. You can drink this every morning at the time of breakfast. Because drinking this regularly, you can achieve healthy immunity.
Also, preparing this tomato-vegetable juice is quick and easy. You can use both a juicer or blender to produce this drink.
Ingredients:
Chopped hearts of romaine (1 cup)

Chopped fresh chives (¼ cup)

Large tomatoes (2), cut them into wedges

Stemmed and seeded fresh jalape

ño (1/4)

Large red bell pepper (1), cut into eighths

Trimmed large stalks celery (2)

Peeled medium carrot (1)

Ice cubes (1 cube)
Instructions
With a Juicer:
First, wash all the ingredients with clean water.

Then, cut your chives,

romaine hearts, tomatoes, and bell pepper. Also, peel your fresh carrot. Use stemmed and seeded jalapenos.

After preparing all the vegetables, put them into your juicer, maintaining this order – lettuce, chives, tomatoes, jalapeno, bell pepper, celery, and carrot.

Juice all these ingredients until you get a nicely thickened, smooth liquid.

Finally, serve your fresh tomato-vegetable juice in a glass with ice cubes and enjoy.
With a blender:
First, coarsely chop all ingredients.

Then, place the soft ingredients in the blender first and blend until liquefied.

Add the remaining ingredients and again blend them until liquefied.

Use a cheesecloth (24-inch) and line a large bowl with the cheesecloth.

Pour the juice into the cheesecloth.

Gather the edges of the cloth together in one hand, squeeze with the other hand.

Extract all the juice from the produced pulp.

Finally, serve your juice with ice cubes.
Nutrition
46 calories, protein 1g, sugar 7g, Vitamin A IU 3250IU, Vitamin C 42.6mg, calcium 81.8mg, iron 1.5mg, potassium 466mg, sodium 82mg, thiamin 0.2mg, and carbohydrates 9g.
4. Spicy Tomato Juice Recipe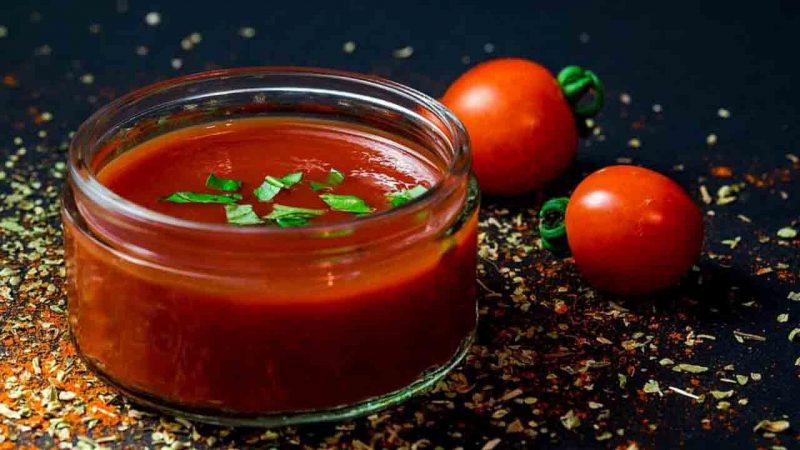 This spicy recipe will give you a perfect balance of sweet and earthy taste, with a slight kick of spicy heat. So, this recipe is perfect for those who don't like tomato juice on their menu.
Also, this spicy tomato juice recipe includes different types of vegetables. So if you are a veggie freak and like healthy drinks, this is the juice for you.
This recipe allows you to add a lot of vegetables into one glass. Also, the absorption of nutrients is quicker if you use your veggies in this way.
Ingredients
Fresh tomatoes (6) *First bracket includes no. of quantities

Carrots (4)

Stalks celery (3)

Yellow bell pepper (1)

Red beet (1)

Large handfuls spinach (2)

Large handfuls arugula (2)

Jalape

ño

peppers (1-2)
Instructions
Wash all our ingredients well.

Then Peel your beet and carrots if necessary.

Cut all the vegetables into small sections so that they can fit into your juicer.

Insert all the ingredients into the juicer. You can add soft vegetables first, then hard ones, or alternate as per your juicer instructions.

Juice your ingredients until you get a smooth texture.

After, juicing whisk it all together.

Pour your fresh juice into a glass container and keep it in the fridge.

This juice should be used within one day.
Nutrition
Calories: 202kcal, Protein: 8g, Fat: 5g, Potassium: 588mg, Sugar: 9g, Fiber: 5g, Vitamin A: 12300IU, Vitamin C: 45.4mg, Iron: 2mg, and Calcium: 50mg.
5. Homemade Tomato Juice Recipe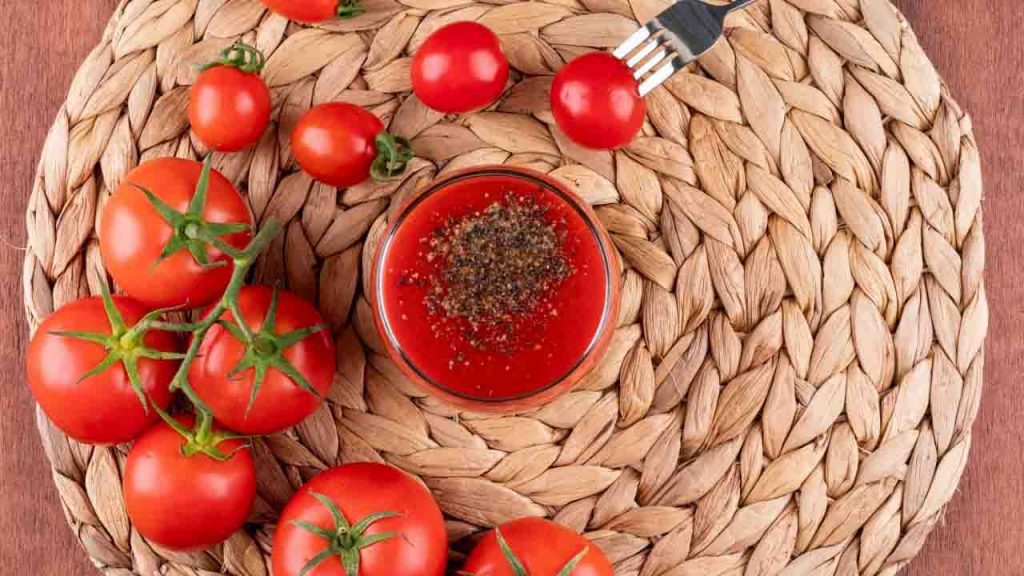 Homemade tomato juices are simple and easy to make. This recipe is best in terms of taste and nutrition. The combination of oranges and tomatoes will give you a sweet flavor and refreshing feeling.
The making process is simple and takes less time. Also, all the ingredients are available. So, you don't need any fancy preparations for making this drink. You can enjoy this juice any time with your family and kids.
Ingredients
Tomatoes (2lb/1kg)

Water (1 liter)

Orange juice (juice of 2 fruits)

Salt (2 tablespoons)

Sugar (2 tablespoons)

Vinegar (2 tablespoons)

Preservatives (1/2 packet)

Extra water

Salt (according to your taste)
Instructions
Clean your tomatoes and cut them into small sections.

Take a stove and add orange juice, water, salt, and sugar into it.

Stir all the ingredients together and boil for about 10 minutes. Wait for the tomatoes to dissolve.

Remove your mixture from the stove and allow it to stand for 4 minutes within a closed container.

With a sieve, mash your tomatoes well.

Again put your juice on the stove to boil and then take it off immediately.

In the end, add the vinegar and preservatives.

Pour the final product into bottles and store.
How to use the leftover tomato skins and seeds?
Many people don't utilize the leftover tomato pulp and get rid of them. Instead of wasting them, you can use these tomato skins and seeds for different purposes. Like –
You can use tomato skin to produce the veggie stocks.

You can dry the tomato skin and process it into tomato powder with the help of a grinder. Use it to season your soups, popcorn, savory porridge, etc. Also, you can enhance the flavor of your tomato powder by adding a little bit of salt and sugar when grinding.

Fry up the tomato skin and crisp them to use as a dish garnish. You can use it over pasta, salads, and pizza.

Tomato seeds can be used for planting more tomato plants.
Should you drink tomato juice every day?
The answer is yes. Consuming tomato juice every day helps you to stimulate bowel movement. It prevents constipation and boosts digestion. Also, a 2015 study shows drinking tomato juice regularly can reduce your weight around the waist.
However, try not to consume tomato juice on an empty stomach. It may cause gastrointestinal problems, especially for those who are prone to them.
How to make tomato juice taste better?
Many people don't like raw tomato juice because of the taste. However, you can increase the flavor by adding about 1½ teaspoon of sauce for every liter of tomato juice.
You can also use cayenne pepper or red pepper flakes to enhance the taste. Increase the nutritional content of your tomato juice by adding other fruit juice. Mix carrot, grape, or apple to increase flavor diversity.