To stay healthy in our life, we all need to consume fruits, veggies, and other leafy greens. But sometimes people can't eat them raw. For those people, the juice is a lifesaver. And to have the exact amount of nutrition like raw, you have to get a twin gear juicer.
What is a twin gear juicer, by the way? It's a machine that makes juice at a low rpm by providing maximum nutrition. Besides, it offers a deficient level of oxidation and heat to keep the juice drinkable for 2-3 days.
Here, I'll be guiding you to this slow but efficient beast to make your day. There'll be benefits, drawbacks, tips, tricks, and comparisons to make you clearer.
Let's begin!
What is A Twin Gear Juicer?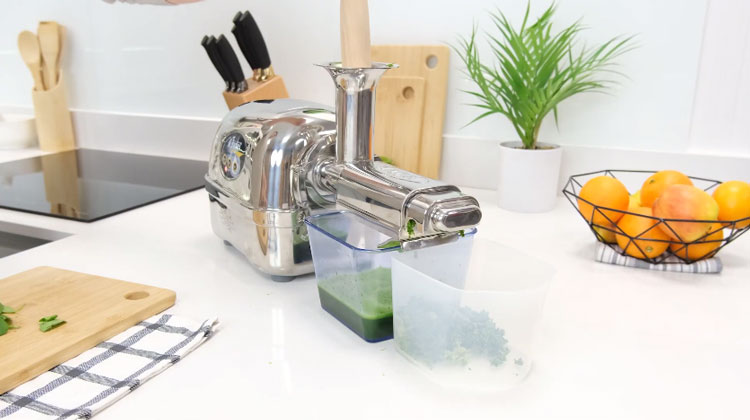 A twin gear juicer is a type of product that helps you to make juices from multiple vegetables, fruits, nuts, and tough food. It's also known as a triturating juicer, which is basically a low-speed juicer.
Here the juicing process will take more time than the centrifugal ones and it's the healthiest option. Also, the twin gear juicer creates less oxidation and heat. Thus, the enzymes, vitamins, minerals, and all the good things stay intact.
Therefore, this machine is super quiet so you can use it anywhere, anytime you want.
What Does A Twin Gear Juicer Do?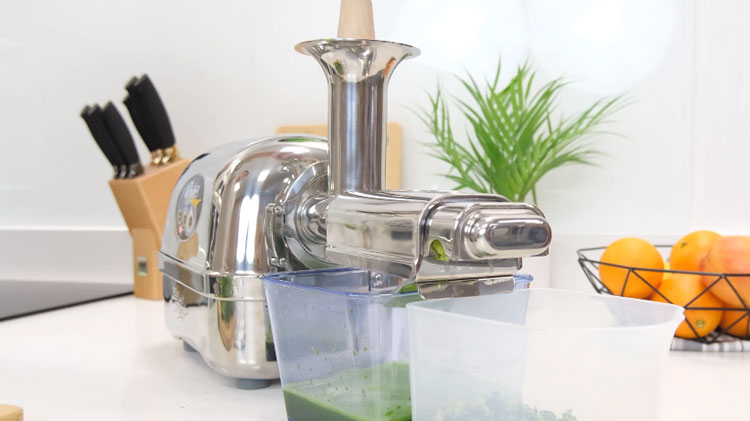 If you're a person who prefers fresh and authentic juice every day, the twin gear juicer is exactly for you. The nutrient-filled veggies and fruit juice make this triturating piece more amazing.
A twin gear juicer is a type of cold press juicer that extracts the nectar of your ingredient, pressing it hard. This helps to separate the drink from the fiber perfectly.
Note that the speed of this one stays around 80-120 rpm. Slowly but heavily, you'll get your thick juice in 5-6 minutes.
With minimum air and heat exposure, you'll also get the exact taste of your juice. You don't need to do any other work to make a drink; hence the twin gear juicer will crush, cut, and squeeze your food at the same time.
On top of that, the juice yields and the nutrients get maximized with this machine. The colors of the drink here will be vibrant, which is pretty tough to find out anywhere else.
Difference between Other Juicers and Twin Gear Juicers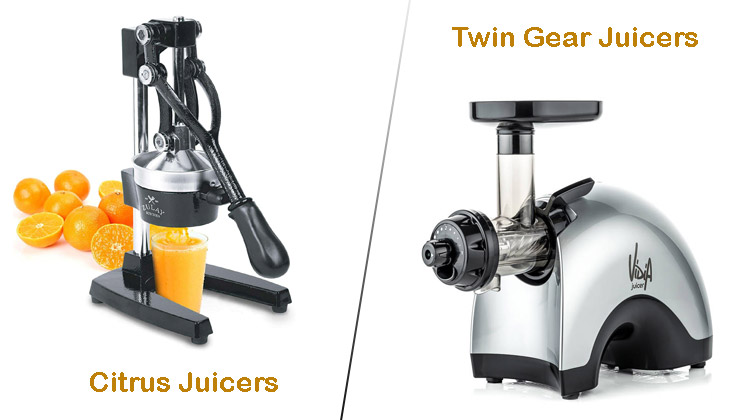 There are two types of juicers on the market. One type is a high speed and the other one is slow speed. Twin gear juicers fit in the low-speed genre. There are various differences between these two types and I'm going to give you the details here:
As I said earlier the twin-gear juicer has minimal speed, it usually processes at around 80-120 rpm; means the juicer takes a lot of time to make just one glass of drink.
On the flip side, high-speed juicers take less time to make a glass.
No matter how fast or slow a juicer works, the health option always comes first and is on the top in a twin gear juicer. High-speed ones don't contain this much nutrition as they produce loads of heat. This heat breaks down the vitamins (mostly), leading to fewer health benefits.
But you can always find the outrageous nutrition in a twin gear juicer as there is no oxidation.
Likewise, other differences are,
More speed juicers make loud noises, so it's annoying, whereas twin gear juicers are quiet and peaceful. You can use it anywhere, anytime.
Drinking from a centrifugal juicer (High-Speed) is tasty but not good-looking. On the other hand, drinks from twin gear Juicers are always colorful.
Fast juicers can't handle some ingredients (there's an exception) like spinach or kale. But for a twin gear juicer, it can almost crush anything you give it such as kale, cucumber, apple, spinach, celery, almond, and more.
If you're serious about the plant-based diet, a twin gear juicer is all you can get. I can assure you that they can make a perfect juice from all the leafy green. But for centrifugal juicers, you already know they can't handle it.
Last but not least, twin gear juicers are expensive when the other types of juicers are kind of affordable.
Reasons to Buy a Twin Gear Juicer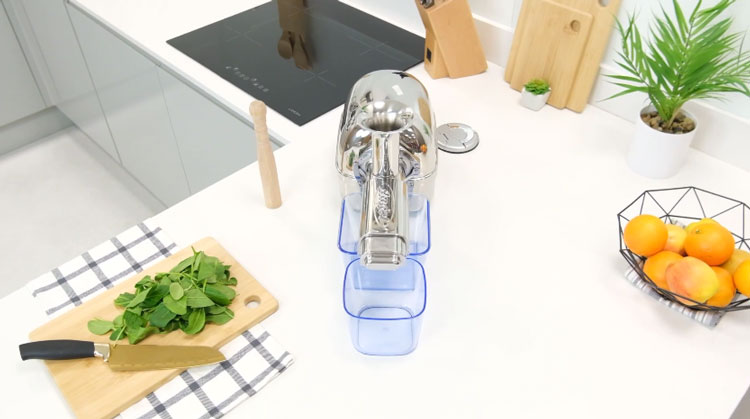 Now let's focus totally on the benefits of a twin gear juicer. I'm sure it'll change your mind to get a new one immediately.
Works Slowly but Effectively
Although twin gear juicers work late, trust me, the process is way healthier than you think. It works at a slow speed as it takes time to crush every bit of your food to make it worth it.
You'll get the highest juice yield by using this beast. The blades of the machine are super sharp so every corner of the fruit will be properly chewed. Thus, no waste will happen which is good for both yourself and the earth.
Most juicers create lots of heat which eventually creates more foam. This oxidation leads to fewer health benefits. But in twin gear juicer you won't face it.
Therefore, you'll get the most authentic and nutritious drink for your stomach.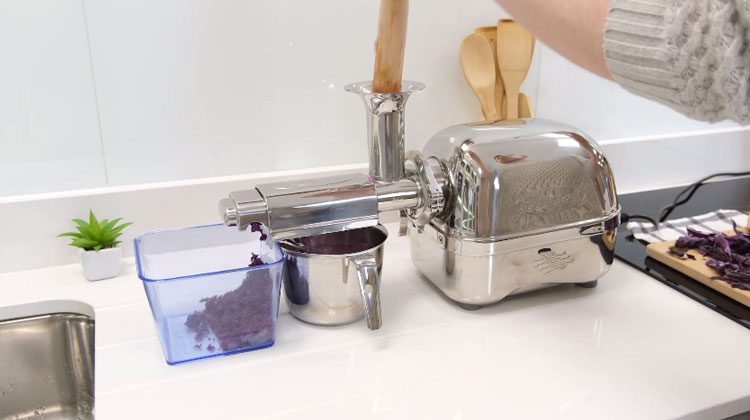 An advantage of having a twin gear juicer is that the drink made from it can be stored for 2-3 days straight. If you feel like not having your juice after making it, or if there's more in quantity, you can always store it.
It won't spoil!
Twin gear juicers can mash every fruit and vegetable you give them. This one will handle everything from apples, carrots and kales to any type of leafy greens.
Plus, pasta, nut butter, and baby food can be crushed with this one. Amazing, don't you think?
The great thing about twin gear juice for me is its "no sound" technology. We all love peaceful items and that's what this product does. It won't make a noise no matter how many times you use it.
Enjoy the peace and drink a fine glass of juice made from your outstanding juicer!
Reasons to Avoid a Twin Gear Juicer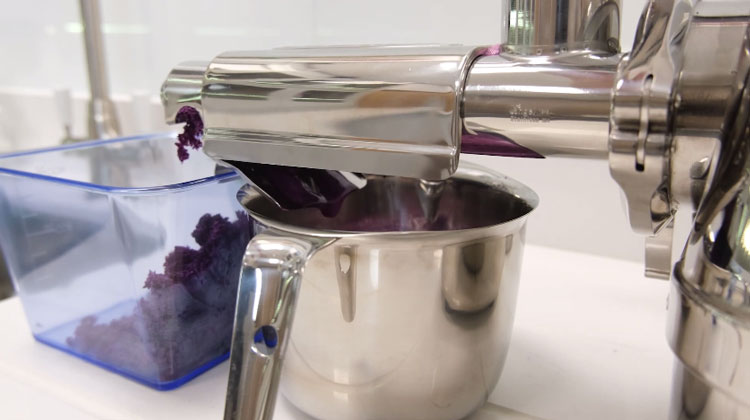 Well, there are, of course, some reasons to respectfully avoid a twin gear juicer. Such as,
If you're a person who is always in a hurry, you need to pass this one as it takes lots of time to prepare a drink.
You can only make one glass of juice per 5-6 minutes.
The juicer is kind of bulky.
Twin gear juicers are expensive.
What to Look for Before Buying a Twin Gear Juicer?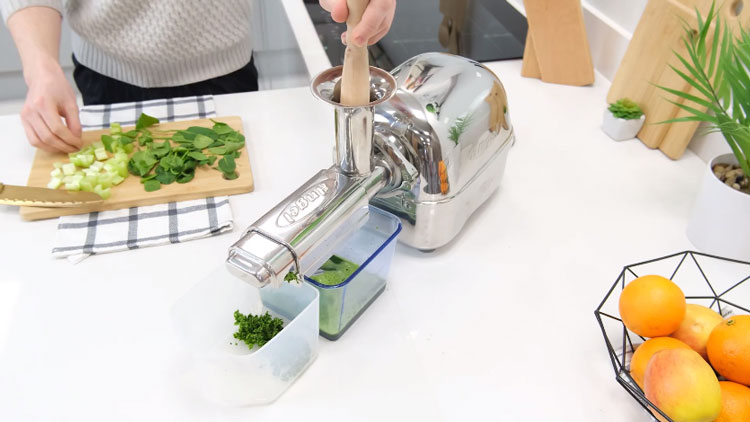 If you have already made a decision to purchase a twin gear juicer, let me help you with what to check before buying it.
Always check up on the design if it's going to fit in your space. Most twin gear juicers are bulky so check the item properly.
Also, ensure the blades of the machine if they're super sharp and the material is durable. Definitely, you won't buy a product for one day so make sure it lasts forever (at least for 8-10 years).
The speed of the twin-gear juicer is already slow. But you have to observe if it's around 80-120 rpm. This is the normal speed range of a twin-gear machine. If it matches, go for it.
It's a very essential thing to find out if the product really works quietly. Most twin gear juicers work silently still you should confirm it multiple times.
FAQs
Are twin gear juicers better?
Twin gear juicers are known as triturating juicers, which are slow-speed juice-making machines. It works slowly to crush the food completely and squeeze the liquid from it.
This juicer is better as it makes the highest juice yield. It confirms zero wastage and one glass will be properly satisfying. Also, it grabs utmost nutrition, which is a great deal.
Which juicer is better for home use?
Of course, slow juicers are best for home usage. As you stay at home, there's no pressure of having it super fast. You can take your time and make your drink no matter how much time it takes. The result will be tasty and healthy.
Is purchasing a juicer a waste of money?
Leading a healthy life is necessary. And for healthy living, healthy digestion is also essential. Proper juice of leafy greens can make your digestion good. So, it's never a waste of money to buy a juicer. Instead, it adds many advantages.
Final Verdict
So, what is a twin gear juicer? By now, you're quite loaded with all of the information related to this very useful item. Everyone can make their favorite drink here with the fullest nutritious value from teenagers to old individuals.
However, it can get damaged if not used and washed properly. So take care of this juicer and it'll remain yours for a long time.
All the best!