We all love to begin our day in a healthy way. A fresh glass of juice is an absolute need to make it healthier, in my opinion. And to maintain the highest nutrition, taste, and thickness, a masticating juicer is a King.
What is Masticating Juicer, by the way? It's an electric device that helps to make juice from fruits and vegetables. This juicer intact the nutrient values of the food and prevents them from oxidizing as well.
Here I'll guide you to some essential facts about this fantastic product, regarding the types, buying guide, advantages, drawbacks and many more. You'll be able to experience a healthy form of juice every day, so thank me later.
Let's buckle up!
What is Masticating Juicer?
A masticating juicer is a type of machine that slowly crush the veggies and fruits. It squeezes the chewed pulp into a fresh and thick form to give you an authentic flavor.
It's known as a cold-press and slow juicer, too, because of the low processing speed. The operating speed is from 40-100 rpm; hence there'll be less use of oxygen and heat. This is the reason masticating juicer will genuinely provide you with more nutritious juice.
So if you don't mind waiting a little bit, you can have this softy as they'll give you the perfect outcome.
Types of Masticating Juicers
There are two types of masticating juicers for your convenience. I talked about the definition and now it's time to know about them in detail. Such as,
1. Horizontal Masticating Juicer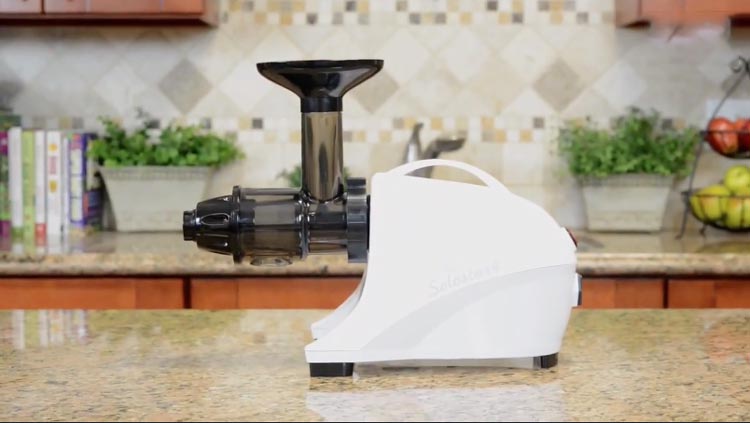 Horizontal juicers are the traditional pieces that are partially slower at speed. That's the reason why it prevents oxidation and secures vitamins, minerals, and enzymes.
On the other hand, if you want to make juice from wheatgrass, spinach, kale, chard, and most importantly, leafy greens, a horizontal masticating juicer is all you need, trust me!
However, there's a lot of prep work you have to do with these as they require manual work and take time to chop the fruits. You need to clean horizontal juicers with a brush to get rid of all the remaining pulp too.
2. Vertical Masticating Juicer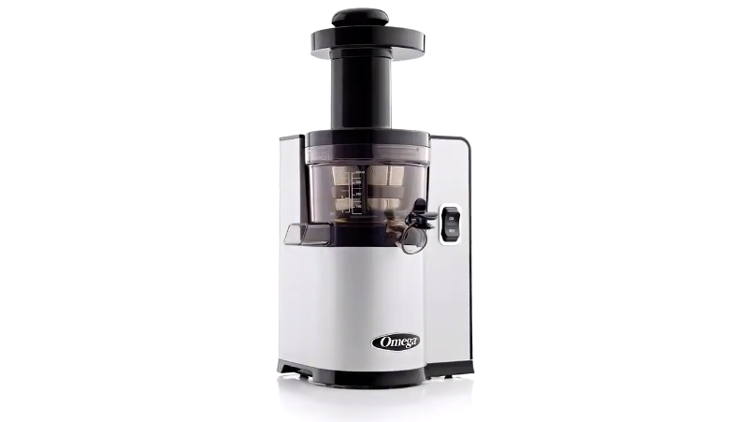 Well, as for the vertical juicers, they're new compared to the horizontal ones. Even though masticating juicers are slow, vertical ones tend to be a little bit faster than horizontal ones. They blend the vegetables and fruits as fast as they can, ensuring all the nutritious values.
The vertical masticating juicer doesn't need any prep work with the ingredients at all just so you know.
Besides, it's super easy to clean the vertical ones as they're built in that way. The juicer has juicing bowl and juice cap, which gives you a convenient way to cleanse them.
It takes less space in your kitchen so if you want a minimal juicer, get this one without any doubt.
What Type of Masticating Juicer Should You Buy?
Well, what type of masticating juicer you need to buy totally depends on yourself. Both juicers are great inventions, so you must be sure about your priority first. Of course, the cost too.
If you're willing to make juice from different types of products, do experiments and all, pick up the vertical one. It has a wide variety, an advantage of fast speed, nutritional qualities, improved flavor, and the newest design.
Then again, if you're not willing to spend more, surely buy a horizontal masticating juicer. It's a traditional one, so you can easily make any type of juice with it.
Therefore, the choice and priority are yours!
Benefits of Masticating Juicer
People have been using masticating juicers for ages now. There are so many valuable benefits of this piece like,
This type of juicer preserves nutrition more than anything. You'll eventually get a full nutritional value which is the healthiest. All the minerals, vitamins, and enzymes will be preserved for the utmost purity.
The juice you'll prepare with the masticating juicer will create less oxidation. By this, the chemical rate will be lower and you'll get to drink the fresh extract without any doubt.
Unlike any centrifugal machines, masticating ones will give you the exact taste of the fruit/veggie. It's because the device has expert bio-magnetic technology to run at a slower pace. This helps to intact the standard quality taste, which will give you satisfaction.
You can get the whole amount of juice by using this mighty product. The juicer will let you have the maximum amount of juice using very few ingredients. This way, it'll squeeze every pulp efficiently so that you can get every bit of nectar of your fruit.
As it creates less oxidation, it has less foam. And the less foam will help not to attract any bacteria. It means you can store the juice for 72 hours without any hesitation.
Another great thing about masticating juicer is it really helps with the quiet environment. As the juicer run at 80-100 rpm, you can enjoy the quietness to the fullest.
By drinking juice from this juicer, you'll get the smoothest digestion as well. You can liquefy tough and fibrous things effortlessly; hence it'll ensure your easy digestion.
The machine is very simple to clean. It has a few parts, so you just have to throw some warm water, baking soda, and cleanser and clean it. Or else, you can also wash it inside the dishwasher.
Masticating juicer works like a helping hand in your kitchen. You can make juice from fruits, vegetables, leafy greens, nut butter, wheatgrass, frozen fruit, and many more.
This type of juicer is actually durable enough with very low maintenance. They're FDA and BPA free too.
A good juice will increase your metabolism and reduce toxic elements from your body. Masticating juicer will highly help you with these.
Drawbacks of Masticating Juicer
Now let's talk about some reasons to avoid masticating juicers. They include,
These juicers take a lot of time so if you're always in a hurry, avoid buying them.
They deal with one veggie or fruit at a time so it requires some patience.
Masticating juicer has a narrow chute which means everything should be pre-cut.
If you're aiming for horizontal ones, they'll be kind of bulky and will take lots of space.
A Masticating juicer is expensive, especially the vertical ones.
Now that you know everything about a masticating machine, it's time for you to learn what to look for specifically. It'll help you to get the best one, I promise.
Design
As masticating juicers come in various designs, sizes, and colors, you should go for the one that suits your kitchen decor. If you think a big one will be proper, go for it, and if you think a simple juicer will look great, pick that.
Power 
Make sure you know what type of juice you're going to make. If you want to experiment a lot, you have to buy one with high motor power. These types will also help you crush hard veggies like carrots and cucumbers.
On the flip side, an average motor will work perfectly if it's only for juice making.
Note that the proper motor power of a masticating juicer is 400W.
Separate Container
In masticating juicer, there's a separate container for wastage. It helps to save a lot of time and effort for pulp removal. Make sure your juicer has this too!
Speed and Noise Levels
Observe the speed and noise level of your juicer. The ideal speed range is from 40-100 rpm. Your juicer needs to have this as well.
And for the noise level, masticating juicers are not that noisy still check carefully for confirmation.
Horizontal or Vertical
It depends on you what type of juicer you need in your kitchen. If you just want juice from fruits and vegetables, you can buy a horizontal one. Then again, if you want juice from a wide variety of food, go for the vertical one.
Frequently Asked Questions about Masticating Juicer
Is masticating juicer good?
Of course, masticating juicers are good. They help to crush the leafy greens properly, have a quiet operation, have high juice yields, and make great juices from different forms of food.
Is a masticating juicer the same as a cold press?
Masticating juicers are known as cold press juicers as well. As these machines make juices at a low speed and help to extract more amount than any other juicers, they're often called cold pressed ones.
How long does it take to juice with a masticating juicer?
Your masticating juicer will take around 5 minutes or less to make one glass of juice. The time limit can be changed due to the type of food.
Conclusion
That's all. I guess this write-up is descriptive enough if you're confused about what is masticating juicer actually. These juicers are amazing in crushing all those fruits and vegetables so you can enjoy your drink in a peaceful manner.
However, try to clean the juicer after every use. This way, your product will last for a long time.
Good luck!