Mint is a popular plant species known for imparting a cooling sensation. You can add mint to foods and also juice them to get a refreshing and chilly flavor. Moreover, mint is quite a popular ingredient in several drinks, teas, desserts, and salads.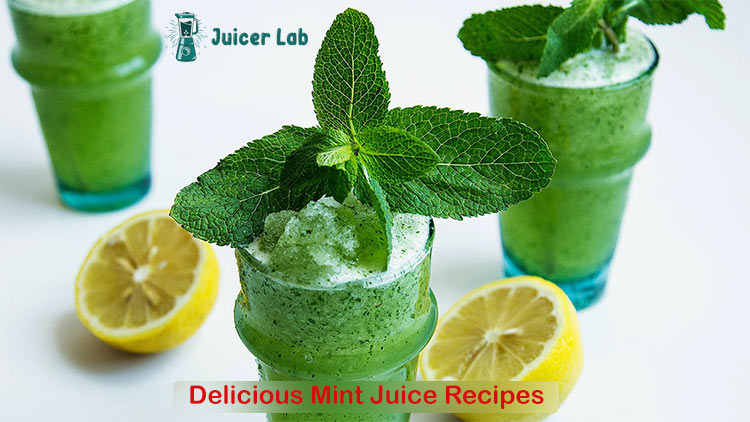 However, juicing mint is a great way to get the most out of it as it's rich in so many nutritional contents and antioxidants. Mint shows germicidal qualities that prevent the growth of bacteria inside the mouth, teeth, and gums. Besides mint delivers fiber, Vitamins, iron, folate, and manganese. Along with fresh flavor, mint juice works as a great source of vitamins and antioxidants.
Adding mint juice to your morning or noon drink is the simplest method to receive your daily dose of mint. Moreover, juicing mint is simple and easy. You can use it with lemon and cucumber, or even ginger and apple to give your drink more richness in flavor. In fact, there's a diversity of delightfully tasty mint juice combinations available. So, mint juice is the perfect nutritious and energizing beverage for you that helps you get going in the morning.
Potential health benefits of mint
As we discussed above, mint is a good source of nutrients, antioxidants, and minerals. More specifically, 14 grams of spearmint delivers –
Calories: 6
Vitamin A: 12% of your daily reference intake or RDI
Iron: 9% of the RDI
Manganese: 8% of the RDI
Folate: 4% of the RDI
With one ounce or 28.349 g of fresh peppermint, you get –
Calories: 20
Total fat: 0.3 g
Sodium: 8.8 mg
Dietary fiber: 2.3 g
Protein: 1.1 g
Calcium: 68.89 mg
Iron: 1.44 mg
Potassium: 161 mg
However, because mint has such a strong flavor, it is frequently used in small amounts in recipes, so ingesting even a third of a cup may be challenging. Though, with a small portion of mint leaves, you can achieve enough of your daily nutritional values.
Good for indigestion
Mint is great for relieving digestive problems like upset stomachs or indigestion. Indigestion can develop when food remains in the stomach for an extended period of time before moving into the remainder of the digestive system.
Peppermint aids in the passage of food through the stomach. Furthermore, peppermint alleviates stomach discomfort and other digestive problems.
Improves cold symptoms
In some ways, peppermint helps to counter cold and flu conditions. Some studies suggest that mint subjectively improves nasal breathing.
A great item to add to your diet
Mint juice is an excellent addition to your regular diet. Daily consumption of mint juice can help you –
To treat your bad breath.
Improves brain function and works against cold symptoms.
To treat IBS as well as indigestion.
Some delicious mint juice recipes that you can follow
Hint of mint juice
It's a light juice with a lot of greens in it. Within one serving, you receive the benefits of mint, lime, spinach, and celery sticks. Furthermore, the juice is high in minerals like potassium, iron, calcium, magnesium, plus vitamins K and C. The drink has a slight sweetness from the apple and a hint of mint, making it excellent for an upset stomach.
| | |
| --- | --- |
| Ingredients | Quantity |
| Large spinach | One |
| Zucchini | One |
| Fresh celery stick | One |
| Fresh apple | One |
| Lime | One |
| Large handful of mint | One |
Directions
The first step is to wash all your ingredients well with clean water.
After washing, peel the lime and chop the apple with other leafy ingredients as needed.
Insert all your ingredients through a juicer's feed chute.
Juice until smooth.
Pour your fresh drink into a glass and serve with 2-3 ice cubes to give it a chill flavor. Enjoy!
Mint lemon juice
Mint lemon juice is a cool drink that is ideal for hot summer days. It has a strong taste and several health advantages. The combination of lemon and mint delivers a refreshing vibe and a great doge of Vitamin C for your daily required value. Also, a pinch of black salt spices up the flavor a bit more. In other words, this recipe follows a healthy and refreshing version of mint juice that you will like for sure.
| | |
| --- | --- |
| Ingredients | Quantity |
| Fresh mint leaves | 1.5 cups |
| Powdered jaggery or sugar | 9 to 10 tablespoon |
| Water | 1/2 cup |
| Black salt | 1/2 teaspoon |
| Cumin powder | One teaspoon |
| Lemon juice | 3 to 4 teaspoon |
Directions
The first step is to separate the mint leaves from the stems and afterward rinse them a couple of times in water.
Insert all your ingredients in a blender and blend until you get your desired consistency.
Strain the produced mixture with a fine strainer.
Now, take 1/4 amount of your strained juice and add 3/4 amount of water. Stir well.
Serve this fresh mint juice with ice cubes and enjoy.
Celery and mint juice
It's a vitamin-rich drink that works well for muscle cramps. This recipe introduces celery which is low in sodium and high in potassium. Mint and lemon juice not only offer a pleasant taste, but they also provide Vitamin C. So, this Celery and Mint drink can also serve as an early morning immune boosting injection.
| | |
| --- | --- |
| Ingredients | Quantity |
| Fresh-bright green celery stick | One |
| Medium lemon | One |
| Glass of water | Two |
| Fresh mint leaves | 10 to 15 leaves |
Directions
First, wash your ingredients and separate a stick or rib from the celery bunch. Also, remove the leaves.
Next, insert your ingredients into a high-power blender.
Now, squeeze the lemon over your ingredients in the blender, or you can just peel the lemon and chop it into small sections and add those pieces to the blender.
Finally, juice until you get a smooth consistency.
Serve the juice in a glass with a bunch of ice cubes and enjoy.
Pineapple mint juice
It's a simple mint juice recipe that combines the sweetness of pineapple with the strong menthol flavor of mint in one glass. This juice is packed with nutrients with disease-fighting antioxidants.
You will also get a load of Vitamin C and A, helping you reduce the risk of macular degeneration. Furthermore, making this is simple. Fresh mint leaves and pineapple are all you need. The combination of these two components yields a delicious flavor as well as several health advantages of Pineapple Mint Juice.
| | |
| --- | --- |
| Ingredients | Quantity |
| Ripe pineapple (cored and sliced) | One / 3 cups of pineapple chunks |
| Fresh mint leaves | 10 to 12 or to taste |
| Sugar (optional) | Two tablespoons, or to taste |
| Water | 1½ cups |
| Ice cubes | One cup |
Directions
Insert your pineapple chunks and mint leaves in a powerful blender.
Add about two tablespoons of sugar. Although this is optional, you can taste a pineapple piece to see whether you need to add sugar or not.
Finally, add water and ice.
Blend all your ingredients until smooth.
After juicing, run your juice through a fine-mesh strainer.
Pour the fresh mint juice into a serving glass and enjoy.
Cucumber mint green juice
This recipe follows some simple green ingredients that include a bundle of nutrient values. With celery, kale, cucumber, and mint leaves, you get the perfect drink that can fulfill your daily required value for nutritional content.
Also, it's an easy way to absorb all the goodness of green veggies within a single serving. Along with health benefits, you get a variety of flavors from different green vegetables.
Moreover, the addition of mint delivers a cold menthol flavor that blends nicely with the other components. So, in other words, this juice is a perfect addition to your daily diet menu.
| | |
| --- | --- |
| Ingredients | Quantity |
| Kale (chopped) | 3-4 cups |
| Stalks of celery | 3 |
| Cucumber (peeled) | 1/2 |
| Springs of fresh mint | Personal preference |
| Lemon | One slice |
| Lime | One slice |
Directions
Insert your chopped kale, celery, cucumber, and mint through a juicer's feed chute and juice until smooth.
After that, squeeze the lemon and lime into the mixture and give it a good stir.
Pour your fresh mint juice into a serving glass with some ice cubes. Enjoy!
You may also keep the juice in the fridge in a well-sealed jar for future use.
FAQ
Can you consume too much mint?
Mint, like many other plants, can have a negative impact on certain people. Mint is not a good option for treating digestive difficulties in those who have gastroesophageal reflux disease (GERD). According to a 2019 study, mint is a common cause of GERD symptoms. Moreover, large amounts of peppermint oil can be harmful.
What happens if you consume mint-based juice daily?
Juicing mint is safe, and consuming it every day is also safe if you take it in considerable amounts. However, the safety measures of taking mint for longer than eight weeks are unknown. Furthermore, some of the probable negative impacts of peppermint include dry mouth, heartburn, nausea, and vomiting.
Can mint leaves help to reduce belly fat?
Mint works well, reducing belly fat. Basically, mint leaves trigger the release of extra bile from the gallbladder, which is crucial because it helps the body to digest fat. Therefore, consuming juice that contains mint is a great option to reduce some sort of belly fat.
Is mint good for your skin?
Mint leaves work nicely as a mild astringent that organically tones your skin. In addition, juicing mint helps to eliminate dead skin cells and debris from pores, as well as restore your skin to a smoother and well-hydrated tone. Furthermore, while narrowing the pores, it maintains moisture in your skin.
The antioxidant "rosmarinic acid" found in mint leaves helps to improve blood flow to the skin and moisturizes it.