Nothing brings out the nutrients to produce more than a juicer. However, one of the most common issues with juicers is that they take up a lot of space. This is frustrating to deal with. Because of this, there is a clear demand for a different kind of juicer. You will get a lot out of a compact juicer if your kitchen is already crowded with other appliances. These juicers operate in the same way as their bigger counterparts. The only real difference is that they are much smaller in size and they are travel-friendly. Different small juicers do different things and it is quite a task to find the best small juicer that is right for you.
9 Best Compact Juicers in Details :
1. "Juice Fountain" Compact Juicer by Breville
Compact in size:
This Breville juicer has a relatively space-efficient juicer. Therefore, it's easy to maneuver and work with. You can also place it at any small place in your kitchen. This juicer is also light-weight with 9.68 lbs. The power cord of this juicer wraps around its base to make it more convenient for storage.
Wide feed chute:
One of the most frustrating aspects of using any juicer is the amount of time it takes to actually place produce inside of the juicer. As most of them have a really tiny feed tube.
Travel size Breville's Juice Fountain solves this problem. It contains a 3-inch centered feed tube, which means you will have a reduced prep time. This makes the juicing process much faster and you will appreciate this fact. you will not need to cut up all kinds of fruits, celery and vegetables to put inside the feed tube.
High juice yield:
Something else you will also appreciate about the Juice Fountain is that it yields a lot more juice compared to other juicers. This is possible by way of its Italian-made micro-mesh filter. Also, this quality filter works alongside with titanium reinforced disk for maximum juice extraction. Now, as you get a lot more juice, you also get a lot more nutrients with the Juice Fountain. Therefore, It's one of the best mini juicers as well.
Forth separator:
This juicer has an extra advantage for having built-in forth separator. Juicing creates forth for processing a range of fruits and veggies. Therefore, the juice jug features an integrated froth separator to produce clean and forth free juice into your glass.
Pros
The easy-to-use juicer makes it simple to get the juice you need.
High capacity Blending power ensures that you can make a good amount of juices from different types of fruits and vegetables.
It is made with the finest materials that make it strong and long-lasting.
The durable materials of the juicer make it a wise investment for your home.
It's one of the most versatile juicers on the market, able to juice various types of fruits and vegetables.
Cons
You always have to keep the cover and locking arm in place to start it.
2. Citrus Mini Juicer by Black+Decker
Easy to work with:
Juicing requires a lot of guesswork if you do not know exactly how much juice a particular piece of product yields. This guesswork is eliminated with Black+ Decker's citrus juicer. The container itself contains measurement markings which means that you'll be able to know exactly how much juice you have on hand. This will save a lot of time when you need fresh juice for recipes. Also, for efficiently pour your juice it features an easy-pour spout. In other words, it makes juicing a lot more-easier than other average juicers in the market.
Pulp-control functionality:
In most juicers, the pulp of what is being juiced usually just drops into a reservoir that gets emptied when cleaned later. You can empty some of this pulp into your own container if you want, but this is pretty difficult. Black+ Decker's citrus juicer contains pulp control and it also contains a removable basket that you can easily empty into your own container. Or you can just throw it out. This makes things a little more convenient for efficient juicing.
Citrus juicer:
Unfortunately, Black+ Decker's citrus juicer is one-dimensional in its use. It only juices items that are citrus-based. It is respectably compact in size. You will need to look for a different juicer if you are looking for an all-purpose juicer.
Easy to clean:
This small cone citrus juicer is compact in size with less complex mechanism and machine design. Therefore, its easy to clean and taken care of. Also, all the parts are dishwasher-safe for an easy and convenient cleanup. The juicer comes with a storage cover for eliminating dust and keeping it ready for use at any time.
Pros
It is perfect for extracting juice from a variety of fruits
all detachable parts are easy to clean and dishwasher safe.
The juicer is simple to operate, with just one switch.
you'll be able to start juicing right away because It's simple to use and assemble.
The juicer comes with a large capacity which means you can juice more fruit at once, saving time.
Cons
Only makes juices from citrus-based fruits.
3. "Juice Fountain Plus" by Breville
Those types need their juice to contain as many nutrients, vitamins, and minerals as possible.
High juice yield:
Most juicers in the market do not extract the amount of nutrients, minerals, or vitamins from the produce that you put in them. This is frustrating to deal with, especially if you are the type who enjoys juicing as a meal replacement. You are going to get a lot out of Breville's Juice Fountain Plus if you are looking for a juicer that retains nutrients, vitamins, and minerals. The quality mesh filter that it possesses will extract up to 30% more juice and 40% more nutrients. In fact, the Italian-made micro mesh filter works well with titanium reinforced disk to get maximum juice yield from any produce.
Compact design:
Another good thing about the Breville Juice Fountain Plus is that it is compact in size and easy to use. It's space efficient. Therefore, you can store it anywhere with little space in your kitchen. Also, the power cord wraps around its base, allowing you to keep it neat and simple to store.
Two-speed control system:
This juicer features a two-speed control system. You can use low speed and high speed according to your produce and make a nicely concentrated juice as you wish. In other words, you can process any kind of denser and harder fruits along with soft ingredients with ease.
Extra large feed chute with froth separator:
The Breville Fountain Plus juicer has an extra-large feed chute. It can process whole large apples, pears, and oranges in seconds reducing the prep time. Many fruits and veggies produces froth which is crucial to eliminate for a clear and more flavorful juicing experience. The built-in forth separator in this juicer ensures juice froth is separated when poured into a glass.
Cleaning:
It is also dishwasher safe. The fact that it is dishwasher safe makes it much easier to clean than other compact juicers as well. Unfortunately, it will take a long time to take the Juice Fountain Plus apart so that you can clean it. It contains a lot more parts than the common mini juicer, and the cleaning process is still very time-consuming even if it is dishwasher safe.
Pros
This centrifugal juicer is easy to use and easy to clean.
It has a powerful motor that helps it melds vegetables and fruits easily and quickly.
The pulp catcher helps minimize mess, and the froth separator creates smooth, delicious juices.
It is made from durable materials that are built to last, ensuring that you will enjoy fresh juices for upcoming years.
Cons

The washing procedure is time-consuming due to having a lot of parts.
Comparison table of Best Small Juicer
| | | | |
| --- | --- | --- | --- |
| Product | Item Dimensions (LxWxH | Type | Weight |
| Breville BJE200XL Juice Fountain | 7.4 x 10.4 x 12.7 inches | Centrifugal | 4.39 Kilogram |
| Juicer Machines, Aicok Slow Masticating Juicer | 16.1 x 7.9 x 11.6 inches | Masticating | 3.74 Kilogram |
| BLACK+DECKER 32oz Citrus Juicer | 7.68 x 7.68 x 9.5 inches | Citrus Juicer | 1.097 Kilogram |
| Breville JE98XL Juice Fountain | 13.2 x 16.5 x 18.2 inches | Centrifugal | 4.5 Kilogram |
| Hamilton Beach Juicer Machine | 9.25 x 13 x 16.25 inches | Centrifugal | |
| BLACK+DECKER (JE2200B) | 13 x 9 x 9 inches | Centrifugal | 2.49 Kilogram |
4. Pulp control citrus juicer by Cuisinart
Pulp control:
Most of the time you can't control how much or how little pulp you get with most juicers. This issue is solved with Cuisinart's citrus juicer. It has pulp control settings and this is perfect for anybody who regularly juices citrus based fruit. There are three pulp control settings, low, medium, and high for having complete control over the pulp. Also, for more efficient juicing it features an auto-reversing juicer cone with high quality.
Final spin feature:
The final spin feature of this juicer is a handy functionality, as it extracts every last drop of juice from the pulp. So, the juicing is more efficient as you there is less wastage and more juice in your glass. 
Additional features:
This citrus juice extractor has a convenient large juicer cone for processing small limes to large grapefruits. Along with that, it has a cover that activates the fast spin feature.
It also acts as a dust cover when the juicer is not in use. The juicer has a motor base that eliminates the risk of juice spillage as the juicer may walk on your countertop while in operation.
For a convenient juicing experience, it features angled container that helps the extracted juice to flow directly into a glass or container. You can choose the open or closed position by simply pushing – down or up on the spout.
Snap-up spout:
Making citrus juice is really messy, and a lot of them do not accommodate this with their design. Fortunately, Cuisinart's juicer does accommodate it with its snap-up spout. This prevents dripping and you'll be able to fill more glasses of juice because of it.
Pros
Juices large and short citrus fruits with ease
Pulp control allows you to juice as much or as little pulp as you like
The cord storage keeps your countertop tidy.
It also has a low noise level, making it easy to use without disturbing others in the house.
It is easy to was and foregather, so you can get started juicing right away.
Cons

Sometimes, the pulp control feature doesn't work properly.
5. Centrifugal juicer machine by Hamilton Beach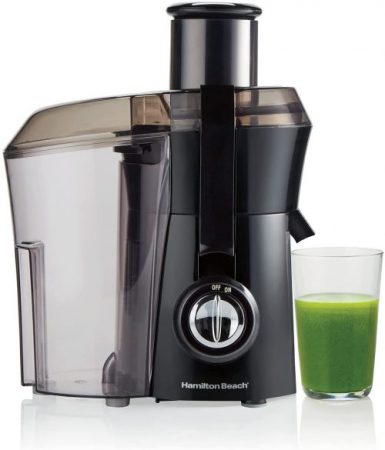 Large feed chute with versatility:
Hamilton Beach's centrifugal juicer gives you all the options that you need. Its 3-inch feed chute allows you to place whole fruits and vegetables inside of it to be juiced. This reduces pre-cutting and because it is centrifugal, it means that it can make juice out of anything that has any kind of juice content, even things such as kale or beets.
High-power motor:
The Hamilton Beach centrifugal juicer has an 800-watt motor that can process denser fruits and veggies with ease. You can turn a dense beet into a nicely concentrated juice in seconds. The durable stainless-steel micro-mesh strainer works great with high speed for a quick and efficient juicing experience.
Easy to clean:
The juicer has easy to remove parts for efficient cleaning. Also, all the removable parts are dishwasher safe. You are getting a handy cleaning brush for assisting your cleaning process in a quick manner.
Convenient juicing operation:
With the Hamilton Beach centrifugal juicer your juicing experience will not be laborious. You just have to insert the ingredients into its wide feed chute and lock on the lid with the metal latches. Finally add the pulp bin and start juicing. So, juice anything from apples to leafy greens with this simple operation. You can also make soy, almond. Or rice milk with this versatile tool.
Pros
The juicer machine has a powerful blending system that can create delicious and nutritious juices in minutes.
It is easy to assemble, so you can start using it any time.
The large 3" feed chute can accommodate whole fruits and make the process faster and more convenient.
It's easy to wash because of the dishwasher safe parts.
Because of the durability, you can expect a long time service.
Cons

Sometimes, the pulp control feature doesn't work properly.
6. Fruit and vegetable juice extractor by Black+Decker
Ease of cleaning:
One of the most common complaints about any juicer is that not only do they contain too many parts to manage, they are also difficult to clean. Black+ Decker's juice extractor however has easily removable parts for efficient cleaning.
The parts are also dishwasher safe and you do not need to clean a lot of them in the first place. This makes it easier to use and a lot less intimidating for those who are new to juicing.
Efficient in juice extraction:
Excess pulp is also something that can turn others off of juicers. Fortunately, Black+ Decker's extractor has blades that are so strong that it removes pulp completely. Its durable stainless-steel cutter works perfectly and quickly to extract juice. This is ideal for anybody who does not prefer to have any pulp in their fruit or vegetable juice.
Compact design:
The Black+Decker juice extractor is compact in size, therefore its space efficient. In other words, this vertical-oriented juicer saves a lot of space in your kitchen. Also, its easy to maneuver and transport. In addition, this juicer is somewhat light-weight. So, its easy to handle with.
Adjustable pulp control:
This juicer has an adjustable pulp control system. It helps to control the amount of pulp in your juice. You can choose how much pulp you want into your juice making it convenient in terms of juice extraction.
Pros
A powerful 400-watt motor quickly juices fruits and vegetables.
The pulp container detaches the juice from the puree for less mess.
Dishwasher safe parts make cleanup a breeze.
Large capacity pitcher (300 ml) makes you juice more at once.
Comes with a 28-Ounce Pulp Collector for easy pulp ejection.
Cons
The feed chute is too small, making it difficult to juice larger fruits and vegetables.
7. Mueller Juicer Ultra Power Juicing Machine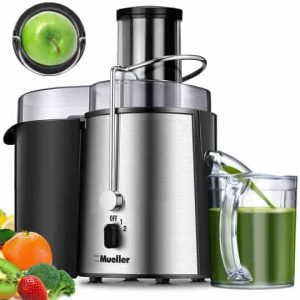 Mueller Juicer is a centrifugal juicing machine designed for entire fruits and vegetables. It has a 3″ wide feed chute that allows you to juice large items without cutting them up into smaller pieces. It is very silent as well, so you can enjoy your juice without disturbing others. Whether you're a health enthusiast or simply looking for a convenient way to get your daily dose of fruits and vegetables, the Mueller Juicer Ultra Power is ideal.
Detachable bin:
It comes with a detachable pulp bin to easily collect and dispose of the pulp.
Feed chute
You won't have to spend time chopping up produce before juicing because it has a wide 3″ feed chute that can accommodate whole fruits and vegetables.
Design
This machine is modern, sleek and low-profile while the other juicers are more expensive and larger.
Speed
It has two-speed settings, so you can juice whatever fruit you like, no matter how tough it is.
Power
The part of the stainless steel ring is adjoined by a micro-mesh netting with 1100 watts max power to collect more juice, minerals, and vitamins.
Pros
Breaks down quickly for easy cleaning.
Extracts juice from vegetables and fruits comfortably.
It is perfect for its quiet operation
Comes with multiple filters to get the most amount of juice.
The machine is made with durable materials that will last for years.
Cons
Sometimes, it comes out with vegetable chunks except for juice.
8. AMZCHEF Slow Juicer Extractor Machine
If you're looking for a high-quality masticating juicer, the AMZCHEF Juicer is a great option. It has a powerful motor that can easily handle tough ingredients, and it also features a reverse function to prevent clogging.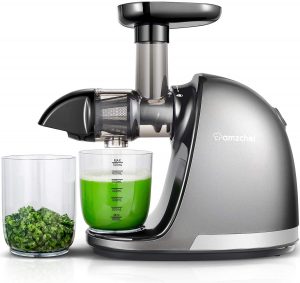 In addition, the included brush makes cleanup quick and easy. The Slow Juicer from AMZCHEF is an excellent choice for anyone looking for a top-quality masticating juicer with its many features and benefits.
Design
It is a high-quality masticating juicer designed to preserve the maximum amount of nutrients in your fruits and vegetables.
Reverse function
The Slow Juicer also has a reverse function that helps prevent clogging and a brush for easy cleaning.
Power
It has a powerful 150 watts motor that runs at a slow speed, allowing it to crush and grind your produce gently.
Feeder chute
This centrifugal juicing tool features a Little feeder chuteso that you can remove the seeds when you cut the fruit, reducing the sour taste.
Intelligent chip
Intelligent protection chips make it stop automatically for every 20mins operation to protect both the juicer and your fruits and vegetables.
Pros
It is very sturdy and can be used for a long time.
you can use it without disturbing other people with low noise levels.
Assemble in minutes no tools required.
made of prime quality elements that are easy to clean.
Cons
The screw pieces at the end of the chute break easily.
9. Slow masticating juicer and extractor by Aicok
Slow juice extraction:
Centrifugal juicers are really useful if you are looking for a juicer that can make juice really quickly. They can often create juice from whole fruits and vegetables in seconds. However, there is a tradeoff to this, and that is the amount of juice that you get as well as the nutrients that these juices contain.
Aicok's juicer uses a masticating process, which means it will yield a lot more juice than retains a lot more nutrients. This allows you to get a pure extract from fruits and vegetables that you can either consume by yourself or use in recipes. You'll instantly notice this difference and you will appreciate it.
Auto pulp remover:
Not only will Aicok's extractor make more juice with more nutrients, but it also has options to remove the pulp without removing nutrients. This is fantastic for anybody who prefers juice with no pulp who also wants to get a lot of nutrients out of their juice.
Compact build:
Aicok is also a compact juicer that is convenient to use and easy to clean. Its space efficient and works great when you need to use it at tight places. Therefore, this juicer is easy to maneuver and transport.
Pros
This slow juicer helps you get more nutrient value from vegetables and fruits.
The extractor gives you up to 20% extra juice than conventional juicers.
You will enjoy drier pulp and higher juice yield with Aicok's auger design.
It has a wide feeding chute that reduces prep time, and the slow masticating process preserves nutrients and enzymes.
This juicer is made of top class materials and is easy to rinse.
It comes with convenient and silent ways to collect juice from vegetables and fruits.
Cons
It takes a good quantity of time to make juices.
A Detailed Buying Guide For Top Small Juicers
If you are in the market for a small juicer, there are a few things you should keep in mind to make the best decision for your needs. These factors will help you to be sure of finding the right one for your demand. Let's talk about the factors below. Not all small juicers are the same, and you'll need to consider a few things before buying one. There are a lot of minor details about what small juicers can do that can affect your decision.
Type
One of the most important considerations in finding the best juicer for your needs is the type of juicer. There are two key types of juicers, first one is centrifugal and the other one is masticating. Each has its advantages and disadvantages, so it's necessary to select the one that will fit for you.
Centrifugal juicers are the most favoured type of juicer on the market. They are relatively affordable and easy to use, and they work quickly to extract juice from fruits and vegetables. However, they can be less efficient than masticating juicers and may not be able to handle leafy greens as well.
Masticating juicers are far more costly than centrifugal juicers, but they offer several benefits. They are very efficient at extracting juice, so you'll get more bang for your money. They are also better at handling leafy greens and other tough ingredients. However, they can be more tough to use and clean and may take longer to produce juice.
No matter which type of juicer you choose, make sure to read reviews before your purchase.
Size and storage
Size and storage are two of the most important factors to consider when buying a juicer. If you have a small kitchen, you'll want to ensure that the juicer you choose can be easily stored away. So, if space is tight, you might even want to consider a compact juicer that you can store on a shelf or in a drawer.
Alternatively, if you have plenty of counter space, you might prefer a juicer with a larger footprint. The size of the feed tube is also worth taking into account. A larger feed tube can accommodate whole vegetables and fruits, which means shorter preparation time. Ultimately, the best juicer for you is the one that fits your needs in terms of storage and counter space.
Speeds
One of the most essential contemplation is speed when shopping for a juicer. Juicers with high speeds can extract more juice in a shorter amount of time, making them ideal for busy people who want to get their daily dose of fruits and vegetables without spending a lot of time juicing.
However, high-speed juicers can also be noisy, so if you're looking for a quiet model, you may opt for a lower-speed juicer. Additionally, high-speed juicers tend to be more expensive than their lower-speed counterparts.
So, if you're on a budget, you may want to consider a different type of juicer. Therefore, the best small juicer for you is the one that meets your specific needs and preferences.
Noise Level
When choosing a small juicer, one of the main part to consider is the level of noise. Some juicers can be quite loud, making it difficult to have a conversation or watch TV while they're in use. Look for a juicer with a sound-dampening characteristic if sound is a distress. Some models even come with built-in sound barriers that make them silent. So before buying one for you, read the customer's reviews and then decide.
Cleaning
No one wants to spend their valuable time cleaning a juicer when they could be juicing instead. That's why it's important to choose a juicer that is easy to clean, with no nooks and crannies for pulp and residue to get stuck in. So, when it comes to buying a small juicer, be confirmed that it has a wide feed chute, which means less prep time, and the detachable parts also make cleaning a breeze.
Price
If you're in the market for a small juicer, you may be wondering what other factor you should consider before purchasing. One important consideration is price. Small juicers can range from around $30 to $200, so it's important to set a budget before you start shopping.
Remember not all expensive juicers are the best for your needs. In general, lower-priced juicers are best for those who only plan on juicing occasionally, and higher-priced juicers are worth the investment for those who plan on juicing more frequently.
Centrifugal or masticating?
A basic rule of thumb when it comes to juicers is that the faster it makes juice, the fewer nutrients are retained. The perfect illustration of this is the difference between centrifugal juicers or masticating juicers.
The former can make juice really quickly but not only do they not yield a lot of juice, but the juice also loses a lot of nutrients. Masticating juicers take a lot longer to make juice, but the juice retains a lot more nutrients.
Frequently Asked Questions about Small Juicer
Q: What kinds of food items do you need to juice?
Some juicers can make juice out of any kind of product, but some have specialties.
A lot of juicers specialize in citrus-based fruit, and they give you more options with said citrus fruit that you would not enjoy with juicers that work for multiple kinds of fruits and vegetables.
Q: Do you have pulp preferences?
Whenever anything is juiced, it creates pulp.
Some juicers leave the pulp intact when the juicing process is over and some of them have options to remove the pulp.
It's up to you to decide which kind of juicer works best for you in terms of whether they produce pulp or not.
Q: Do you need a juicer for meal replacements or for recipes?
People typically buy juicers for two reasons.
The first is to make juice as a meal replacement. Fresh juice has been proven to be perfect for replacing meals, especially on the go. People also use juicers to make extracts for food preparation. They aren't interested in drinking it. Different juicers specialize in these and it is up to you to see which one is best for you according to these needs.
Q: What is the best juicer to buy for home use?
A: The answer to this question really depends on what you need the juicer for. Unfortunately, there are no juicers that can do everything so you will need to sacrifice something. If you are making juice that can replace meals, you might want a masticating juicer as you will get more juice with more nutrients. More patience is required for these, but the quality is unbeatable. If you want to quickly make a lot of juice for food preparation, you might want a centrifugal juicer.
Q: Are masticating or centrifugal juicers better?
A: Both of these juicers have their own benefits and drawbacks. Masticating juicers use small pieces of fruits and vegetables to create juice that contains a lot of extract and nutrients. However, they take a very long time to make juice. Centrifugal juicers are capable of making a lot of juice really quickly because you can often juice whole fruits and vegetables with them. However, they do not yield as much juice or nutrients.
Q: Are slow juicers really better?
A: In terms of total juice that you can yield from a single fruit or vegetable and in terms of nutrients that the juice has, they are. You'll get better "quality" juice and more of it by using a slow juicer. However, you need to be really patient in using one, as you can only juice small pieces of fruits and vegetables with slow juicers.
Q: What can you put in a masticating juicer?
A: Masticating juicers get the most out of fruits and vegetables that contain a lot of juices. Dense fruits and vegetables do not have a lot of juice, and if you put these in a masticating juicer, you will not get a lot of juice. Other than that, you can practically put anything in a masticating juicer, just make sure the pieces are really small.
Conclusion
Small juicers are a wonderful addition to any kitchen and even some restaurants can use them. Something that you need to understand, however, is that small juicer have different properties and specialize in making certain kinds of juices from certain kinds of fruits and vegetables.
While it would be nice if there were "all-purpose" small juicers, this, unfortunately, is not the case. However, it is easy to see which juicers do which things and what exactly they specialize in.
Take note of all the specializations so that you can make the best decision you can on a small juicer.