You may be thinking about whether you can juice sweet potatoes or not. To simply put "yes", you can juice raw sweet potatoes simply with your juicer. But let's not stop here. In this article, we are going to explore the benefits of sweet potatoes for your health and how to juice them properly so that you can achieve the taste and maximum nutrient values from them. Here, we are adding three recipes for juicing sweet potatoes.
How to Produce Sweet Potato Juice?
First look for medium-sized sweet potatoes. They should be firm, heavy, and smooth in nature. Check if your sweet potatoes have any cracked skin and sprouting. Here sprouting indicates growing eyes or leaves and stems.
After selecting your sweet potatoes, peel them then cut them into small pieces. Finally, feed the pieces into the juicer and you will get a fresh and delicious sweet potato juice.
What Type of Juicer Should You Use for Sweet Potatoes?
If you want to extract the maximum amount of juice and minerals from sweet potatoes then go for a masticating juicer. You will get more juice from your sweet potatoes compared to any masticating juicer.
Masticating juicers are good at extracting because they work at a slower speed and break down, grind the food material leaving less waste at the end of the juicing process. So, you can achieve maximum nutrients and vitamins from your sweet potatoes.
Centrifugal juicers can also juice sweet potatoes just fine but the efficiency is less than a masticating juicer. Therefore it's better to choose slow juicers instead of centrifugal ones for juicing sweet potatoes efficiently.
Two Sweet Potato Juice Recipes You Can Try at Home
1. Recipe: Sweet potato apple ginger juice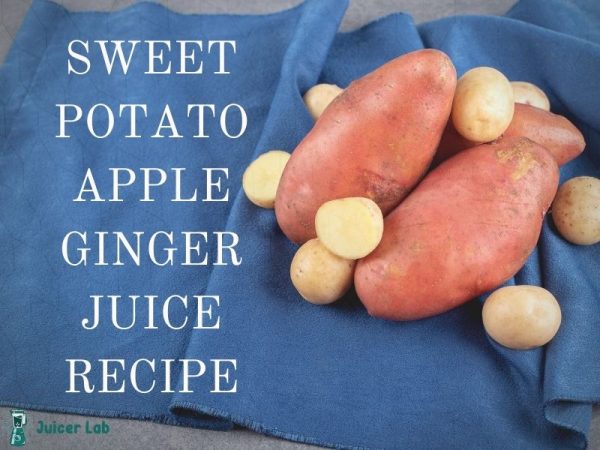 Ingredients:
Large and peeled sweet potato about 10-12 ounces

Fresh turmeric (4 pieces)

Fresh ginger if you like it spicy (1 piece)

One medium apple or Fuyu persimmon

Two stalks celery

And, cinnamon stick
Instructions
Juice all the ingredients except cinnamon stick with a juicer. However, try to juice turmeric and ginger early on so that you can flush out those juices with something high in water like celery.

After juicing, place the cinnamon stick in a glass and pour your processed juice on top.

Then, refrigerate the juice with the cinnamon until you want to have it.

Shake your juice before serving.
2. Recipe: Sweet potato pie juice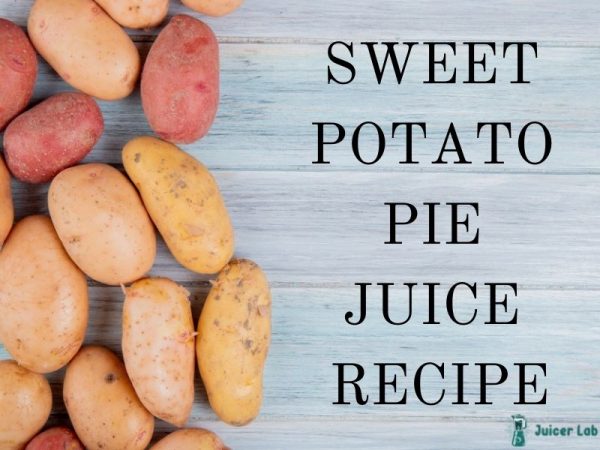 Ingredients:
11-2 medium sweet potatoes

31-2 medium carrots

1-2 medium apple

1 slice of a lemon

5 slices of ginger

1 large pinch of cinnamon

1 small pinch of nutmeg

1 small pinch of clove
Instructions:
Wash all your produce with clean water and scrub the sweet potatoes to abolish any dirt.

If you have a juice press then cut the lemon and place it directly in the press. But if you don't then peel the lemon and juice with the rest of the produce.

After that, juice all your fruits, and vegetables with the help of your juicer

Whip the spices into your juice

Finally, serve your fresh sweet potato pie juice
Why Should You Consider Drinking Sweet Potato Juice?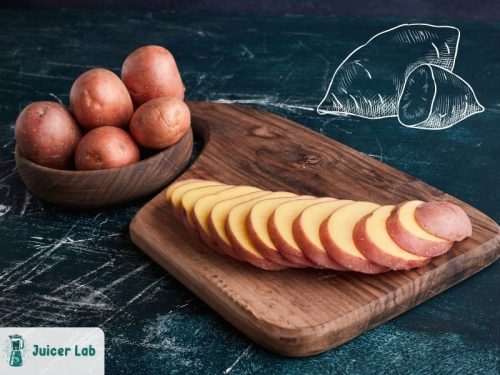 Sweet potatoes are one of those root vegetables that are rich in many Can you juice sweet potatoes? different nutrients. Elements like anthocyanins, beta-carotene, vitamin c, vitamin B, and many more important minerals. These nutrients provide amazing benefits for both hair and skin. But sweet potatoes convey more for the well-being of your health. Like –
Blood sugar control
Research shows that if you consume sweet potatoes then it increases blood levels of the protein hormone called adiponectin. This element helps to modify the body's metabolism of insulin.
So, drinking sweet potato juice constantly may increase the levels of adiponectin and boost healthy insulin metabolism especially for people who have lower levels of adiponectin.
Sweet potatoes also contain a much lower rate of the glycemic index. It doesn't cause any harmful effects on your blood sugar. So, basically, you can maintain a healthy blood sugar regulation with sweet potatoes.
Cancer-fighting attributes
With sweet potatoes, you can have almost 400 percent of your daily dose of vitamin A. In a study (by Saarland University Hospital) it was stated that vitamin A is crucial for the growth and maintenance of skin tissues for reproduction. So, sweet potatoes are good for your skin and growth.
In the case of purple sweet potatoes, it contains a great amount of anthocyanin. Consuming them may provide you with the preventative benefits of colorectal cancer.
Other benefits
To boost your body's immune system iron is very crucial. Also, the absence of iron in your body may lead to iron deficiency anemia which leads to hair loss. But, if you consume one cup of sweet potatoes, you can achieve 14% of the recommended daily absorption of iron. So, it also provides you with enough iron which is a big advantage in terms of maintaining a healthy body.
Wrapping it up
When it comes to sweet potatoes many people don't consider juicing them. However, they are not only healthy but also taste great. Adding spinach and carrots can increase the richness of your sweet potato juice. Though, it's your choice about how you can modify the recipe according to your taste and preference.
You can juice sweet potatoes with almost anything. In fact, it's very easy to juice them. But, be sure to choose smooth, heavy, and firm sweet potatoes before juicing them.