Are you looking for the best cheap juicers for personal and family use? Do you want a juicer machine that will meet all your functional and nutritional needs? If you answered yes to any of these questions, then this list is right for you. Juicing has become popular over the years for getting the best nutrients from fruits and vegetables. Of course, there are many juicing methods available, but using a juicer machine is the most efficient way to do it. If you are going to use a juicer machine, then it has to be the best.
Getting the best juicer machine can be pretty difficult, especially if you are working on a budget. However, you don't have to worry because we've provided you a comprehensive list of affordable juicers to help your search. Read on to find out our reviews of top cheap juicer machines in 2020.
Top 8 Best Cheap Juicers Reviews
1. Breville BJE200XL Compact 700-Watt Juice Extractor
Famous for their attention to quality, Breville designed this product to serve as an inspiration to people looking to produce the perfect food and beverage combinations for home use. The appliance makes your kitchen experience a total delight, offering you the perfect result every time. Although it looks quite small, this juicer from Breville still provides you the ability to make the freshest juice from a small number of fruits.
Just as the name suggests, the Breville Compact juicer looks pretty small, with the pulp bin covering the main body. This helps to ensure that it occupies minimal counter space. The feed tube's diameter is measured at 3 inches, which is big enough to contain a large chunk of vegetables or fruits without needing to choke it.
The machine features sharp blades built to rotate quickly enough to slice into very tough fruits and vegetables. At 14,000 rpm, you can expect an impressive level of blade functionality. The machine also features an inbuilt safety mechanism that prevents the device from coming on without proper assembly.
The Breville Compact juicer features an extremely easy assembly process. All it takes is for you to read, understand, and follow the instructions on the user's manual, and you'll be good to go.
Just like its assembly, the machine is also easy to use. The machine's durability and ease of cleaning make it possible to use the machine for a long. You'll only need to be a little more careful when cleaning the fine mesh.
The compact size of the machine makes it kitchen-friendly. So, you'll not need much space on your counter for it. Your juicing won't need to take much space.
Pros
The machine is pretty fast. As it is a centrifugal juicer, it is super fast with a 700-watt motor.
It is durable and reliable when handled with care. Long-lasting, and durable with the best support in juicing. It has many customers' feedback for its long-lasting service.
Its speedy nature makes the juice preparation process quicker.
Super handy, not like other models. It's easy to put this together, take it apart, and clean it.
Cons
As it juices fast and has a compact look, it makes noise during juicing.
2. KOIOS Slow Masticating Juicer Extractor Machines
Although it costs relatively higher, the KOIOS Slow Masticating Juicer Extractor Machine is an excellent juice extractor that users can leverage for extracting a large volume of juice. The juicer's slow nature makes it able to squeeze a maximum amount of juice out of any fruit. In addition to its squeezing ability, this juicer is also designed to work quietly; hence, compatibility fits indoor usage. The machine is popular for its ability to keep all the vitamins and nutrients needed in the juice.
Despite the outstanding functionality of this machine, it still manages to work quietly. This feature makes it one of the most convenient for indoor usage.
In addition to being compact, the KOIOS Slow Masticating Juice Extractor Machine can also work across different applications. The manufacturer recommends its use for extracting juice from fruits, vegetables, and flowers.
As the picture suggests, the KOIOS Slow Masticating Juice Extractor Machine is small and easy to assemble. It will typically fit into small spaces on your counter. Therefore, you won't need to create additional spaces when you need to work with it.
Pros
Produces fresh and top-quality juice.
Multiple speed options and a reverse system make this juicer super handy.
Produces low noise compared to other similar models.
Engine, parts, design-all are quality maintained.
Fits into a small kitchen space
Easy to use
Very durable machine.
Cons
Quite slow.
Not dishwasher safe, need to hand wash.
3. Hamilton Beach Juicer Machine
The company behind the manufacture of this machine realizes the need for reliable and efficient extraction of fruit juice; hence, the manufacture of the Hamilton Beach Juicer Machine. The power output of 800-watts makes this juicer excellent for large juicing activities. In addition to its power capacity, this machine also features a stainless steel micro-mesh strainer that increases speed.
Hamilton Beach Juicer Machine features dishwasher-friendly parts that make them easy to wash. This means that you can easily dislodge the parts to clean up after each use to maintain cleanliness.
The company guarantees top-notch quality for every part of the juicer. The machine even comes with a 3-years guarantee that proves its durability.
Like most other options in this list, this one comes with a compact design. This compact design allows for easy storage and smooth usage without sweating for space.
Pros
BPA free
Multiple speed options and a reverse system make this juicer super handy.
Very powerful output
Juicing is fast and produces dry pulp.
Doesn't take much space
A clear and helpful instruction manual is included.
Great quality machine.
Cons
Doesn't come with any juice cup.
As it is lighter than others, hold tight when juicing.
4. Mueller Austria 1100W Juicer
The Mueller 1100W juicer is an excellent product to invest in if you are looking to improve your health and lifestyle. It comes with a 1100 watts dual speed motor that makes it maintain one of the fastest speeds in the industry. At a maximum speed of 1800 RPM, you can expect to extract juice for all fruits and vegetables quickly. It's not surprising to see that many reviewers recommend it for both soft and hard ingredients.
The Mueller Austria 1100W Juicer comes with a sleek, ultramodern design that puts it ahead in the market for beautiful products. Apart from the obvious beauty of the machine, it also has a modern stainless-steel design that adds to its durability. The size makes it possible to create a 16 oz cup of juice within seconds.
The use of culinary-grade stainless steel for the manufacture of this machine makes for the healthy production of juice. You'll rest assured that your extraction process is safe and the resulting juice drinkable.
With a rotation speed of between 12000 to 15000 RPM, you can expect this extractor to work on nearly everything, irrespective of state. This means that you can alternate between different speed levels, depending on the fruit.
Pros
Very durable and long-lasting.
It separates the fruit seeds itself with pulp while juicing.
Easy assembling and easy cleaning with dishwasher-safe options.
No hassle for assembling, easy and quick assemble.
Occupies less space.
Cons
Doesn't work that fine on herbs or leaves.
5.     Breville Juice Fountain Plus Centrifugal Juicer
Now we have serious competition in the segment of the best cheap juicers. Breville is a brand that walks neck and neck with its competitors in terms of supplying affordable juicers. In fact, the Breville JE98XL is subjectively the best centrifugal juicer.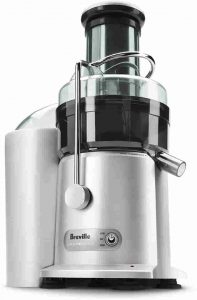 Why is this a top pick?
Wider Chute: The chute of the juicer is wider compared to ordinary juicers. It comes with blades serving high speed of rotation to make your juicing super fast and easy. Such attention to detail has been given, the hardest of fruits or vegetables can be juiced out, without any lumps.
Small pack big punch: When you look for the best affordable juicers, you will be looking for the best option on your budget. But this Breville JE98XL is a product that feels like a top-end premium juicer with your pocket budget. The machine has got so many sophisticated features that are supposed to come at a heavy price, but fortunately, it doesn't offer a high price.
Froth separator: The most unique selling point of the Breville Juicer is the froth separator. Many fruits or veggies create a froth when juiced. This particular juicer has a dedicated separator to get rid of that. So, you can serve a beautiful drink without that annoying layer of froth at the top.
Pros:
Titanium and Stainless Steel have been used in the core of the juicer, it helps extract all the nutrients in a while.
Easy to clean the pulp and clean the whole juicer itself after juicing. Can be simply cleaned with water, with no other hassle.
Can deal with big-sized tough veggies, no need to cut them into many small pieces. The juicer is sturdy to handle up to a certain extent.
Cons:
Quite large in size, not easy to port from one place to another. Will occupy a good amount of space in the cabinet.
6.     Cuisinart Pulp Control Citrus Juicer
In comes another great juicer from Cuisinart. When you are checking the best cheap juicers, going for a citrus juicer can substantially save your budget. This one from Cuisinart addresses that particular requirement.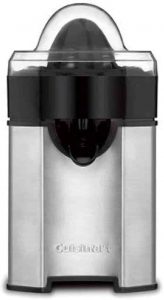 Why is this a top pick?
Simple and Sweet: As most people tend to drink only citrus juices, it is absolutely right to opt for a citrus juicer. It will fit in a healthy budget as well. Cuisinart, a trustworthy name in the kitchen appliances industry for many years. Now they are presenting Cuisinart CCJ-500P1 with the very best price point and features of course.
Auto-Reversing: An auto-reversing cone of this Cuisinart CCJ-500P1 has been placed in the juicer to press out all the juices from the fruit. The spout given in this one is longer than other regular juicers. It helps protect the juice from getting contaminated.
Easy Washing: A high compact machine, both in terms of usability and maintainability. No need to wash it manually, it can be put in the dishwasher. And since the appliance is modular in design, it will not occupy a significant space anywhere.
Pros:
The endurance of the Cuisinart Citrus juicer is highly appreciated. Long-lasting and long-serving juicer.
Comes with quite a good capacity. Can hold a very good amount of juice, and the long spout prevents any dripping.
Comes with an adjusting reamer indicating 3-speed options, low, medium, and high with an auto-reversal option.
Cons:
Quite heavy for a dedicated citrus juicer. But can be done by considering its holding capacity.
7. AICOK Juicer
The AICOK Juicer is a powerful masticating juice extractor that offers users noiseless operation. With this machine, users can expect to enjoy super smooth and silky juice without needing to worry about disturbing the neighborhood. The machine is fitted with a powerful motor that chugs along without sounding too high. It also features a low rpm motor, which adds to ensure that the ingredients have the best nutritional value.
Like most other options on this list, the AICOK Juicer is extremely easy to assemble and use. It comes with several functionalities to aid smooth juice extraction. Additionally, the manufacturer made the machine easy to assemble and disassemble for easier access when you need to clean.
The AICOK Juicer works well for making different healthy foods. Whether it is fruits, vegetables, or roots, you can be guaranteed that this machine will do a good job of extracting the juice.
The machine features a relatively lower rpm compared to most others. This slow rotation means that it'll extract the juice without making it lose any nutritional value. Also, less air is let in during that juice processing, so users can expect that the juice would last longer.
Pros
Extremely easy to use.
Easy cleaning, with dishwasher or in hand.
The best option for leafy green juices.
Inexpensive than other lookalikes models.
Easy installation.
Made with food-grade materials.
Cons
Featureless functionality than most others.
Poorly performs at juicing cucumber.
8. AICOK 1000W Juicer Extractor
[easyazon_image align="center" height="498″ identifier="B07JB9B2J1″ locale="US" src="https://m.media-amazon.com/images/I/51-3bIlCJUL._SL500_.jpg" tag="juicerlab001-20″ width="500″]
The AICOK 1000W Juicer Extractor easily passes as an affordable option that's excellent for starters in the juicing journey. A unique feature of this juicer is the availability of three different speed levels. With this feature, you can be assured of better control during the juicing process. The machine also comes with a pulp separator that helps for more efficient separation of the juice from the pomace. Compared to most other juicers of similar price range and sizes, the AICOK 1000W Juicer Extractor Is relatively quiet but powerful enough to do different jobs.
The AICOK 1000W Juicer Extractor Features two different speed levels for versatility purposes. This feature means that you can adjust the machine to suit your particular need. The lower speed, measured at between 12000 rpm and 14000 rpm would work excellently for vegetables and fruits like orange, watermelon, and cucumber. On the other hand, the faster speed, rated between 16000 rpm and 18000 rpm, works well for hard fruits like carrots, apples, and beets.
This machine is made of stainless steel, which makes it more durable than most other available options. It also comes with safety locking arms that allow for efficient extraction without losing the nutrients of the juice.
This machine comes with a unique cleaning brush to help clean the filter basket of the device. Additionally, the brand ensures that the different parts of the juicer are dishwasher safe, saving users enough time during the cleaning process.
Pros
Relatively silent.
Easy installation make this juicer superb for lazy cats.
Easy to take apart, so easy to clean also.
Great sleek outer design with stainless steel.
Made of BPA-free materials.
Ease of assembly.
Highly durable.
Easy to use
Cons
Not great for experienced juicers looking for more functionality.
The Buying Guide for The Best Cheap Juicers
Some important factors must be considered before grabbing the best cheap juicers. If your requirements are not high, then investing in a citrus juicer will be enough. Now let's have a look at the criteria we should follow before buying one. As explained earlier, buying the best value juicer machines can be pretty difficult, except you know where to look at. To help you make the right choice, we've provided some factors to consider when doing your search.
Price
Of Course, price is the main condition when you are looking for a cheap juicer. Compare the prices with all the offered features of models and bring the best one that meets your needs and pocket.
Motor
Though juicing is not a hard-crushing job, still comparing the motor is the best way before having a juicer. Centrifugal juicers are better than slow juicers sometimes, centrifugal motors take speed from 3000 RPM and upwards. Slow juicers are not that unusable, just take time to extract the juice.
Capacity
The other parameters are capacity and usability. Given that you are a busy person, you must purchase a juicer that is compatible with dishwashers. And if your daily requirement for juice extraction is high, then the capacity of the juicer you choose should cater to that. The juicer should be able to extract and hold a good volume of juice.
Design
Designs that take much space are a little bit upsetting for home use specifically. Sleek designs, small in size, and portability are the priority of a juicer. Killing extra space for the juicer might be disappointing for your countertop.
Durability
When you are cutting your pocket for a juicer, you should go for a durable juicer that will serve you for an extended period.  Before jumping for a particular one, check the customer reviews about the durability and longevity.
Juicing Speed
One of the first things to look out for when selecting a juicer machine is speed. Some feature slow rotation speed, while others feature faster rotation speed per minute. Slower devices allow for the maximum extraction of juice and nutrients from the fruit. However, this would often mean sacrificing speed during the juicing process.
Accessories
Another significant factor to look out for is the number of accessories that each machine features. Juicer machines are very functional machines, and the more feature each contains, the easier and more efficient they are.
Ease of Usage
If you are a starter, then you'll definitely need a machine that's easy to use. You are yet to discover what you are getting into, so you'll need a device that offers you less complexity during usage.
Noise Level
This is an important factor to look at if you are living in a residential neighborhood. You don't want a machine that would disturb your neighbors' sleep; hence, the need to look out for one with a noise level that suits your environment.
Frequently Asked Questions for Affordable Juicer
1. Can you put ice in the juicers?
Ans: It is better not to put ice into the juicers, as ice is much harder than any type of fruit or vegetable. Or you can add crushed ice, otherwise, read the manual that came with your juicer.
2. Are these juicers power-efficient?
Ans: Yes they are, both in terms of power consumption and performance output. They consume optimum electricity and provide the maximum yield possible.
3. Is it worth buying a juicer?
Ans: If you're looking to add more fruits and vegetables to your diet, juicing is a great way to do it. Juicers extract the juice from fruits and vegetables, making it easy to get your daily recommended servings. Plus, juicing is a quick and convenient way to get your nutrients on the go.
That said, juicers can be pricey. If you're on a budget, you may want to consider a less expensive option, like a blender. Blenders can also make fruit and vegetable juices, but they don't extract the pulp as a juicer does. This means you'll get fewer nutrients from your blender juices. So, is it worth buying a juicer? If you're looking to up your fruit and vegetable intake, and you have the budget for it, then yes, a juicer is worth it.
4. I

s

a cold

press

ju

icer

better

?
Ans: There are a few reasons that people might say that a cold press juicer is better than a regular juicer. One reason is that with a cold press juicer, the fruits and vegetables are not exposed to as much heat, so they retain more of their nutrients. Another reason is that the juice from a cold press juicer is less likely to be oxidized, so it will stay fresher for longer.
Conclusion
There you have it, a detailed article reviewing the best cheap juicers in today's market. Despite the availability of so many options, picking the right one can still involve a cumbersome process. To help, we've reviewed some of the top options by features and users' reviews. You can pick any of them assured that it would serve your needs. In case you don't fancy any of the options on this list, you can use our buying guide to get an excellent option for yourself.