Talking about the Pomegranate juice recipe, they are packed with both sweet and tart flavors. Citrus fruit, like pomegranates, are very refreshing and introduce some boldness to your drink. The best time to have pomegranate juice is between September to January. So, they make a great holiday treat. 
Pomegranate is a type of fruit that fits easily in your juicing list. They are also nutritious and include many health benefits. Moreover, regular consumption of pomegranate juice can prevent diseases like type-2 diabetes and obesity. Also, it provides lots of antioxidants and Vitamins, which are crucial for your sound health. 
In the case of homemade pomegranate juice, they taste much lighter and better than readymade ones from the market. Making your own pomegranate juice recipe allows you to play with the ingredients and flavor. Also, you can enjoy pomegranate juice with other ingredients or, you can taste the true flavor of fresh pomegranate by only juicing them. 
Health Benefits of Homemade Pomegranate Juice
Pomegranate juice is a popular drink for healthy diets. In fact, this fruit has been used as a medicine for thousands of years. Because of its rich antioxidants and loaded Vitamins, pomegranate lives up as a potential answer for major threats to the human body.
Antioxidants 
Ever wonder why pomegranates show their vibrant red hue? Well, they have polyphenols, a powerful antioxidant responsible for their color. Not only that, the level of antioxidants in a pomegranate juice is much higher compared to other fruit juices. 
These powerful antioxidants protect your cells from damage, remove free radicals, and reduce inflammation. 
Vitamin C 
With a single consumption of pomegranate juice, you will get roughly 40 percent of your daily requirement of Vitamin C. This ascorbic acid is important for the growth and development of all body tissues. Additionally, Vitamin C helps to format collagen, absorption of iron, and boost your immune system.
Anti-inflammatory 
Pomegranate features a high concentration of antioxidants. So, it's an anti-inflammatory juice. On the other hand, consuming pomegranate juice regularly can reduce inflammation, prevent oxidative stress and damage.
May prevent cancer
A recent study stated that pomegranate juice may reduce the growth of prostate cancer cells. For example, the anti-inflammatory properties of pomegranate juice can help reduce the risk of developing cancer. 
Pomegranate juice reduces existing cancer cell growth, prevents blood vessel growth associated with tumors.  Drinking this also inhibits the spread of cancer cells in the body. 
Helps to digest
Pomegranate juice improves digestion by reducing inflammation in the gut. Moreover, they are also rich in fiber, which is beneficial for your digestive system. Therefore, people with Crohn's disease, inflammatory bowel diseases, and ulcerative colitis should drink pomegranate juice.      
Good for heart
Pomegranate juice protects your heart and arteries from disease. Therefore, the daily intake of this juice improves blood flow and keeps your arteries from becoming thick and stiff. Similarly, drinking this may also prevent the buildup of cholesterol and slows down the growth of plaque. 
How to make fresh pomegranate juice? (With three simple steps)
The Pomegranate juice recipe are easy to follow. However, deseeding may take some time. But with the right directions, you can process it quite easily.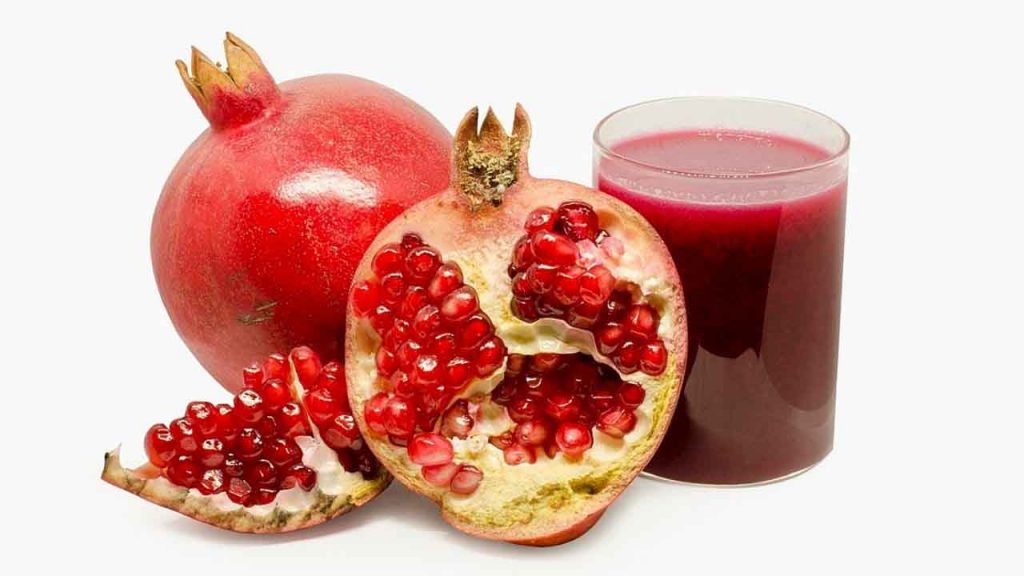 To start the process, try to use a wooden cutting board, as the plastic cutting board might get stained with its red color. 
Step 1: Deseed your pomegranate
Wash your collected pomegranates with clean water.

Cut off the crown that is the top portion of a pomegranate.

Similarly, cut down the bottom portion of your fruit. It helps to loosen up the rind as well as the strength on both parts. Therefore, it will be easy to peel and deseed your pomegranate.

Produce a shallow, angled circle around the crown of the pomegranate. Jerk it, lose, and discard. Make four of these shallow cuts.

Hold two segments of the shallow cut area and gently pull out so that you separate them easily. 

Completely separate each segment. 

Finally, deseed to a large bowl by discarding all the yellow and white membranes. The seeds will easily come off. 
Step 2: Blending
Add your fresh pomegranate seeds (2 cups) into a blender.

Blend for five to ten seconds or until the pomegranate seeds release their juice.

Note:

Don't blend at high speed for too long, the seeds may start to break down, and the juice will get bitter.

Use a fine-mesh strainer to pour the juice into a jug. Gently press the seeds with the help of a spoon and make sure all the juice is separated from them.
Step 3: Add ingredients 
To lighten up the filtered juice, add one cup of drinking water.

You can also include a pinch of salt and sugar (on taste) to enhance the flavor.

Mix well.

Serve the juice in a glass and enjoy or store it for later use. 
How to juice pomegranate without any blender or juicer?
In case you don't have any juicer or blender in your house, you can still make fresh pomegranate juice.
Place your pomegranate seeds in a plastic Ziploc bag.

Smash them nicely with a rolling pin, or you can use a meat tenderizer hammer to do the job.

Strain the juice in a large bowl (similar to the blender technique).

After getting enough juice, add water and other preferred ingredients.

Serve with ice cubes. Enjoy! 
What fruits should you combine with pomegranate juice?
There are several fruits you can add while making pomegranate juice. Apple pomegranate combo is one of the famous ones, especially if you use a slow juicer. You can also add oranges and grapefruits to enhance the health benefits along with the taste of your pomegranate juice.
Pomegranate juice consists of iron, using fruits that are Vitamin C rich will help to absorb the iron. Fruits like oranges and lemons are rich in Vitamin C. Therefore, fruits like oranges and lemons packed with Vitamin C are a great choice to include in your pomegranate juice recipe. So, these are some good options for your pomegranate juice.
I reviewed it as a pomegranate juicer.
5 Easy Pomegranate Juice Recipes
1. Pomegranate with mint leaves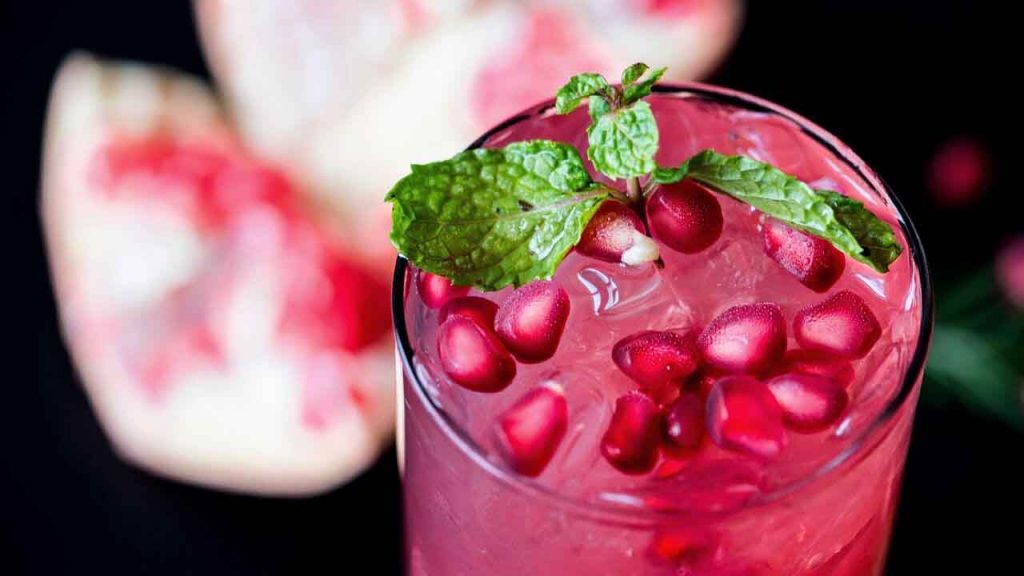 This pomegranate juice recipe is full of nutrition and taste. You don't have to use fancy staff. You only need some simple ingredients that are available in the market. Also, it takes less time to make. In the case of health benefits, you will get a ton of nutrients and Vitamin C in your system. Also, this juice is very light and fits easily into your diet.
| | |
| --- | --- |
| Ingredients | Quantity |
| Pomegranate seeds | 1 cup |
| Lemon juice | 1 tablespoon |
| Mint leaves | 1 teaspoon |
| Sugar | 1 tablespoon |
| Water | 1/2 cup |
Instructions 
Initially, wash your pomegranate.

Cut the pomegranate in quarters and peel off the skin.

Deseed your pomegranate and collect them in a large bowl. Discard the white pith.

Chopp your fresh mint leaves.

Place the pomegranate seeds with water, squeezed lemon juice, sugar, and chopped mint leaves in a blender.

Blend until the seeds release their juice.

Strain the juice with a fine-mesh strainer into a bowl.

Use the back of a spoon to gently press against the seeds so that you can have the maximum amount of juice.

Discard the remaining seeds.

Finally, add 1½ cup of cold water into your juice and mix well. 

Serve immediately in a glass. Add 2-3 ice cubes and enjoy this chilled, delicious version of pomegranate juice. 
Nutrition Table
Calories – 78
Fat – 0.1g
Unsaturated fat – 0g
Carbohydrates – 19.1g
Sugar – 12.6g
Sodium – 2mg
Fiber – 0.6g
Cholesterol – 0mg
2. Pomegranate Citrus juice
Recipes with citrus are packed with flavors. When you mix juice from other fruits, you get a variety of tastes and antioxidants along with a colorful appearance.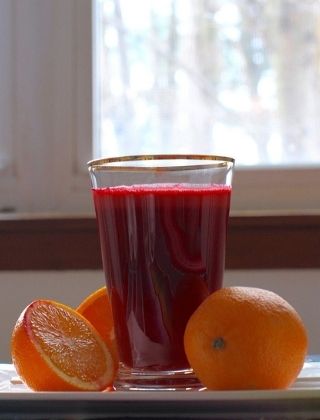 This recipe includes oranges and grapefruits that enhance the flavor of your typical pomegranate juice and adds extra freshness with a handful of health benefits. 
Ingredients 

quantity

Small grapefruits
2
Orange juice
2
Tangerines/

minneola tangelos

2
Lime
1/2
Pomegranates
2
Instructions 
First, wash all your produce.

You can use a citrus press or a juicer to juice oranges, grapefruits, tangerines, and lime.

Cut and peel your pomegranates. Juice the pomegranate seeds into a separate bowl. 

Serve the premade citrus juice in three glasses.

Top your citrus juice with pomegranate juice and add ice cubes to chill your drink.
3. Pomegranate blueberry juice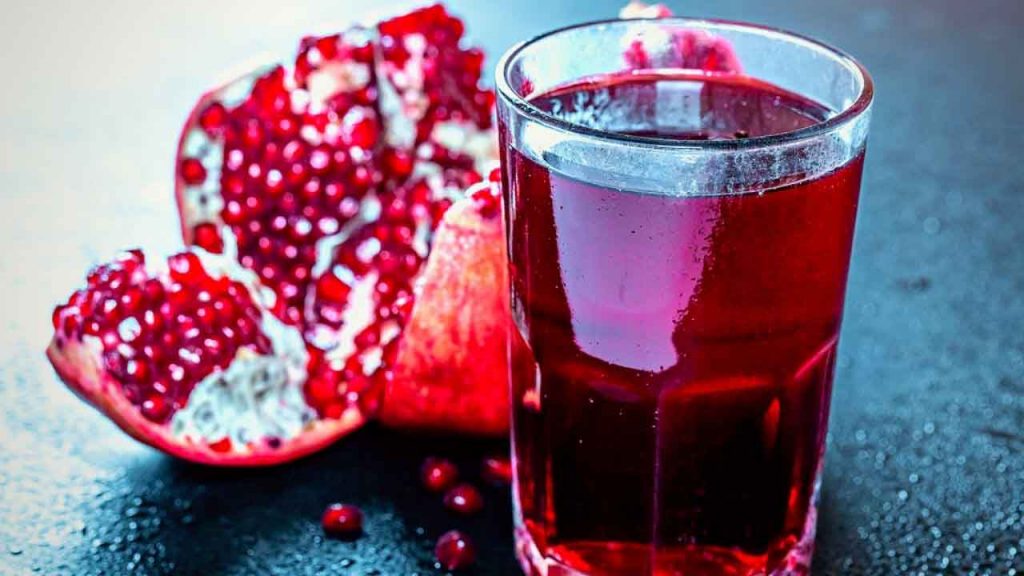 This recipe is a source of delicious refreshment and provides a soft hint of rosemary aroma. The combination of blueberries and pomegranate shows a deep purple mix that looks very engaging when serving.
Above all, you will get a ton of health benefits from this recipe. It's good for your heart, maintains eye health, and regulates blood sugar. So, regular consumption of this drink may boost your immunity and help your body to function well.
| | |
| --- | --- |
| Ingredients | Quantity |
| Pomegranate arils | 16 oz |
| Blueberries | 9 fl oz |
| Water | 1/2 |
| Lemon juice | 1/2 tablespoon |
| Sugar | 1½ tablespoon |
| Fresh rosemary | 1 teaspoon |
Instructions
First, place your pomegranate arils or seeds into a cheesecloth.

Fold over the cheesecloth to secure.

Set this over a large bowl and wrick the cheesecloth to extract the juice.

After juicing, discard the solid seeds.

Repeat this process until you juice all pomegranate seeds.

Now, juice blueberries and rosemary through a juicer.

Collect the juice.

Add water into the juicer so that you can continue the extraction of the remaining blueberry juice from their flesh.

Pour the premade pomegranate juice, lemon, and sugar into the blueberry rosemary juice. Mix them well.

Finally, serve into a glass with some ice cubes and enjoy!
4. Orange and pomegranate juice
The antioxidant-rich orange pomegranate juice recipe is simple and easy to make. However, this recipe only includes two ingredients. The blended flavor of orange and pomegranate will give you a sweet and refreshing vibe.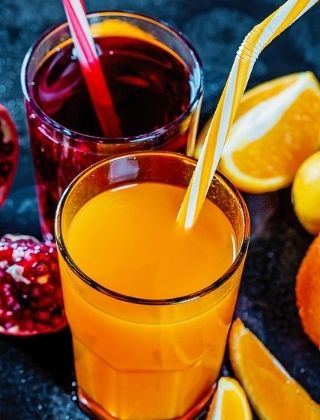 This juice is a good source of Vitamin C and many other healthy antioxidants that work well with your routine diet. Also, you don't have to take a lot of time to prepare this juice. 
| | |
| --- | --- |
| Ingredients | Quantity |
| Large pomegranates | 5 |
| Organic oranges | 2 |
Instructions 
First, open your pomegranates and deseed them. Discard the peel.

Place the pomegranate seeds in a blender.

Blend until the seeds break down, and you get a smoothie thickness in your juice.

Pour the juice using a fine-mesh strainer into a bowl.

Strain all the juice from the arils. Discard the remaining seeds.

Transfer this juice into a large jar.

Cut your oranges in half, slice one-half into thin pieces.

Add this sliced orange to the jar and squeezed out the remaining orange halves. Add them also.

Stir the mixture well and taste a little. If you find it too sour, add sugar (2 tbsp) and one cup of water to dilute the mixture. Again stir them well to combine.

In the end, chill your drink with 2-3 ice cubes and serve. 
5. Pomegranate apple juice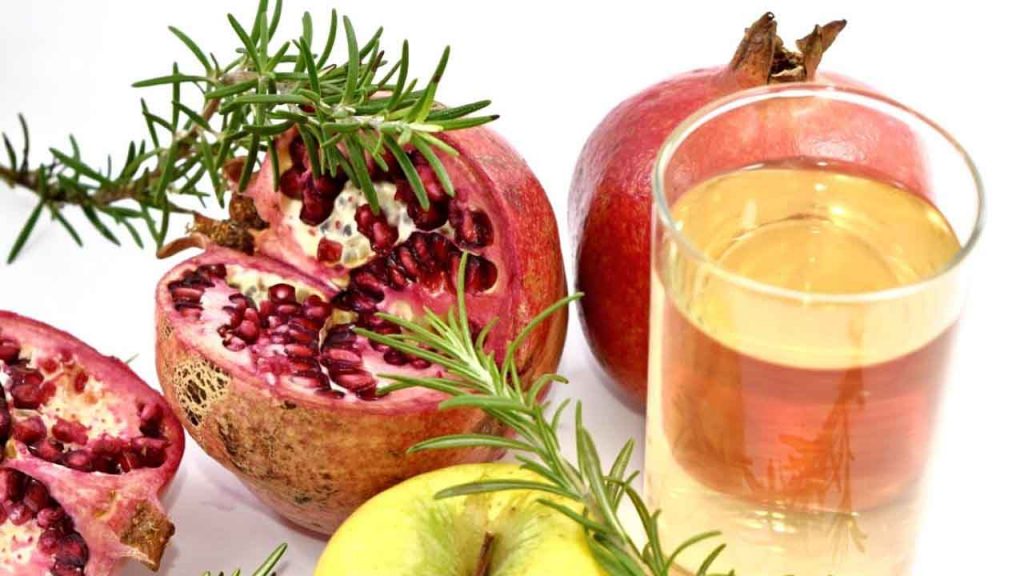 From this recipe, you will get sweet and tangy flavors from the merge of both apple and pomegranate. Moreover, It's a very simple recipe to follow. All you need are just four simple ingredients, and they are very available also. 
It's a refreshing drink and provides a bold edge with its flavor. On the contrary, you get both the goodness of apple and pomegranate within one glass. 
Additionally, this juice works well against high cholesterol and blood pressure. It's packed with fiber content, thanks to the addition of apples. So, drinking this can aid and improve your digestion also.
| | |
| --- | --- |
| Ingredients | Quantity |
| Apples | 16 oz |
| Pomegranate arils | 11 oz |
| Black salt | 1/8 teaspoon |
| Ice cubes (optional) | 1½ cup |
Instructions 
First, cut and open your pomegranate into quarters.

Remove all arils. Discard the peel.

Core and peel the apples. Cut them into wedges.

Insert all the ingredients into a juicer and juice them until you get a smooth texture.

Pour the juice into a pitcher.

Finally, serve your fresh pomegranate apple juice by adding ice and sprinkling black salt over it. Enjoy. 
FAQ
Should you drink pomegranate juice every day?
Yes, you can drink it regularly with no harmful effects. In fact, according to a study, you should drink about two ounces of pomegranate juice daily. As It helps you to achieve lower blood pressure, improves cholesterol, and cleanse plaque from arteries. 
However, moderate consumption of pomegranate juice is recommended. Too much of this juice can lead to excess calorie intake, which results in weight gain.
Does pomegranate juice clean arteries?
When a buildup of plaque narrows down the artery walls and blood flow is restricted to the heart, then we call it artery disease. This condition may lead to some serious circumstances like a heart attack or cardiac death. 
According to a study, pomegranate juice clears clogged arteries and improves the flow of blood. The high antioxidants in pomegranate produce nitric oxide in your blood. Therefore, this results in clear blood passage through the arteries and maintains optimal heart functions. 
Does pomegranate juice have any side effects?
Pomegranate juice is safe to drink but people with certain conditions should exercise caution. However, those who have an allergy to pomegranate need to avoid consuming its juice. 
They may experience itching, runny nose, and difficulty breathing. Also, drug interactions may occur, especially for people who consume too much pomegranate juice.