Omega NC800 vs NC900: Here's What You Need to Know
If your wallet's by your side, there's no point in settling for an affordable Chinese Juicer. Manufacturers like Omega make top-notch masticating juicers that can last many years even with heavy-duty usage.
However, the problem arises with Omega's new NC800 and NC900 models. Because of the different look and model numbers, it might seem like there's a lot of bells and whistles under the hood.
And the fake information on the internet gave some fuel to this burning confusion. Whatever the case is, I'm here to put an end to all the fake theories.
After you go through this in-depth analysis, you'll know everything there is about Omega NC800 vs NC900.
So, without any delay, let's reveal the actual story-
Omega NC800 vs NC900: What Are the Differences?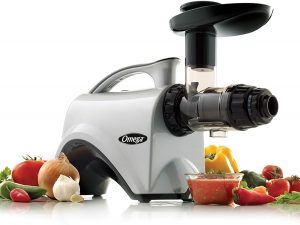 There's practically no difference between the Omega NC800 and NC900 other than the model number and color. The Omega NC900 is priced a bit higher but you won't be getting any added features for that extra money.
As a matter of fact, if you look at the instructions manual, you'll see that both models have the exact same user manual. On top of that, the juicing parts(auger, strainer, etc)look completely identical.
Different Model Number and But the Same Generation
Long story short, Omega comes up with confusing model numbers that confuse customers. All the models from the NC series are 6th generation juicers from Omega.
It might seem that NC900 is an upgraded model because it's a higher number. But in reality, the NC800 HDS, NC800HDR, NC900HDC, are all the same juicers except the appearance.
Here's a quick chart showing the models with their generations-
| | |
| --- | --- |
| Model | Generation |
| Omega 8001 | 1st generation |
| Omega 8002 | 2nd generation |
| Omega 8003, 8005 | 3rd generation |
| Omega 8004, 8006 | 4th generation |
| Omega 8007, 8008 | 5th generation |
| Omega NC800, NC900 | 6th generation |
Color
The only visible difference between these two models is the color. While the Omega NC800 rocks a matte silver finish, the NC900 comes with a shiny chrome outlook.
Other than the silver color, the NC800 comes in a red finish too. But similar to the other two colors, there's nothing new in the spec sheet.
Why is the Omega NC900 Priced Higher?
There's no real reason behind the higher price point of the Omega NC900. If you look around closely, you won't find any difference at all other than the color.
So, why is this priced higher?
Well, look at it like this. When you place two models side by side in front of someone who's new to juicing, that person won't know the difference between them.
The first impression will be it's a newer model because it's a bigger model. But in reality, both juicers are from the NC 6th generation series with no difference at all.
Retailers & stores took this advantage and bumped the price. If you ask me, you'd save some money along the way if you choose the Omega NC800.
It's true that when it comes to juicers, it's almost always a case of you get what you pay for. But in this case, you'll be paying the extra cash just for the shiny chrome color; period.
On top of that, the super shiny Omega NC900 is harder to maintain. Chrome itself requires much more time to clean and keeping it perfectly polished with a microfiber cloth is no joke. When you compare the cleaning efforts of these models, cleaning the NC900 can be nightmarish.
Omega NC800 and NC900: Detailed Analysis
That's all there is about the differences. To give you a clear idea, I've thought of putting out all the information in a comparison table. This way you'll have every tiny spec spread out right in front of you-
Factor
Omega NC800
Omega NC900
Type
Low-Speed Horizontal
Low-Speed Horizontal
Color
Silver, Red
Chrome
Wattage
150 Watts
150 Watts
Speed
80 RPM
80 RPM
Weight
18.7 lb/ 8kg
18.7 lb/ 8kg
Dimensions
14.5 x 6.5 x 15.5 inches
14.5 x 6.5 x 15.5 inches
Horsepower
2 HP
2 HP
Voltage
110-120V
110-120V
Auger Material
GE Ultem
GE Ultem
End Cap Adjustability
5-settings
5-settings
Juicing Process
Dual Stage Extraction
Dual Stage Extraction
Chute Feed Size
1.5 in. by 2 in.
1.5 in. by 2 in.
Uses
Juicing:

Celery
Citrus
Fruits
Leafy greens
Vegetable
Wheatgrass

Food processing:

Baby food
Nut butter
Sorbet
Nut milk
Pasta
Coffee grind

Juicing:

Celery
Citrus
Fruits
Leafy greens
Vegetable
Wheatgrass

Food processing:

Baby food
Nut butter
Sorbet
Nut milk
Pasta
Coffee grind

Juice Storage Limit
72 Hours
72 Hours
Cleaning Time
4 minutes
4 minutes
Power Cord Length
61-inch
61-inch
Juice and Pulp Container Size
32 oz and 42 oz
32 oz and 42 oz
Warranty
15 Year
15 Year
The Final Verdict
When it comes to Omega NC800 vs NC900, confusion arises due to the different model numbers and colors. But as there's practically no significant difference, you can expect identical performance from both juicers.
If it were up to me, I'd always go for the Omega NC800 as it's a few bucks cheaper and it's a lot easier to maintain the pristine condition because of the matte finish.