If you are into healthy juice recipes, then try juicing pineapples. You will get a nutrient-packed drink that reduces inflammation and aids digestion. The pineapple juice recipe is easy to make and, it takes less effort than juicing other fruits like pomegranate.
In terms of popular tropical fruits, pineapple will get higher ranks. In fact, they are very much available at any grocery store. Pineapples come with stimulating flavors. While making pineapple juice, you don't need to add sugar as they are naturally sweet. So, for availability and juice-making procedures, pineapples are the best option for you.
Above all, pineapple juice contains plenty of nutritional benefits. So, It's an easy process to get a handful of  Vitamins and minerals within a single serving. In addition, you can incorporate pineapples into many interesting recipes and produce a delicious healthy tropical delight.
Nutritional Values of Pineapple Juice
Here is a calculated estimate of the nutritional facts of one cup (250 g) of pineapple juice.
Calories – 132
Protein – around 1 g
Fat – 1 g
Carbs – 33 g
Fiber – around 1 g
Sugars – 25 g
Copper – 19% of the daily value
Manganese – 55% of the daily value
Vitamin B6 – 15% of the daily value
Vitamin C – 100% of the daily value
Folate – 11% of the daily value
Potassium – 7% of the daily value
Magnesium – 7% of the daily value
Brief descriptions – Calories, Antioxidants, Minerals and Vitamins
In the case of homemade pineapple juice, you don't need to add sugar as pineapples are naturally sweet. Around 5 fl oz of pineapple juice contains 82.5 calories with 16.3 grams of sugar. However, this amount of calories is enough for you to get maximum energy for the day.
Raw pineapples are rich in Vitamins and minerals of different types. You will get a high percentage of Vitamin C, B6, and manganese of your daily value from a single serving of pineapple juice. 
In addition, you will receive other healthy minerals like iron, phosphorus, zinc, etc. All these nutrients are essential for the better health of your body. They help to reduce inflammation, suppress cancer cells growth, and boost your immunity. 
According to a study, pineapples are a great source of phenolics, flavonoids, Vitamin C and β-carotene. These are all antioxidants that help to fight free radicals and inflammation in our bodies. 
In case of oxidative stress, they occur when you have excessive free radicals in your body. These free molecules can cause cellular damage and lead to many serious health issues. 
You may have to deal with heart disease, type 2 diabetes, Alzheimer's disease, etc. But pineapple juice recipe will deliver antioxidants that can counter those risks.
Major Health Benefits of Drinking Pineapple Juice
As we know from now pineapple juice is a good source of minerals, vitamins, and antioxidants. Daily consumption of these elements is beneficial for the metabolisms and functions of your body.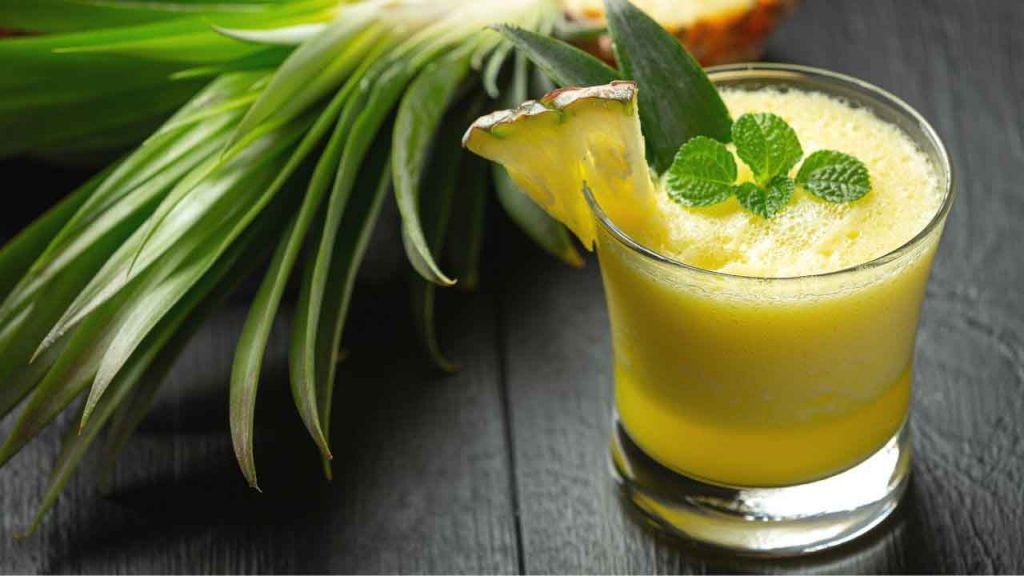 Good for digestion
Pineapples consist of enzymes that function as proteases. These proteases break down protein into smaller subunits, like small peptides and amino acids. However, because of these enzyme's functionality, you have an improved digestion system.
Bromelin (a group of enzymes) in pineapple juice may boost digestion for people who suffer from pancreatic insufficiency. So, to keep a healthy digestive system, try the pineapple juice recipe regularly.
Enhances weight loss
A study conducted by Food Science and Biotechnology claiming pineapple juice may help decrease fat formation while increasing fat breakdown. Pineapples are low in calories and don't include any saturated fat. So, you can maintain a well-balanced diet with the consumption of pineapple juice.
There's also a significant amount of fiber in pineapples. They can control your blood sugar levels and keep you full. So, you eat less.
Helps with inflammation
Inflammation is bad news for you. It's the cause of many serious diseases, like cancer, diabetes, coronary artery disease, and Alzheimer's.
According to Harvard Health Publishing, if you consume diet-rich anti-inflammatory fruit like pineapples or its juice, you may reduce inflammation in your body.  In other words, pineapple features bromelain, which is an anti-inflammatory enzyme group.
Cancer-fighting attributes
Free radicals in our body are one of the causes for initiating cancer cells throughout the healthy tissue. Pineapples consist of a high amount of antioxidants. These antioxidants can fight off free radicals and reduce the risk of cancer. 
Promotes healthy bones
Manganese is an essential element for maintaining strong bones. Pineapple juice is a good source of gaining manganese. A single glass of pineapple juice consists of about 55 – 76% of the recommended daily value of manganese you need in your body.
So, consuming pineapple juice regularly can improve overall bone and maintain optimum mineral density.
How to make fresh pineapple juice?
You can try the pineapple juice recipe with simple and easy procedures. However, there are two options you can follow while making the juice – with a blender or with a juicer.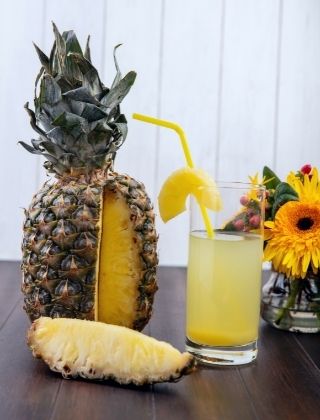 With a blender
First, choose a fresh and ripe pineapple for juicing.

Peel and chop the pineapple into small sections.

Place the pineapple chunks into a blender. Note:

Always fill the blender jar halfway through, or it may cause too much steam and can blow the lid off.

According to your taste, you can add 2 -3 tbsp of sugar, some ice cubes, and water (one cup) to the blender. Water helps to lighten up your juice and make it less acidic. However, if you like your juice to be thick then, skip the addition of water.

Now, blend until you get a smooth texture.

Note:

To check the preferred consistency, pause your blender midway and stir it with a spoon.

After blending, you can strain the juice with cheesecloth or serve it fresh without straining.
With a juicer
In the case of a juicer, you don't have to strain the mixture after juicing. Now, insert your pineapple chunks into a juicer and juice until smooth. 

Pour the juice into a glass and whisk it well with ingredients, like sugar, salt, or other fruit juices.

Serve with ice, and you can enjoy your drink in no time.
Nutritious and Delicious Pineapple Juice Recipes
1. Orange pineapple juice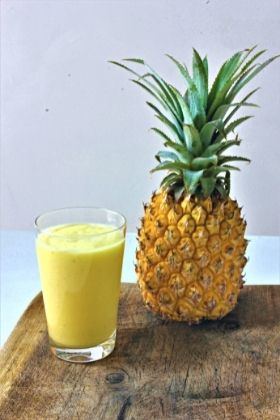 This recipe delivers a delicious combination of orange and pineapple in one glass. You can use this drink for starters, parties, or breakfast. In other words, You will have an energizing organic juice that features a handful of immune-boosting and digestion-aiding properties. 
All the ingredients are common and available. In addition, It's easy to make and doesn't take much of your time. In conclusion, try this recipe, to get a sweet and refreshing flavor with a ton of health benefits. 
| | |
| --- | --- |
| Ingredients | Quantity |
| Fresh oranges | 26 oz |
| Ripe pineapple | 9.6 oz |
| Salt | 1/8 teaspoon |
| Sugar | 2 tablespoon |
| Ice cubes | 2 cups |
| Mint leaves (for garnish) | 6 |
Instructions
Wash and dry your oranges and pineapple.

Peel and cut your pineapple into small pieces.

Next, place the pineapple chunks into a juicer and juice them until smooth.

Collect the juice in a jug.

Now, peel your oranges then cut them in half. Extract the juice from them with the help of a reamer. Add this extracted orange liquid to the pineapple juice.

Whisk it well with salt and sugar.

Pour the mixture into a serving glass. Add some ice and consume immediately!
2. Lemon Pineapple Juice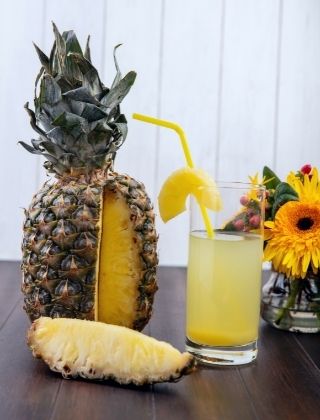 This refreshing tropical delight is the perfect drink to start the day.  You will get a healthy and flavorful combination of ginger and lime in your pineapple juice. Above all, this recipe enhances the goodness of the pineapple juice a few times more.
You will get an energy boost by drinking this juice. Also, it improves your metabolism and provides you with a ton of nutrition. Furthermore, this recipe fits with your daily dites quite easily.     
| | |
| --- | --- |
| Ingredients  | Quantity |
| Ripe pineapples (medium-sized) | 2 |
| Lemon | 1 |
| Ginger piece | 1 inch |
| Basil leaves or mint | 1 |
| Himalayan salt | 1/4 teaspoon |
Instructions
Place your pineapple on a chopping board and cut off both ends with a sharp knife.

Peel the skin off from the pineapple.

Next, cut your pineapple into small chunks while keeping the core intact.

Insert your processed pineapple, ginger, mint leaves, and Himalayan salt in a blinder.

Next, blend them until you get a smooth mixture.

Pour your juice in a mesh strainer over a large bowl. However, straining is needed if you are using a blender.

Starin all the juice by gently pressing the pulp with the back of a spoon.

Add squeezed lemon juice with the mixture and whisk it well.

Serve with 2 -3 ice cubes and enjoy the drink.
3. Spinach Pineapple Juice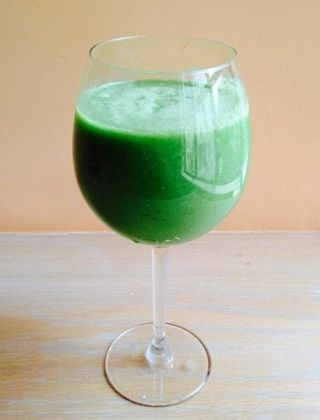 This recipe features a combo of spinach and pineapple. Making it also easy as you don't need any fancy ingredients. Besides, they are available in any grocery store. Now for the taste, you will have a unique tropical vibe that includes pineapple's sweetness with a tart flavor of spinach. 
You can have this as a post-workout recovery drink. In addition, there are lots of beneficial health factors regarding this juice. Spinach is a natural anti-inflammatory ingredient. As we know pineapples are also anti-inflammatory. So, basically, with the combination of both these produce, you are making a nutritional powerhouse drink. 
| | |
| --- | --- |
| Ingredients | Quantity |
| Fresh and ripe pineapple | 2 cups |
| Baby spinach leaves | 2 cups |
| Fresh lemon juice | 1 tablespoon |
| Water | 1 cup |
| Ice cubes | 8 |
Instructions
Peel your pineapple and cut it into small chunks.

Chop the spinach leaves.

Place all your ingredients with one cup of water and ice cubes into a blender.

Start the blender and gradually increase the speed to an optimum level.

Next, blend for one minute or until you get a completely smooth mixture.

To reduce froth blend for an extra ten seconds.

If the juice becomes too thick, You can add more water to lighten it up.

Serve your juice in a glass and enjoy this chilled drink. 
4. Carrot, clementine, and pineapple juice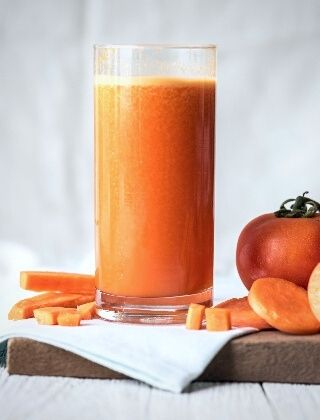 To start your day with a morning boost, this carrot, clementine, and pineapple juice is just the drink for you. Besides, this recipe is a mix of sweet, tangy, and fresh flavors. It carries the goodness of carrot, clementine, and pineapple all in one glass.    
By adding these simple ingredients, you get a ton of nutritional values, like beta-carotene, Vitamin-B, C, and other minerals within a single serving.  Also, as you are using clementine, a Vitamin C powerhouse, you get 40% of it for your daily needs. So, in terms of flavor and taste, this recipe is a must-try.
| | |
| --- | --- |
| Ingredients | Quantity |
| Clementines | 2 |
| Carrot | 1 |
| Small pineapple  | 1/2 |
| Ginger | 1 cm piece |
Instructions
Peel the carrots, clementines, and pineapple.

Cut them into small sections.

Insert all the ingredients into a blender and add sufficient water to achieve a thinner consistency.

Now, blend until you get a perfect consistency.

Pour your juice into a serving glass.

Finally, add some ice and enjoy!
5. Mango-pineapple juice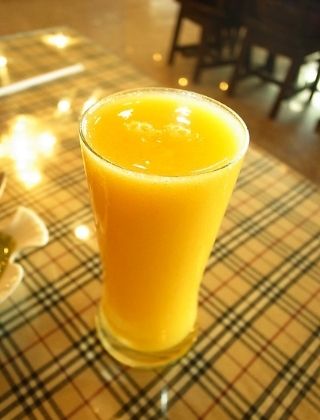 Mango is quite sweet and flavorful fruit and, combining this with pineapple will give you a boost in deliciousness. In other words, this recipe delivers sweetness as well as health benefits all in one serving.
With the goodness of pineapples, you get mangoes that contain high levels of Vitamin C, fiber, pectin. So, the consumption of this juice daily can help you with skin health, your eyesight, digestion, and reduces cholesterol levels. 
This recipe is easy to make. Moreover, all the ingredients are available, and it also takes less time to prepare this drink.
| | |
| --- | --- |
| Ingredients | Quantity |
| Firm and fresh mango | 1 |
| Pineapple chunks | 2 cups |
| Large limes | 2 |
| Chia seeds (optional) | 1 tablespoon |
Instructions 
Wash all your ingredients with clean water.

Peel your mango and remove the pit. Cut it into small sections. The same goes for pineapple.

Next, juice the mango, then pineapple, and limes (peeled and pith removed) with the best juicer.

Follow your juicer's specific settings for each item.

Pour the prepared fresh juice into a glass and add chia seeds if needed.

Stir it well and soak for five minutes.

Serve with ice.
FAQ
What are the side effects of pineapple juice?
Pineapples contain a high amount of Vitamin C. Excessive doge of this element can cause nausea, diarrhea, or heartburn. Bromelain in pineapple may trigger redundant menstrual bleeding or skin rash. 
Furthermore, pineapple is low in fiber and high in sugar so, you may gain weight if you drink this too much. Also, swelling of the mouth and cheeks can occur due to the excessive consumption of pineapple juice.
However, it's recommended to drink pineapple juice in between meals as a snack option. Therefore, you should not drink more than 150ml or 5 ounces per day. 
What other fruits should you use with pineapple to make juice?
Pineapples go well with fruits like mango, papaya, orange, and carrots. Moreover, you can also add lemon juice to make things tastier. To get a simple digestive tonic, you can add some ginger with your pineapples. Many people like the combo of strawberry and pineapple. This pair may sound strange, but it actually enhances the taste of your pineapple juice recipe.
How long does a glass of pineapple juice last?
In the case of store-bought pineapple juice, it can be stored for a long time if you keep it in a cool, dark area while avoiding exposure to direct sources. For the homemade fresh pineapple juice, you can store it in the refrigerator for 2 -3 days straight from the day it's made.
To increase the shelf life of pineapple juice, you need to freeze it constantly. However, If you can freeze pineapple juice well, it can maintain the quality for about 3-4 months. After defrosting, your pineapple juice can last an additional 2-3 days in the refrigerator.