The Vitamix E320 Explorian Series blender is one of the versatile and heavy-duty blending machines you can find on the market. It delivers a powerful motor and comes with a low-profile Tritan container (BPA-free). Also, this Vitamix product covers an extended 7-year full warranty with a 100% performance guarantee. We will focus more on the features in the Vitamix E320 reviews.

Vitamix is a well-reputed 100-year old company, made its name by providing high-quality blenders for both home cooks and professionals. The E320 Explorain series blender is Vitamix's most affordable edition yet. 
Generally, Vitamix offers high-end blenders staffed with all sorts of fancy functionalities like touch screens, preset, or wi-fi connectivity. But this E320 version of Vitamix blender is a classic and no-frills machine that works as a simple food processing hub at your home kitchen.
However, all these claims on E320 Explorian may sound exaggerated to you. So, let us show you some logical facts and attributes on the Vitamix E320 reviews, which may help you to comprehend whether this product is worth the penny or not.
Key Features of Vitamix E320
Appearance:
Color: Black

Brand: Vitamix

Dimensions: 11*8*18 inches

Wight: 13 lbs

Design feature: Thermal protection system with the radial cooling fan.

Cord length: 1.37 m (4.5 ft)
Attributes:
Contains a 2.2 HP motor

64 oz Traitan container plus its 100% BPA free

Variable speed control functionality.

Includes pulse feature to provide quick bursts of power.

Laser-cut stainless-steel blades.

Generates blade friction heat to turn cold ingredients into steaming hot.

Features self-cleaning. 

Dishwasher safe.

For personal and professional use
Comes with –
A motor base

A low-profile tamper

A 64-ounce low-profile container

A cookbook

And a warranty card
Warranty:
A 7-year full warranty. Note:
Complete and return the products registration card that comes with your Vitamix blending machine. It's important because failure to register will diminish your warranty rights.

To register online, visit Vitamix Product register

or call (1-800-848-2649) Vitamix's customer service department.
A quick Overview of Vitamix E320 
Vitamix's E320 Explorian series works well for those who are heavily dependent on blenders for processing foods. 
Because it's an all-purpose blender that is best for producing vegetable soups, homemade ice cream, fluffy dips, ground spices, and grains. In other words, this blender can handle whatever food you want to process.
Vitamix E320 features a precise container design. Every angle is designed in a way that helps to fold ingredients back to the running blades. Therefore, you will get faster and smoother blends by creating the Vitamix vortex.  
If you like hot soups but don't want to go through the trouble of cooking them, then Vitamix E320 is just the blender for you. In short, you can produce steaming-hot soup without using a stove for just under 10 minutes. The blades generate friction, bringing your soup to serving temperature right inside the container.
In the case of solid and frozen ingredients, you may want to count on the E320. Since this heavy-duty blender features hardened stainless steel blades with an extra-large secure container, you are safe with processing hard and solidified frozen food materials. 
Your Vitamix E320 comes with a convenient design that is easy to clean and doesn't take much space in your kitchen. It's also dishwasher safe which you will not find on Vitamix's older models. Furthermore, you don't have to disassembly it for cleaning purposes. 
The E320 Explorian series also makes low noise. In fact, they are only a couple of decibels louder than Vitamix's most expensive models like Vitamix A2300 Ascent Series Smart Blender.
An In-depth Discussion on the Features and specs of Vitamix E320
Vitamix E320 is packed with features and functionality that provide extra value with efficiency compared to other high-end blenders in the market. In this section of the Vitamix E320 reviews, we will discuss all the functional features of this machine to give you an idea of its overall performance in a more definite way. This machine contains –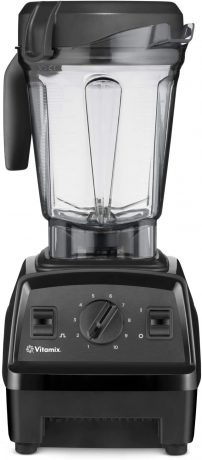 A high-performance motor
The E320 is a powerhouse because of its 2.2 horsepower robust motor. In other words, this motor delivers 1640 watts of power which is very high compared to professional countertop blenders like Ninja's BL610 72 Oz blender with 1000 watts of power. In addition, the E320 also surpasses the famous Vitamix 5200's two-horsepower motor.
With Vitamix E320's motor power, you can blend frozen fruit, heavy powder, and all types of stiff ingredients into smooth, creamy blends in seconds. So, the E320 could be your solution to handling hard-to-process ingredients without any extra hiccup.
Strong stainless steel blades
The primary target of a blender is to blend effectively, and the blades of a blender are the most crucial parts to do so. With Vitamix E320's laser-cut stainless steel blades, you can process solid ingredients with ease.
These blades are built in a way that can last longer and prevent issues like dulling or bending. In fact, the manufacturers stated that with Vitamix E320, you could maintain the same blade quality from the first blend to the last.
Low-profile container
Almost all the Vitamix E320 reviews from the internet appreciated its container part. This low-profile 64-ounce container doesn't take much space and is more efficient compared to other blender containers. In fact, this well-designed Vitamix E320 container easily fits under most overhead cabinets. It's also stylish enough to keep on your counter and ready to go.
The large container makes things easy for you while blending. Because of its extensive size and wide base, you can smoothly get everything out from the blender, and the food is less likely to get stuck under the blades. 
Moreover, the efficient 64-ounce design is enough to process big batches of meals or smoothies for 3-4 people in one shot. Also, the container is 100% BPA-free and made with food-grade material, making it safe for health purposes. 
Variable speed control functionality
The speed controlling system in Vitamix E320 is not complicated. Therefore it's easy to use. With the help of a simple dial knob, you can adjust the speed at any time while blending to achieve the required textures, from chunky salsa to silky smoothies.
This extremely functional speed controlling system makes the E320 a versatile blender. The speed dial controls one to ten-speed modes. So, you have more options for controlling what type of blend you want. 
Furthermore, you can select speeds between the pre-set intervals as the speed dial smoothly turns, providing you more options beyond just the ten-speed modes. It includes chopping, grinding, blending, emulsifying, and heating.
Handy pulse feature
The E320 contains a pulse switch that features quick bursts of power in a matter of seconds. It helps to create chunky textures for salsa, soups, and more. 
This functionality is appropriate for making delicate chopping of certain ingredients without shattering them completely. In fact, this pulse feature is quite handy for a quick blend in case you are not sure how long you need to blend.
Old models like Vitamix 5200 don't have this feature, although the Explorian Series (E310, E320) and other newer models such as Vitamix 5300, 750, Ascent Series do.
Grinding capabilities
With the E320, you don't need to stop at smoothies. The blender is powerful enough to process whole grains, nuts, coffee beans, and dried spices with ease. 
In other words, if you have an E320 blender, you don't need to buy any spice or coffee grinder. This one blender is enough to make your favorite ground coffee or nut butter with its high-powered motor and strong blades.
Heating functionality
The Vitamix E320 features self-heating functionality. It works by initiating blade friction at high speed. This provides enough heat for making warm soup for lunch or dinner within a few minutes. Functionality like this saves you time and increases efficiency in making food.
Ease of cleaning
Sometimes cleaning becomes a problem on most of the blenders and juicers. However, the E320 is very much easy to clean after an operation. As the machine design is simple, you don't have to spend much time cleaning it.
To follow the cleaning process, you just have to fill it with warm water with a dash of soap and run the machine for about 30-50 seconds. Rinse your blender and wipe the base with a damp cloth. That's all you have to do to get a clean and clear blender in just a matter of minutes. 
Useful low-profile tamper
Vitamix E320 includes a motor base, handy container, cookbook as well as a convenient tamper. It's a Vitamix signature accessory. Vitamix always includes tamper with their latest product. In fact, it's one of the reasons behind this company's success in the blending machine market.
This object is quite handy because it helps to push down the food towards the blades during blending. Therefore, your food blends well without stopping the blender and scraping down the sides continually. 
Let's Discuss the Pros and Cons Regarding the Vitamix E320:
The Goods
A classic and efficient design. It delivers a solid base, featuring a curved bevel on both sides, making the blender good at withstanding excess pressure while blending.
With a budget price range, this blender covers horsepower, cleaning, and storage capabilities same as other pricy professional blenders in the market. 
The E320 features a 2.2-horsepower motor. It gives maximum power and speed to process some of the solid food materials. 
A multifunctional blending machine with chopping, pur

éeing, grinding, blending, heating, and emulsifying capabilities.
Easy to clean (self-cleaning capabilities) as well as dishwasher safe.
Achieving your desired consistency is easy with E320's ten-speed dial functionalities that range from gentle to super-fast speed.  
Includes tamper that you can use to push the ingredients towards the spinning blades. It helps to make your blending experience trouble-free. 
With the pulse feature in E320, you can pulverize any food into a smooth consistency. In other words, this feature helps to insert some extra texture into your meals.
With E320 comes a low-profile 64-ounce container with an efficient design that fits under any overhead cabinets. Also, the build material Tritan, a strong material. So, you are safe while grinding solid frozen foods.
The E320 features a personal cup adaptor. It helps to make individual smoothies and soups right on the go. Also, the base goes with other Vitamix products. Therefore you get many options with the E320.
The Bads
Most Vitamix blenders come with high-tech features like touch screens, self detecting containers, timers, and wifi compatibility. However, the E320 is a simple construction with a low-tech interface. 
Making thick smoothies with the E320 sometimes brings extra work as it doesn't pull solid chunks altogether into the center. Therefore you may have to spoon the solids down to the blades or add reasonable amounts of liquid into the pitcher to get the perfect thick consistency. However, this is not a major drawback as some of the few consumers face this issue.
The E320 doesn't feature any recipe presets like other Vitamix models. Though, the ten variable speeds in E320 are sufficient enough for computing any blending job. 
Comparison Between Similar Vitamix Products –
Let's compare some popular Vitamix models with the E320 to break down its capabilities in a more precise way.
Vitamix E320 and E310 Blender
You are probably researching the market on Vitamix blenders, so in that case, you may encounter two of the most popular Vitamix products, the E320 and the E310. Both of these blenders are from Vitamix Explorian Series.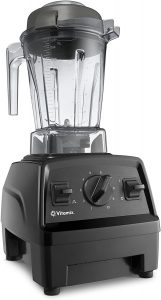 The attributes of E310 are quite identical to E320. However, there are two major exceptions between these two Vitamix blenders- 
E320 features a 64-oz container, whereas the E310 has a 48-oz container. 

Vitamix E320 has a 2.2 horsepower motor, whereas the E320 features a 2 horsepower motor.
The rest of the features are similar regarding these two Vitamix Explorian Series products. Both the blenders deliver similar pulse features and variable speed control dial. 
Recommendation: The 64-ounce container is more preferable to a 48-ounce container, as you can process an extra 2-3 people's worth of food with E320's large-sized container. Therefore it's obvious, the price of the E320 would be high compared to E310. However, according to your needs, the choice is yours to make.
Vitamix E320 and 5200 blender
Vitamix 5200 is an old model but is a more popular one compared to other Vitamix blenders in the market and e-commerce sites. In terms of design, performance, cleaning, and ease of use, they are both similar.  However, as the 5200 is an old version of Vitamix, it doesn't contain any pulse function like the E320. There's more –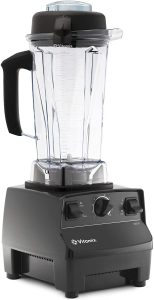 Vitamix E320 has a bit more motor power (2.2 HP) than Vitamix 5200 (2.0 HP).

Compared to Vitamix 5200, the E320 is less noisy. 

The E320 has a wider container base than the 5200's taller and narrower one. However, both share a 64-ounce container. 

In the case of price, the difference is not that big. Both of these products range between 420-450$ (according to Amazon's current price tag).
Recommendation: It's preferable to purchase the latest models of Vitamix as you get new features that are comprehensive for a better blending experience. 
Vitamix E320 and A3500 blender
The A3500 is an Ascent Series Vitamix blender. It's a professional machine with a high price tag compared to The E320. However, there are some technical differences between these two products.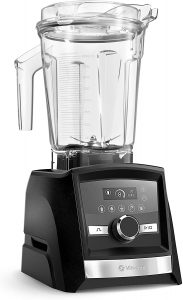 Vitamix A3500 features program settings for different blending options which the E320 don't have.

You will have smart self-detecting technology with the A3500 instead of Vitamix E320.

The A3500 includes all shorts of high fetch technology like digital timer, touch screen, and wifi connectivity, whereas the E320 is simple and doesn't feature these advanced technologies. 
Recommendation: If you need a professional blender and have enough money to spend, then the A3500 is the right choice for you. In fact, it's top of the line regarding other Vitamix blenders. However, to get all necessary features within a mid-range budget blender, the E320 is the blender for you. 
Vitamix E320 and 7500 blender
Vitamix 7500 is an upgraded popular blender, especially in the G-series line also, known as NextGen. You can use it for home and commercial purposes, just like the E320. There are few differences between these two Vitamix models.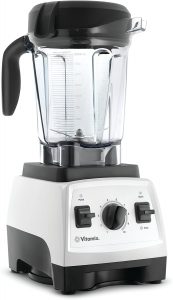 The Vitamix 7500 contains a radial cooling fan with thermal protection system. It helps to run the machine for a long time without stopping the blending process. However, in the case of the E320, you don't have this sort of technology. The blender stops when it's overheated.

Vitamix E320 is 40% more noisier than the E320.

In terms of weight, the Vitamix 7500 (13lbs) is a bit higher than the E320 (10.5lbs).

Vitamix 7500 is a pricey option compared to the E320. 
Recommendation: To compare both these products, we can say Vitamix 7500 ranks higher than the E320. So, if you want to spend some extra bucks for more quality out of your purchase, then go for the 7500. But for a budget option, we always recommend the E320 over other Vitamix blenders.
The Operating Procedure of Vitamix E320 | Simple and Easy to Use
If you are using Vitamix products for the first time, you may notice they are much easier to operate. Especially with the E320, you don't have any complex operating functionality that creates questions like "am I using it correctly?" However, in this Vitamix E320 reviews, we are also going to cover this section.
First, we need to see where all the controlling keys and dials are on the E320.
The pulse button is on the far left corner of the control panel. In the middle, you will find the variable speed dial. The on/off switch is in the far right corner of the motor base.
You can start the blender just by turning the switch on. It's so obvious. Then go for the dial. You can set it anywhere between 1 to 10 by rotating it clockwise. Basically, one resembles the lowest speed and ten the highest. Set the speed on an optimum level that fits the type of food you want to make or process.

Go for the pulse feature to add power to the blender for only as long as you hold the pulse switch down. When you use the pulse switch, it helps to initiate a quick short burst. The result of this pulsating works well for processing dips and ice creams, wet and dry chopping for salads, and for introducing chunks of thick ingredients to recipes like soup.
So, that's all you have to do to blend any food ingredients into smoothness with the Vitamix E320.
"Let's find out the zest attributes of Vitamix E320 Reviews Explorian on this video"
See your buying options at Amazon →
Popular E-commerce site ratings for both e20 and e10 versions of Vitamix Explorian series:
Amazon Rating
Walmart Rating
Best Buy Rating
Target rating

4.8 stars out of 5

4.4 stars out of 5/ 85% overall positive rating

4.8 stars out of 5

for Vitamix E310 Explorian version

4.7 stars out of 5 for

Vitamix E310 Explorian version
The Vitamix E320 Reviews – FAQ
How many watts is the Vitamix E320?
Most eCommerce sites didn't mention the Vitamix E320's power rating, which is 1,440 watts or 120V or 12 amps. According to Vitamix's information, it has a peak performance of 2.2HP. Though, this peak power is only possible during the start of the blender.
While blending you get 1,440 watts from the E320, meaning the blender produces 1.93HP instead of 2.2HP during its running period. 
Can the Vitamix e320 make hot soup?
As we mentioned above, the Vitamix E320 has the capability of making hot soups.  Basically, the blades generate friction with high speed and create enough heat to bring cold ingredients into steaming hot. In this case, you can produce hot soup within just 6 minutes with the help of this Vitamix E320's functionality.
How many color options does the Vitamix E320 have?
Currently, Vitamix offers two color options – classic black and flashy red in the market. However, these colors are found only around the control panel and not on the face or the container. 
If you compare the E320 with Vitamix's Ascent series blenders, you will find it's a bit louder than these products. However, as we mentioned above, the E320 is only a couple of decibels louder than Vitamix's recent expensive models. Also, this blender doesn't make too much noise. In fact, the sound is quite bearable.   
Is Vitamix E320 a self-cleaning blender?
Yes, the E320 is a self-cleaning blender. You don't have to separate the parts of the blender to clean it properly. Furthermore, it takes only 40 to 60 seconds to clean the blender. Just drop a dish soap with mildly warm water and run it at high speed. The machine will clear up in no time.
What can you make with Vitamix E320?
With the E320 comes lots of food-making options. From juice to smoothies,  frozen desserts to ice creams, hot soups to baby foods, and dry foods, you can make anything.
You can prepare your favorite milkshakes, sauce, sorbets, salad dressing, dips, salsa, etc in this heavy-duty blender. Also, for grinding dry and solid food materials like nuts, ground coffee, ground spice, etc you can rely on the E320.
Final Thoughts on the Vitamix E320
Vitamix is a famous company that produces quality products each year. The Vitamix E320 is one of these products. In terms of quality and performance within an affordable range, the E320 is certainly the product you may wish for. We guess in this Vitamix E320 review you found these statements true.
However, we are not the only ones claiming this statement, as many reviewers and consumers are talking about the same thing. Just like J. Ashar, a member of "consumer reports" using this product like 1-2 times per day for quite a while, stated that "This is the only Vitamix blender you need".
We also researched some major Vitamix reviewers and found out how efficient this product is in terms of performance. The main reason for its success is, the E320 provides all the necessary features that modern Vitamix blenders have at a comparatively lower price. 
However, from the above discussion, we saw some drawbacks compared to other Vitamix products. It's obvious nothing can be 100% perfect. But if you consider overall performance and user experience, the Vitamix E320 would be a must-have product.